Who Is Tom Selleck's Wife, Jillie Mack?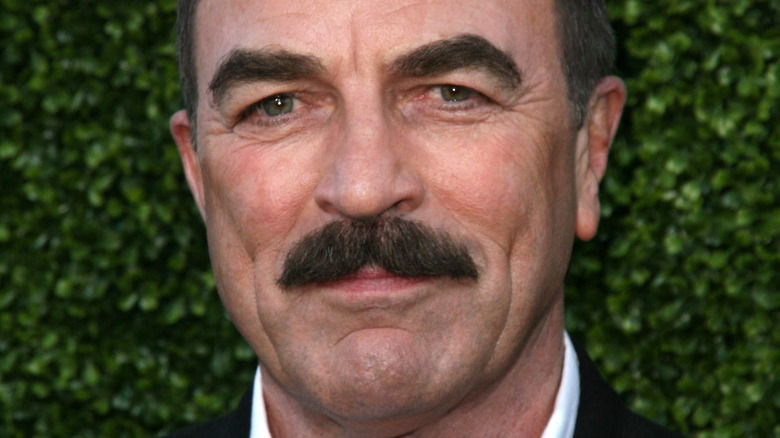 s_bukley/Shutterstock
Tom Selleck shot to stardom as the handsome (and often shirtless) private investigator Thomas Magnum in the TV crime drama "Magnum, P.I." The popular show earned Selleck his first major awards, including a Golden Globe for Best TV Actor in 1985 and an Emmy for Lead Actor in a Drama Series in 1984. His portrayal of Thomas Magnum wasn't catching just critics' attention. In 1987, People magazine's readers selected Selleck as the "sexiest man in the world." With acting skills and killer good looks on his side, Selleck could have easily become one of Hollywood's many ladies' men.
But Selleck isn't like that. In fact, the "Friends" actor prefers to keep a low profile. "I've found it very difficult to expose my private life and live with it. There are certain things I'm just not comfortable with," he told People in 1984. Selleck wasn't bluffing or trying to be cute either. For many decades, the actor has been living away from the spotlight on his 65-acre ranch in Ventura County, California — a property he purchased back in 1988, according to a 2012 interview with People. 
Living both the life of a country boy and a Hollywood star all at once isn't easy to do, but Selleck manages. In the interview, he described spending most of his time working on the land and then going to the city every other week to shoot the CBS police procedural "Blue Bloods." And all of it has been done in the company of his wife, Jillie Mack.
Tom Selleck's wife, Jillie Mack, is a former British actor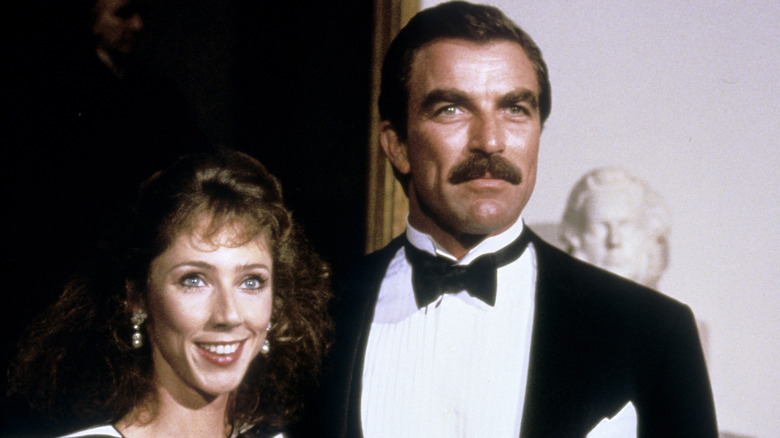 Anwar Hussein/Getty Images
Tom Selleck and Jillie Joan Mack have been together since 1983, making theirs one of the rare examples of Hollywood relationships that live to see the other side of 35 years. They met in Mack's native England, when Selleck was in London for the filming of "Lassiter," according to a 1987 People report. While in London, Selleck went down to the West End theater to see a production of "Cats," in which his friend Brian Blessed was playing, according to AARP. But then he returned once more (and then another time and many more times after that). His co-star Jane Seymour had to hear all about it. "I thought it was good, but I couldn't see going back a dozen times," Seymour told People. 
We're sure he enjoyed the play, but what was really drawing Selleck to the West End was Mack, who played Rumpleteazer. As he explained to AARP in 2015, he met Mack backstage, but he couldn't muster the courage to ask her out. "She had to go on. I was hemming and hawing, and she finally asked, 'Do you want to meet for a cocktail?'" Selleck said. Thanks to a thief, Mack wasn't starstruck. "My television had been stolen three months before. I'd never heard of him," Mack told AARP. According to People, their relationship evolved quickly. Mack packed up her things and jetted across the Atlantic to live with Selleck as soon as her contract expired.
Tom Selleck and Jillie Mack wed in a secret ceremony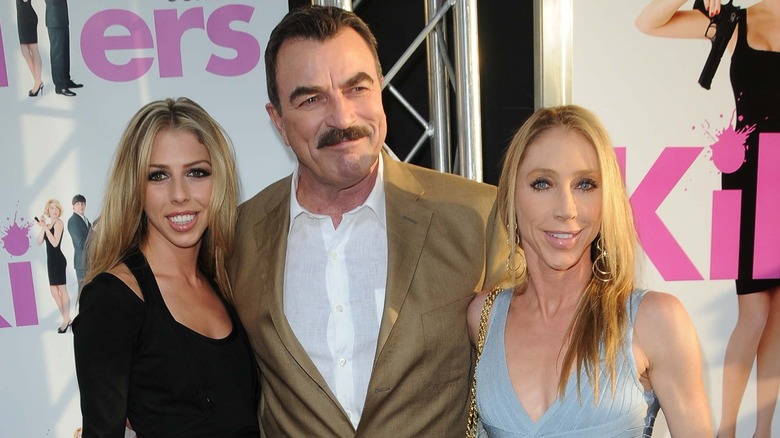 s_bukley/Shutterstock
Tom Selleck and Jillie Mack tied the knot in a highly secretive ceremony in Nevada on August 7, 1987. People reported it on September 21 after the couple managed to successfully keep the news from the public for nearly a month. "Tom, you sly devil," reads the first line of the magazine article. Selleck had it all planned out in detail. He had his brother make all the arrangement using fake names — Tom Jenkins and Suzie Mark, according to People. Selleck allowed pictures to be taken only with a Polaroid camera to prevent negatives being leaked. This man is serious about keeping his personal life private! "He was very concerned that the service be heartfelt, very concerned for her that the service be meaningful. He is a very warm, caring man," Rev. David Immel told People.
The following year, Selleck and Mack purchased the California ranch when they welcomed their daughter, Hannah, he told People in 2012. "He knew he needed to buy back his anonymity, to replenish the soul," Mack told Closer Weekly. In 1988, Selleck also quit the wildly successful CBS show "Magnum, P.I.," putting an end to it after eight seasons. "I quit 'Magnum' to have a family," he said. Mack quit her career entirely to raise a family in the countryside, and she is happy with her decision. "Jillie loves her life! Her happiness is her animals," one of her friends told Closer Weekly. With such an emphasis on family, it's easy to see why these two are still happily married!