The True Meaning Behind 'After Last Night' By Silk Sonic (Bruno Mars & Anderson. Paak) With Thundercat & Bootsy Collins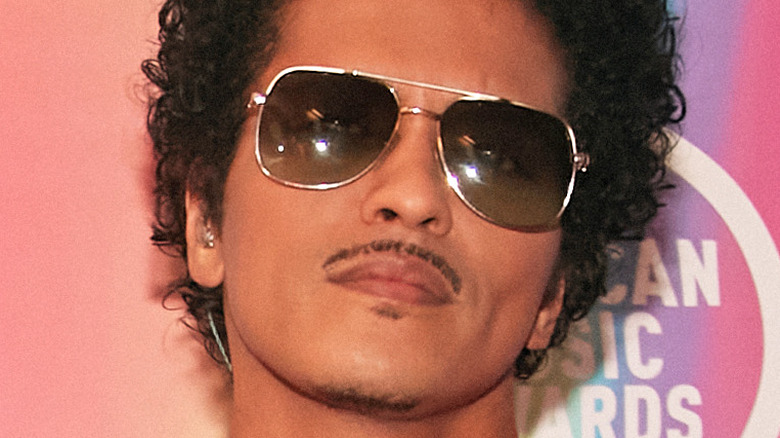 John Esparza/Getty Images
If you're looking for something super-slick, super-hip, and super-smooth to listen to, then you definitely need to check out Silk Sonic, the super-intriguing duo made up of Bruno Mars and Anderson .Paak. Together, the pair released their debut album on November 12 and decided to call it "An Evening with Silk Sonic."
Featuring wildly catchy tunes like the "Skate," which delves into romance on rollerskates, and the old-school love song, "Leave the Door Open," listeners will also find "After Last Night." The fourth track on the album, Mars opened up about the song while talking to Apple Music, saying, "That one got a lot of Bootsy on it. And my boy Thundercat came in and blessed us." That's right, the song happens to feature bass player and producer Thundercat as well as industry icon Bootsy Collins. Paak also talked about working with Collins during an interview with SiriusXM in March, saying, "We put the setlist of doom together, you know, and we needed somebody, a real OG, to host it and guide everything along."
Collins certainly does that in "After Last Night," which is likely one of the reasons why Mars also explained to Apple Music that it's "just one of [those] songs — everything was built to be played live..." He noted that's why it "is one of those we can keep going for 10 minutes." That's surely, in part, because the meaning behind the song is just as entertaining as the sound itself.
Silk Sonic and Bootsy Collins can't get over what happened last night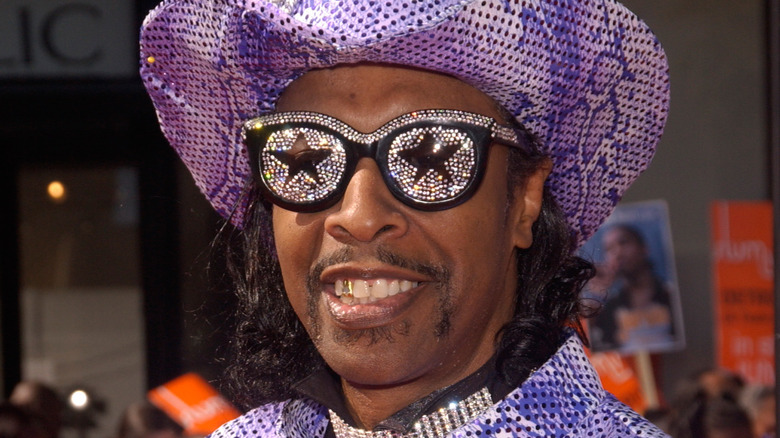 Featureflash Photo Agency/Shutterstock
If the irresistibly suave vibe of "After Last Night" led you to believe that the meaning was sultry, sexy, and absolutely sizzling in nature, that's because it is — to say the least. Just listen to Bootsy Collins in the intro, per Genius, setting things up by telling a certain someone, "Damn, I don't even know who I was last night ... / There's just somethin' about you ... / You just made me feel, mm ... / ... Was it good for you?"
Collins continues in the first verse along with Bruno Mars and Anderson .Paak, reflecting on the memorable encounter. "You put it on me like I never felt before," they sing in the pre-chorus, also telling that special person, "Sweet, sticky, thick, and pretty / You changed the game (What'd you do?)." It might not exactly be the sweetest poetry, but it definitely gets the point across!
In fact, their time together was so good, that the men admit, "That gushy, gushy good, girl, I want some more." Indeed, this song isn't just about one particularly note-worthy night — the fellas also reveal something significant that you might have missed.
These players want to leave the game for this special someone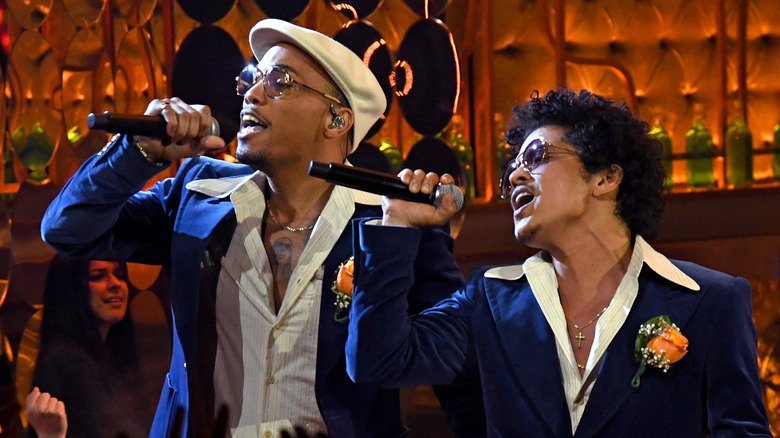 Kevin Mazur/Getty Images
"Wishin' on a shootin' star, say a prayer for me / And hope it comes true," Bruno Mars, Anderson .Paak, and Bootsy Collins sing during the first verse of "After Last Night," per Genius. There's no doubt that they make it clear that they not only had an amazing night with the person they're singing about, but they're hopeful that whatever is going on between them will continue. In fact, they're willing to do what it takes to make that happen, which is obvious when they sing, "Throw my phone out the window, there's no player in me / Those days are through."
They confirm that in the second verse when they add, "If I still had my phone, I'd call every girl I know / And tell them goodbye." And when it comes to the woman they want to be with, they tell her, "Cars, clothes, diamonds, and gold / Anything you want, any place you want / We'll fly, fly, yeah."
Why are they willing to give up the game and do so much for this certain someone? "After last night, I think I'm in love with you," they admit. In fact, after the life-changing(?), heart-sparking(?) encounter, they explain, "Woke up and I can't get you out of my head ... / After last night, I don't know what to do..." Hopefully, for their sake, the person that they're singing to feels the same way!