Bella Thorne Denies Scott Disick Romance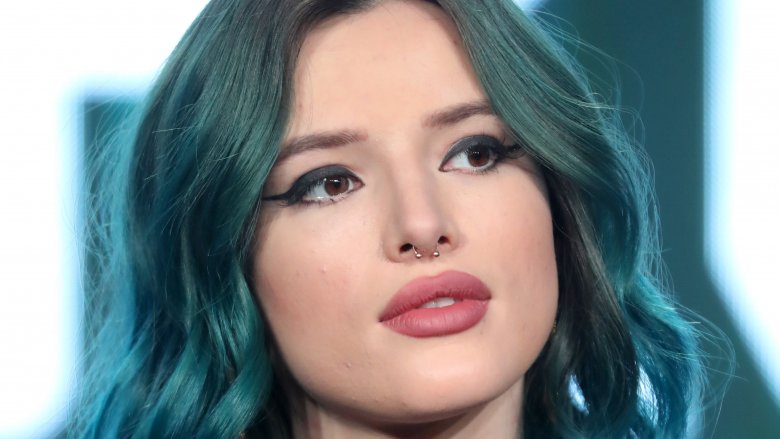 Getty Images
The Famous in Love actress is single—and don't you forget it!
After Bella Thorne was caught making out poolside with Scott Disick, she's now claiming that there's nothing going on between the two. At least, not anymore.
Responding to a follower who asked what she was doing with Disick, the former Shake It Up star said, "Legit nothing trolololo."
What's more, after another Twitter user expressed concern that Thorne was involved with the Keeping Up With the Kardashians star, Thorne replied, "Hahahah I'm not talking to scott or anyone else. #dontf***withit."
Of course, Thorne didn't always seem too put off by the thought of dating Disick, if paparazzi photos are any indication. As Nicki Swift previously reported, Thorne, 19, and Disick, 34, jetted off to Cannes together, along with Thorne's sister, Dani. Once there, the two were spotted getting frisky by the pool. In photos obtained by TMZ, Thorne, soaking wet, can be seen sitting on Disick's lap and kissing the reality star. In another photo, the pair look cuddly together while sitting on an outdoor daybed.
However, Disick was soon caught with another woman, Chloe Bartoli—a brunette he reportedly used to hook up with in the past. While we have no way of knowing what Disick and Thorne's relationship status was, we'd bet that Disick made the wrong move when he started packing on the PDA with Bartoli in Cannes. After photos hit the internet, Thorne tweeted out, "Yo this #cannes fancy life isn't for me."
But, according to TMZ, it may not have been Bartoli that caused tension between Disick and Thorne. The gossip site reports that Thorne was put off by Disick's hard-partying lifestyle—particularly his heavy drinking.