David Toborowsky Sounds Off On This Scandalous 90 Day Fiance Moment - Exclusive
TLC's "90 Day Fiance" is a treasure trove of uncomfortable moments — from that time Paul Staehle wore a condom to protect himself from parasites while swimming in Brazil to Big Ed awkwardly confronting Rosmarie about her bad breath. The only reason David Toborowsky's cringe-worthy confrontation with his confidante Chris Thieneman doesn't rank in the top tier of awkward is that there are too many to choose from. Nonetheless, the moment was still headline-worthy. 
For those who need a refresher, we first met David in Season 5 and watched as he tried to rebuild his life in the United States with his now-wife Annie Suwan Toborowsky. "I was unprepared for what America would be like after five and a half years [in Asia]," he tells Nicki Swift. "... It was difficult ... Who hires a 50 year old that has been out of the market here?"
David and Annie ultimately moved in with Chris, as they struggled to get back on their feet — but first, he laid down the ground rules during an awkward double date. Chris first asked Annie to help out around the house in lieu of paying rent. As a passionate home chef, she was happy to oblige. Then, Chris asked if she'd be down to give him Thai massages. Cue: awkward stares brilliantly executed by production. The moment quickly became a small scandal. So, what did David really think about Chris' request? Here's what he exclusively told Nicki Swift.
David Toborowsky 'brushed off' Chris Thieneman's controversial comment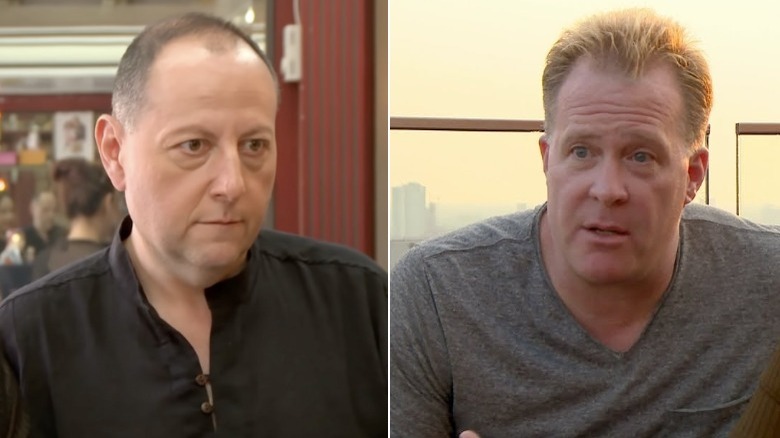 TLC
Chris Thieneman has gone on record to defend his controversial request. The former college football player claimed the whole thing was totally fake, allegedly said at the behest of producers. Regardless of what actually happened, David Toborowsky wasn't sweating it.
"I don't really dwell on the negatives of the past," he says. "I feel like maybe he was saying it half jokingly. I don't think he was serious in asking for massage, so I just brush that off. Chris has a good heart. He's a good person." David doesn't fault his friend for the tough times either, even after he was forced to move into a glorified storage unit. "It was tough times at the beginning. Again, that was my fault, not Chris'," he says. "... That was my decisions that led to tough times."
Today, Annie and David don't need roommates. They have a blossoming business offering virtual cooking classes and catering, as well as a line of Thai cooking oils. They've got a Hollywood agent (Dominion Talent House) and a gig on the spin-off "90 Day Fiancé: Pillow Talk." They've even managed to smooth over their once-strained relationship with Chris. "We're friends," David says. "We live far apart, so it's not like we hang out ... everybody's busy in such different directions, but I still wish them the best of everything."
You can take a cooking lesson with David and Annie or try the couple's cooking oils via their website Cooking with D-N-A.