Did Adam Levine Really Get A Face Tattoo?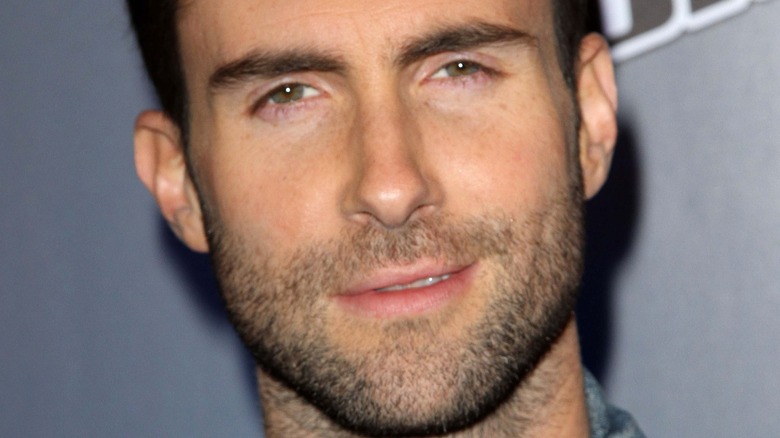 s_bukley/Shutterstock
If there's one thing Adam Levine loves, it's his wife Behati Prinsloo, their kids, and tattoos — so it makes sense he has plenty of inkings for his loves. But does that now include a face tattoo? Well, kind of...
The Maroon 5 frontman is almost as famous for his tattoos as he is for his music. The star has at least 31 inkings on his body (via Body Art Guru), including the words "you're so cool," which both he and Prinsloo got together in the wake of their wedding as special tributes to one another. In what's seemingly another nod to the former Victoria's Secret model, he also had the words "True Love" written across his knuckles. That's just "What Lovers Do," right?
His mom isn't left out of the permanent body tributes either, though. The "Moves Like Jagger" hitmaker also has the word "mom" inked onto his skin in honor of his special lady.
It seems like pretty much nothing is too much for Levine when it comes to his tats, either. Back in August, former "The Voice" coach Levine shared a video on Instagram that showed him getting a huge tattoo over his entire right leg that took at least 13 hours. Yes, THIRTEEN hours!
So, someone who's willing to spend 13 hours getting their whole leg inked would probably be willing to get something meaningful permanently etched onto their face, right? Well, not so fast...
Adam Levine's face tattoo is fake
Adam Levine had everyone talking on December 1 when he stepped out with his wife, Behati Prinsloo, in Miami sporting something serious on his face. The star rocked a long-stemmed rose tattoo (which may have been a nod to his and Prinsloo's daughter, Dusty Rose) on the left side of his face, just next to his eye, which Prinsloo proudly showed off via her Instagram Story. Though he rocked a green sweater and long pants that hid many of his other tattoos, his many neck inkings were also visible.
It's safe to say the new addition had fans talking, including over on social media. "Adam Levine just got a face tat," one person wrote on Twitter alongside a smiling bunny face GIF exuding red hearts. Another tweeted, "Adam levine with the face tattoo... Welcome to the club we weren't expecting you but come on in."
But those gushing over the Maroon 5 frontman's bold new look may want to slow down. After sending everyone into meltdown mode, Levine admitted in an Instagram Stories video that the rose was only temporary. He admitted he'd had many calls about it, including one from his mom, but proudly showed off his bare face as he joked he was "too vain" to actually get something permanent. "I'll do the rest of this," he said, gesturing towards his body, "the face has gotta stay the same."
So there we have it. No tattooing the moneymaker for this guy!