Is Harry And Meghan's Spotify Deal In Jeopardy?
Chris Jackson/Getty Images
After Prince Harry and Meghan Markle made the decision to step down as senior members of the royal family and move out of the UK, they knew that they would need to be financially independent. "I've got what my mum left me and without that we wouldn't have been able to do this," Harry told Oprah Winfrey back in March, according to BBC News. It didn't take long, however, for the Duke and Duchess of Sussex to ink some lucrative deals that would see millions of dollars pouring through the door. They received offers from both Spotify and Netflix, according to Fox News. In addition, Meghan released a children's book titled "The Bench," and Harry took to the Archewell website to announce that he'd be releasing his first ever memoir.
And while the couple has announced some upcoming projects, including an animated series called "Pearl" that is set to air on Netflix, according to Variety, and a podcast to be available on Spotify, those things haven't actually happened yet. In fact, the Duke and Duchess of Sussex only have a 35-minute holiday special on Spotify that was released in December 2020. That said, there are rumors that the two are in jeopardy of losing their deal with Spotify. But will they?
Prince Harry and Meghan Markle haven't produced any podcast content in 2021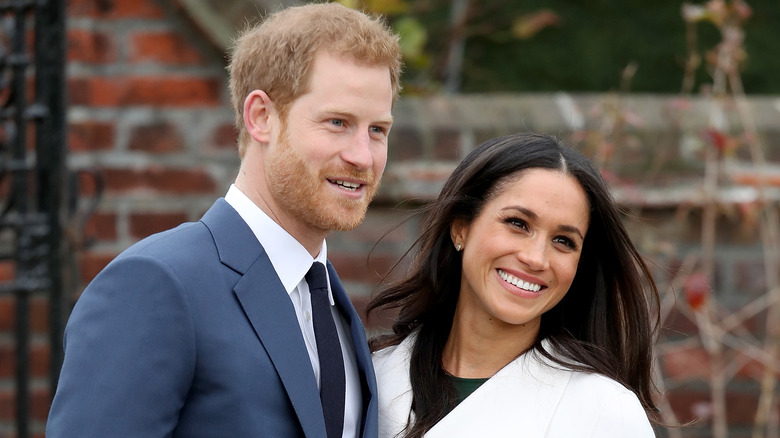 Chris Jackson/Getty Images
Prince Harry and Meghan Markle are quickly becoming a Hollywood hot couple, and it seems that everything they touch turns to gold. It could be for this very reason that digital giants like Spotify and Netflix wanted in on their brand. However, having their names attached to something and actually producing something, well, those are two totally different things. "Spotify [was] delighted when they signed the couple, but the lack of content has mystified them. Particularly as they seem to have no problem producing content for other platforms," a source told The Sun.
As the Daily Mail points out, Harry and Meghan have made some moves that suggest that a podcast is on its way. For example, Archewell brought in Rebecca Sananes as head of audio in July. But there hasn't been much more news surrounding an upcoming podcast. The outlet adds that it's unclear where the Duke and Duchess of Sussex stand with Spotify and it's unknown if their podcast deal is still on. However, it seems that the birth of Lilibet Diana in June may have put things on hold for 2021. If the two still plan on having a podcast, they'll likely have to make it happen in 2022.