Emma Slater On Dancing With The Stars, Mamma Mia!, And The Reality Show She'd Love To Be On - Exclusive Interview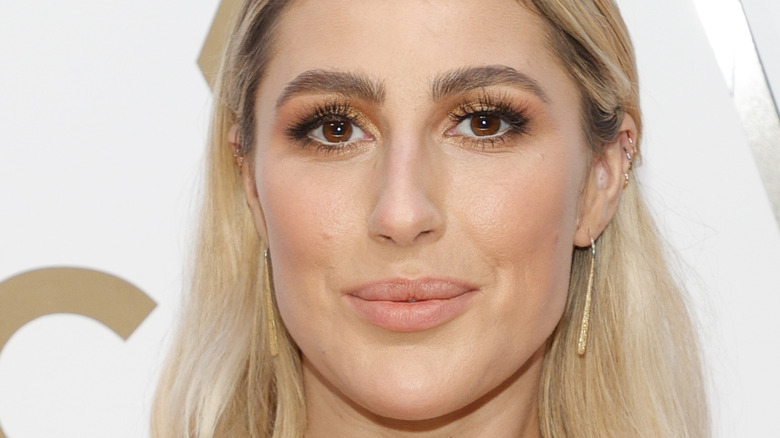 Jason Kempin/Getty Images
Since 2013, Emma Slater has competed on "Dancing with the Stars" as one of the professionals, and since then she's been paired with a plethora of high-profile celebrities, from actor James Van Der Beek to NBA icon Charles Oakley to "Property Brothers" co-host Drew Scott. Most recently, Slater was paired with country superstar Jimmie Allen for Season 30 of the hit dance show, with the duo placing 7th in the competition.
As well as being extremely busy filming back-to-back seasons of "Dancing with the Stars," Slater is also an entrepreneur, a real estate agent, a choreographer, and actress. In fact, Slater had such an incredible time appearing in 2008's "Mamma Mia!" alongside Meryl Streep, Colin Firth, and Pierce Brosnan, she's keen to return to the big screen in the not-too-distant future.
Nicki Swift caught up with Emma Slater following the finale of "Dancing with the Stars" Season 30 to find out what she has planned for 2022 and beyond.
Emma and Jimmie are 'friends for life'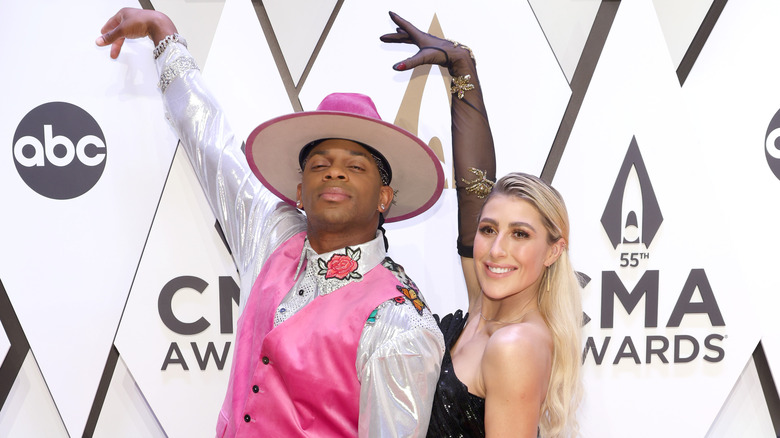 John Shearer/Getty Images
What was it like dancing with Jimmie Allen on "Dancing with the Stars" this season?
Jimmie Allen is an absolute dream to dance with. He's a wonderful person. I've never really met anybody who's inspired me so much in my career. The amount he's achieved in such a short period of time has been really phenomenal. He's just incredibly nice, super charismatic. So I would go on tour with him and I would witness him after a gig, come off stage and just greet everybody, talk to everybody, make sure everyone was happy, safe. He would look after, honestly, the small people. You know those genuine people like that, that would really go out of their way to look after the small person in the back that isn't saying anything. That's Jimmie. And to see his career — for instance, yesterday, he just got nominated for a Grammy, which is massive. And to see that happen, I know he would be crying.
He's just so grateful for everything, so I knew that that news would be ... I tried to call him yesterday, but he's doing the Macy's Thanksgiving Parade here in New York. So I know he's rehearsing for that. It just makes me so happy to see good things happen to good people. So dancing with him has been phenomenal. I know we'll be friends for life.
Halloween Week was special for Emma Slater
Do you have a standout moment from this season of "Dancing with the Stars"?
For me, a standout moment, or the memory that I will cherish the most on the live shows, is going to be the contemporary that we did in Halloween Week. And the reason that was so special for me is because I knew that each individual couple had to represent a horror movie or a thriller for the theme of the week, and our horror or thriller was "The Quiet Place." So, that's really interesting because there's no music, there's no speaking, they do sign language. So I wanted to find a way that we could incorporate sound effects like wind and rain, which we put in there into a violin version of "Say Something," which I thought was kind of ironic, because you can't really say anything.
So we put that into the dance and Jimmie really killed the choreography. He really nailed all of the lifts, the passion, the connection. I wanted to make it quite heartbreaking even though everybody else's routines were more on the scary, eerie side. I wanted to have this one be a little bit more heartfelt, which is different for Halloween Week. So that to me was really special and I'm really happy with the way it turned out.
And it sounds like you worked really well together?
Yeah, we really did, everything I told him to do, he was a great student. Everything I told him to do, he did it without answering me back, without getting too frustrated that he got in his own way, he was amazing. And he did all of that whilst on the season he had a baby, his wife gave birth to a beautiful baby girl. He was on tour. He did countless shows. There was an ABC Queen Night that he filmed, there was a Disney Special here, a Disney Special there. He was just all over the place with his work schedule and he really committed to "Dancing with the Stars." So I was just so grateful we worked so well together. ... I couldn't do that with a new kid as well. It's crazy.
Celebrating Iman Shumpert's win
How did you feel about Iman Shumpert and Daniella Karagach winning "Dancing with the Stars"?
Elated. I was so stoked, me and Jimmie. I think everybody in the room was kind of secretly rooting for them. You root for everybody, but there was something very special about the underdog story of Iman. He was so tall compared to his dance partner. Daniella did such a phenomenal job with choreography to the point where some of those routines went viral.
It was magnificent and he's not supposed to dance that good. He's an NBA Player. They're notoriously really bad at dancing, and he nailed it. You know, it turns out he's been dancing Chicago Footwork for some years. He's loved it, it's a style of hip-hop dancing that he did in his freestyle called Chicago Footwork and he absolutely killed it. It really was such a standout free-style and he had many dances like that that were so memorable. It was almost like if he didn't win, it would be kind of a shame ... I say that in the sense that I would've loved to have seen JoJo [Siwa] win as well. And anybody from the finale, I really would've loved to have seen them win, but there was something especially about Iman. He did it for his mom and he just had this endearing quality where he committed to everything. So it was a really cool moment.
Dancing with Dawson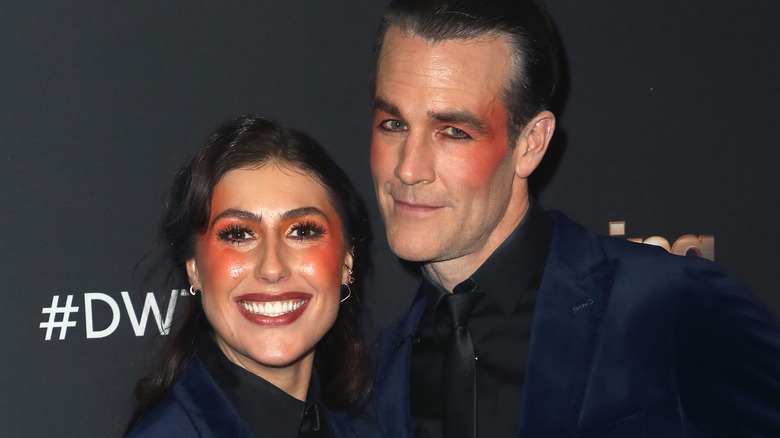 David Livingston/Getty Images
I'm a big "Dawson's Creek" fan, so I need to ask what it was like dancing with James Van Der Beek on Season 28 of "Dancing with the Stars"?
James is amazing. He has the best energy. He's very spiritual, very grounded, he's done so much work on himself, that he is just a very calm presence to be around, like really fantastic. And he was a natural dancer too. So our rehearsals went by so quick because he was able to pick up the routines really quickly. He was very smooth. And we had a great friendship too. His wife is an absolute angel. They've now given birth to, I think their sixth child ... they have a whole sports team going on there. But he is super happy and he's such a wonderful person. We've kept in touch very well actually.
I'm very envious of that. How dare you.
You would like him. And he's a gorgeous, gorgeous person with a beautiful heart as well. So he's great to work with.
Emma Slater misses home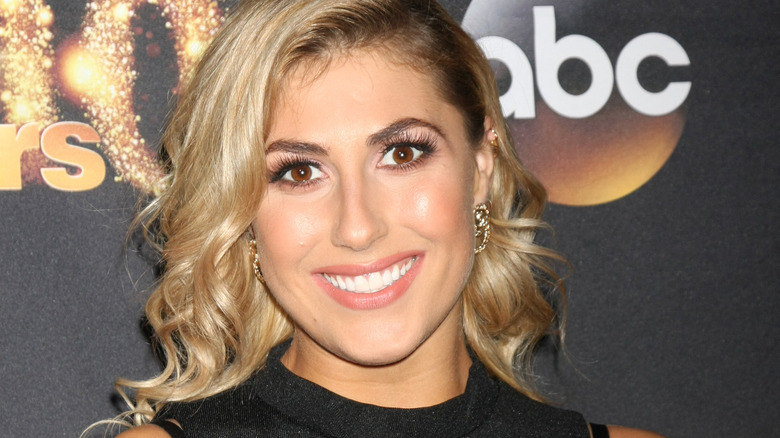 Kathy Hutchins/Shutterstock
You grew up in the U.K. Is there anything you miss about home?
I miss Toby Carvery. I miss the people, obviously the people. I miss the pubs, just not even the pubs for the drinking culture. It's more that the camaraderie, the sitting in there, an English person can just start talking to you randomly. Like a stranger and you feel like you've known them for years ... and now stepping away, I do feel like that's a gift that we have. We can really make people feel like it's in our culture. That we have known them for years, that we're in this together, that we can relate. We can relate very easily to one another. I don't know if that's a post-war thing. I don't know if it's because we're such a small country that there are no airs and graces, we don't do the whole big ostentatious living that I so often get subjected to in Los Angeles. It's just a different, more respectable, quiet, but dry-humored, realistic, "we're in this together" culture in England. And I really missed that.
Becoming a U.S. citizen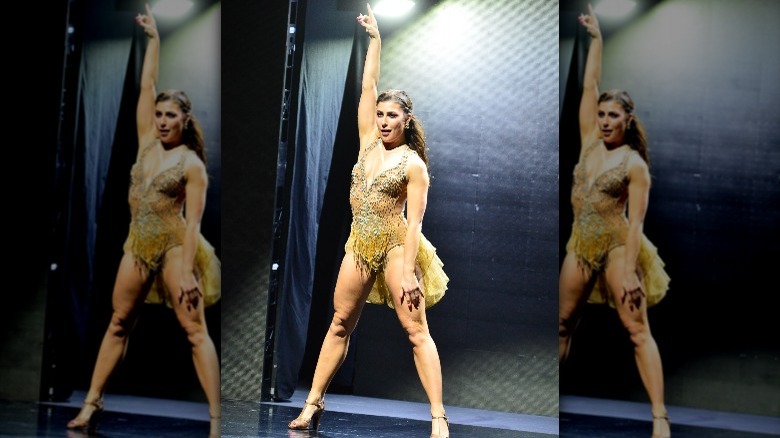 Johnny Louis/Getty Images
You recently became a U.S. citizen. Are you settled in the States?
Oh, very settled, and in saying that [about England], I'm never going to leave Los Angeles. No, in saying that I'm definitely settled. I've been in L.A. now for, I think it's eight or nine years. You can enjoy the weather, you can enjoy the outdoor activities, the beach is right there. The mountains are right there, the desert is right there. You know, Joshua Tree, I still haven't been to, but it's right there, I have plans to go next year. It's phenomenal in the sense that there is a lot of opportunity going around in Los Angeles, a lot of opportunity to work in the line of business that I'm in. If you're a dancer, if you're in the performing industry or the entertainment industry, you can create your own magic. You can pitch a show, and you can shop it around to all the minor and major TV Networks and get rejected hundreds of times. Who wouldn't want to do that? But in all seriousness, you can really pave your way to do some incredible things in Los Angeles, and I think, actually, it's quite smaller minded in England in comparison to that. I do feel like the opportunity in Los Angeles is greater and you are conditioned to constantly strive to go get something because it is attainable.
And you just need one person to say yes.
One person to say yes, and there are many people in Los Angeles that you can find to get those answers from. So I feel like, in England, in London, and maybe it's because I haven't given it that opportunity, but maybe not for a longer period of time, the doors weren't opening as much. Whereas in America, doors were opening and you just need one person to be like, "Yeah, let's give it a go."
Learning from Meryl Streep
You appeared in "Mamma Mia!" What was that like, and are you hoping to do more films?
I would love to do more films. That's a great question. I would. I definitely would love to act even a little bit more and put my foot into the door there. I feel like dancing and acting are so closely linked in the sense it's a form of expression, and that's probably why I became a dancer. I wanted to be an actress first so doing "Mamma Mia!" was so fun for me, getting to work with Meryl Streep.
It was crazy rehearsing. We were rehearsing in the 007 big hangar in Pinewood Studios in London, and looking over and seeing Pierce Brosnan and Meryl Streep and Colin Firth, who I got to dance with at one point, it was phenomenal, learning from them. And then Christine Baranski. She was a real perfectionist. She would rehearse her dance routines all the time. And she was really, really good. Yeah, it was great.
Emma Slater has Apprentice dreams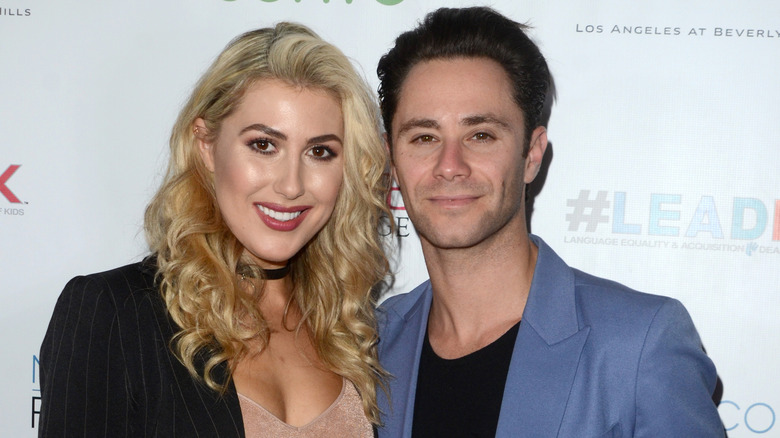 Kathy Hutchins/Shutterstock
Are there any other reality shows you would like to be on, or are you looking to create your own?
I'd love to be on "The Apprentice." Serious. Like the American one, the English one, I don't really care. I would love to be on "The Apprentice." I feel like my life will go, and it has a little bit already, more into an entrepreneurial direction. I have my real estate license. I've been involved in a couple of different companies in terms of projects and things like that. I really love real estate and building companies, and it's kind of a passion thing for me. So I would love to do "The Apprentice" hardcore. And then I'm very much into creating and pitching my own shows too. And I feel like that's something that will definitely happen in the future.
So you need to be on "Selling Sunset" if you're a real estate agent.
Oh, oh yeah. I should have put that first. Oh my gosh. I would love to have been on "Selling Sunset." Last season, Chrishell Stause from "Selling Sunset" was on "Dancing with the Stars." She's great. She's such a sweetheart. She was on "Dancing with the Stars," and I was like, "Oh my God, Chrishell, I'd love to be on the show." And I feel like my time is yet to come, but maybe one day, that would be great. I have to get a lot of nice dresses and beautiful shoes if I want to be.
What are your plans for 2022?
Ooh, that's a great question. 2022 we're going to start it on tour. I definitely want to buy more real estate. I definitely want to spend some more time with family. I've got two dogs. I want to spend more time with them. Honestly, I love them. I get baby fever, so I'm not sure what's going to happen there. My husband and I, we are talking about that, but we'll have to see what the year brings, I guess.