This Is Us Star Chris Sullivan Looks A Lot Different In Real Life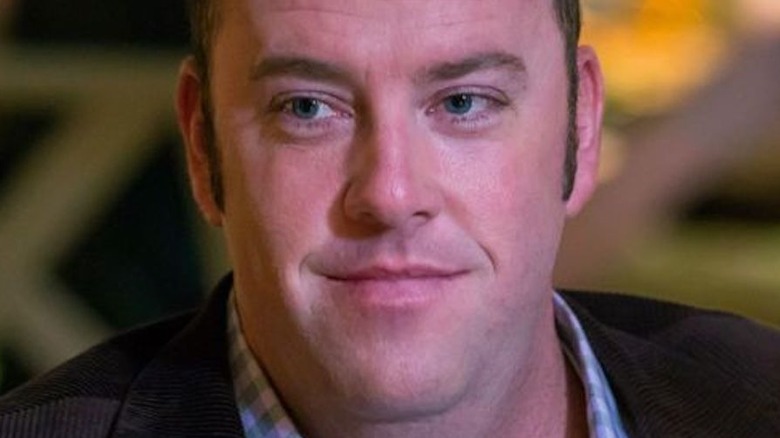 NBC
Transforming one's body for a role has been an ongoing trend in Hollywood for so long. Many actors have rendered themselves unrecognizable for the cameras, showing how much they're dedicated to their craft. From gaining or losing weight to dramatic haircuts to prosthetics, they don't hold back from changing their bodies to portray their roles to the best of their ability.
In Chris Hemsworth's case, he packed on 20 pounds of muscle for his career-defining role as Thor. He had to eat a lot of high-protein foods and stick to a strict workout regimen and even got to a point that he could no longer fit in his costume as he had bulked up so much. "I feel as if I've been busy, but all I've been doing is eating all day," he said at the time, per Men's Journal. Meanwhile, Matthew McConaughey had done the exact opposite for his role in "Dallas Buyers Club." He said that he lost over 40 pounds so he could be believable when portraying AIDS victim Ron Woodroof. He tried to shed pounds "in as healthy a way as I found possible" and ate "programmed meals" with the help from a nutritionist, per BBC.
For Chris Sullivan, the actor who plays Toby in the NBC family drama "This Is Us," he didn't transform himself in the way you would think. On the show, he was on the bigger side, but it turns out that he never even reached that weight in real life.
Chris Sullivan wore a fat suit to play Toby on This Is Us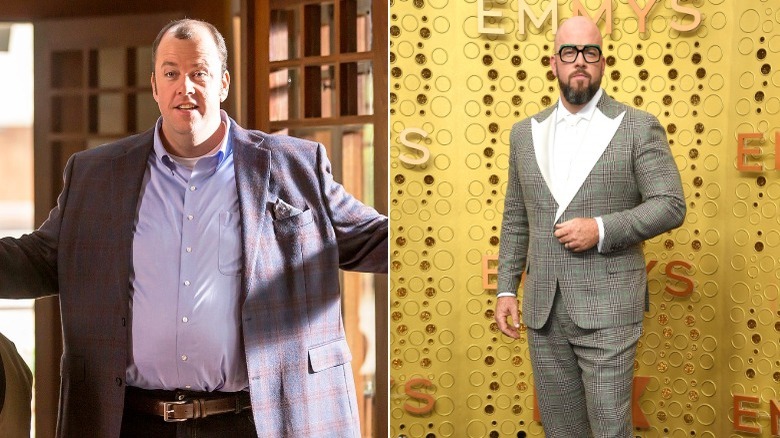 Ron Batzdorff/NBC, Kevin Mazur/Getty Images
"This Is Us" fans know that Kate met Toby at a weight support group. Just like Kate, his character is also supposed to be struggling with body image issues, but the actor behind the part isn't dealing with the same problem. According to Us Weekly, Chris Sullivan was revealed to have worn a fat suit to make it appear that he was heavier, which didn't sit right with fans.
In an interview with "Watch What Happens Live with Andy Cohen," Chrissy Metz, who plays Kate, explained that no one else was perfect for the role despite testing a lot of actors. "This Is Us" just had to get Sullivan. "I get it — people think the authenticity is kind of ruined by that. But Chris has been heavier, and I think he understands the plight of being overweight," she revealed. "And also he was the best man for the job. And people wear prosthetics all the time — it's just weight as opposed to, like, a nose or a chin... It's just kind of the name of the game."
Perhaps ironically, however, Metz told TV Line in 2016 that she is contractually obligated to lose weight as part of her character arc.
Chris Sullivan didn't turn a blind eye to fans' sentiments about the fat suit
Kevin Winter/Getty Images
The fact that fans were angered by the reveal that Chris Sullivan wears a fat suit on "This Is Us" to play Toby was not lost on the actor. But at first, he did not understand all the outrage. In a separate interview on "Watch What Happens Live With Andy Cohen," he said that they are only angry because they're trying to nitpick the show. "I think one, that the show is just too good, they had to find something wrong with it," he said somewhat jokingly, but added, "I feel like we're currently living in a culture where outrage is a bit of a hobby for some people, and, if they're not outraged about something, they're totally bored."
But he eventually found the error of his mindset and explained that using prosthetics is integral to playing the role. "We all have different responses to things that we believe are true, when we find out they're not," he said to HuffPost, before saying: "We know Toby was married before and, because of the divorce, gained a bunch of weight. So there was a time when he was skinnier. So the costume allows, if they want to, for us to jump back and forth through time."
He added that there are also other factors that went into the decision, but ultimately, it all boils down to playing the role perfectly. "Hopefully, I was just the best actor for the job," he said.