The True Meaning Behind 'Fly As Me' By Silk Sonic (Bruno Mars & Anderson.Paak)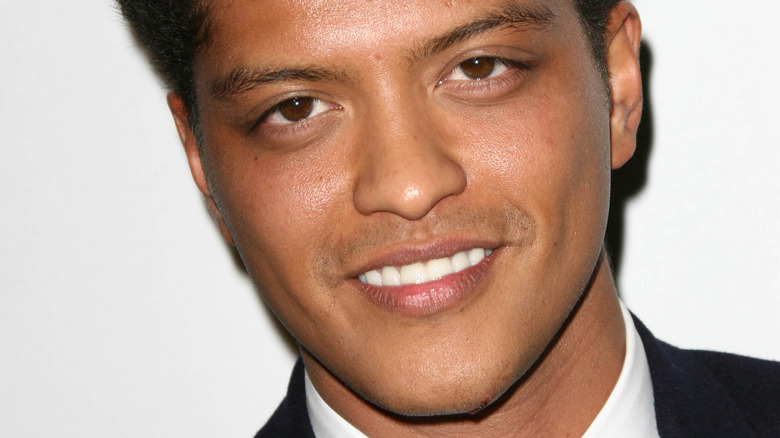 s_bukley/Shutterstock
If you're a fan of Bruno Mars then you were surely thrilled when he teamed up with Anderson .Paak. Together, the two call themselves Silk Sonic, which makes sense considering the fact that they both create music that's just as smooth as the stars themselves. Indeed, listeners seemed to like what they heard from the dynamic duo when the stars released their debut album, "An Evening with Silk Sonic" on November 12.
Unsurprisingly but still impressively, by November 22, Billboard was tweeting about the fact that Silk Sonic had "seven songs on this week's #Hot100." Those included "Smokin Out The Window" (No. 5), "Leave The Door Open" (No. 23), and "After Last Night" with Thundercat and Bootsy Collins (No. 68), as well as "Blast Off" (No. 73), "Skate" (No. 75), and "Put On A Smile" (No. 78). The final tune that had made the top 100 songs on the industry chart was "Fly as Me" which reached #81. Impressive!
While the latter song is obviously a bop-worthy banger, it also happens to be telling listeners something about the singers as well as the (potential?) lovers in their lives.
Anderson .Paak and Bruno Mars know what others want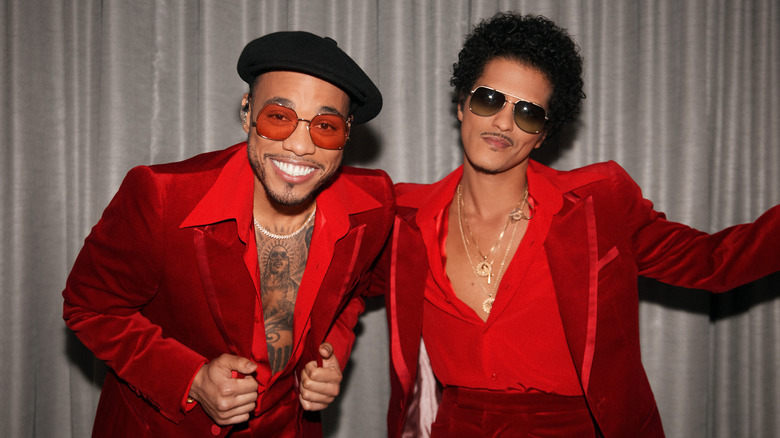 John Esparza/Getty Images
"One, two, make you wanna, uh / Yeah, yeah, okay, okay, okay, okay, okay," Anderson .Paak sings while kicking off "Fly as Me," his slick Silk Sonic song with Bruno Mars, per Genius. While that beginning might not give you the biggest or best hint about what the song is about, you might understand a little more when .Paak starts into the first verse. That's when you can hear him ask, "Now have you ever been with a player?"
In this case, .Paak isn't merely referring to a romantic connection. Instead, he adds, "Take you downtown where they treat me like the mayor / Take you to the crib, we can take it upstairs / 'What's upstairs?' Sh*t, I'ma show you later." That's right, the lyrics make it clear that he knows others — or at least whoever he's singing to in the song — want to be with him. Beyond that, he knows he can impress this certain someone with his respected status.
However, when it comes to finding a special person to be with, both .Paak and Mars reveal that there's something else to consider and it's pretty darn important to them both.
Anderson .Paak and Bruno Mars know what they want too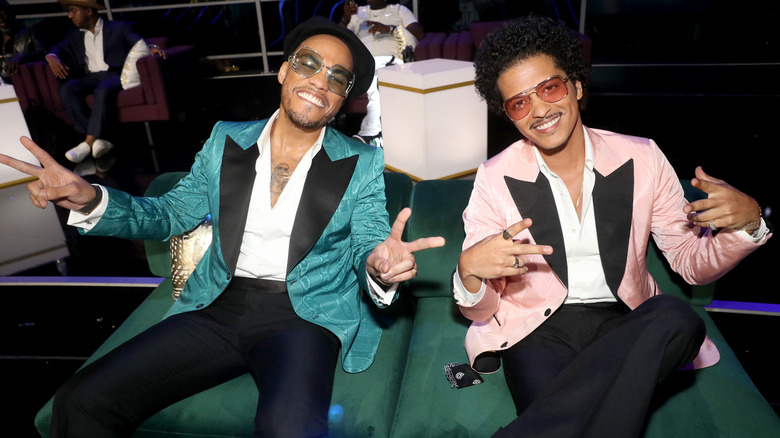 Johnny Nunez/Getty Images
Anderson .Paak and Bruno Mars may know that people want to be with them, but what do they want? The two stars reveal just that in "Fly as Me." In fact, they admit what they're looking for in the title. They also explain in the chorus, both singing, per Genius, "I deserve to be / With somebody as fly as me / Somebody this fly / And you deserve to be seen / With somebody as fly as me."
Beyond that, in the pre-chorus, they justify their feelings, adding, "Look here / I don't ask for much / You know what I want / I just want what's fair (Huh)." Why is that? Well, as they note, "I'll bring that fire and desire, baby / All you gotta do is meet me halfway there (Uh)." That seems like a decent deal.
Indeed, while that may sound good — especially when it comes in the form of a super-catchy song — it turns out that the duo might not have found what they're looking for quite yet. That's because, as the song ends, .Paak notes that he's "lookin' for somebody this fly," and it may not be easy to find that special someone since, as he admits, "I can't help it, I want it all."