What '80s Pop Song Did Princess Diana Always Sing?
Antony Jones/Getty Images
Even though we might not openly admit it, we've all definitely done it. After all, it's fun, relaxing, and feels great — loudly singing along to pop songs while driving is the best (even if it's done in secret). Well, undercover car pop stars can now take comfort in the fact that their hush-hush passion was shared by a very impressive figure: Princess Diana!
This fascinating tidbit was revealed by Prince William during a recent appearance on Apple Fitness+'s "Time to Walk," an audio series featuring stories from special guests aimed at promoting walking and mental health. Recorded while strolling through the queen's Sandringham estate, the prince waxed lyrical about everything from fitness, fatherhood, and his fondest childhood memories of his late mother, per People. And as it turns out, the woman who wanted to be the queen of hearts could very well have been a queen of the charts!
So, what was Diana's particular favorite song to belt out behind the wheel?
Princess Diana used this Tina Turner classic to calm her kids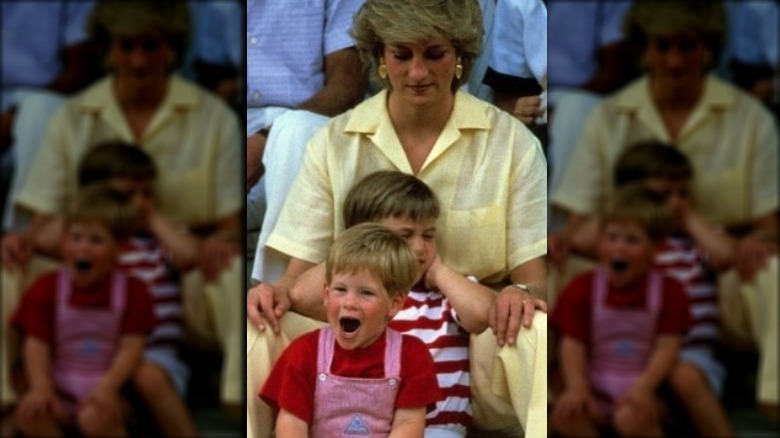 Princess Diana favored a true classic for her car song of choice. But, as Prince William shared on Apple Fitness+'s "Time to Walk," she didn't love the tune just for its uplifting beats — it also proved to be an effective distraction when William and Harry had to return to boarding school.
"My mother used to play all sorts of songs to kind of while away the anxiety of going back to school," William said (via People), "And one of the songs I massively remember and has stuck with me all this time ... to this day, still quite enjoy secretly, is Tina Turner's 'The Best' because sitting in the backseat, singing away, it felt like a real family moment." The prince went on to describe his late mother's joy in singing with her family: "She'd be driving along, singing at the top of her voice." The strategy worked, with William noting that they were so lost in the music that "reality only sunk in" once they arrived. And "The Best" still holds a special place in his heart: "When I listen to it now, it takes me back to those car rides and brings back lots of memories of my mother."
It is a memory depicted on-screen in "Spencer"; in the closing moments of the film, Diana, William, and Harry drive away from Sandringham, just the three of them, after a difficult Christmas with the royal family. They all belt out "All I Need Is A Miracle" by Mike & The Mechanics in Diana's convertible, singing as loud as they can.