Inside Lana Del Rey's Rumored Relationship With Axl Rose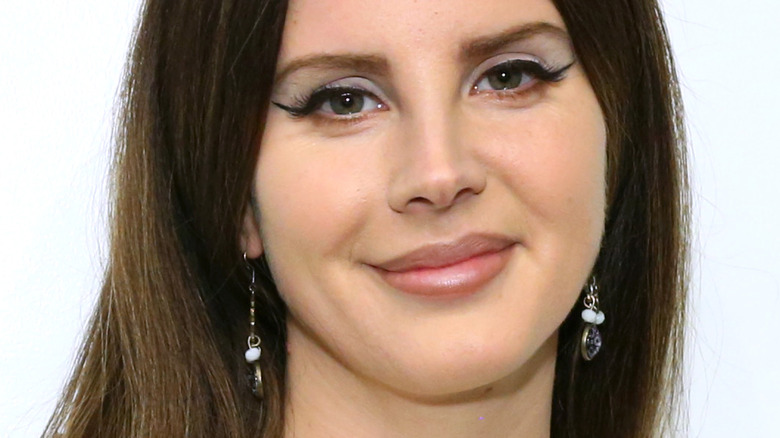 Rebecca Sapp/Getty Images
Just like normal people, celebrities also fangirl over other celebrities, and in Lana Del Rey's case, she's a massive Guns N' Roses fan. Back in the early aughts, when she still went by her real name, Elizabeth Grant, the "Young and Beautiful" singer had an unreleased track make rounds online, and it was aptly titled "Axl Rose Husband." According to NME, the song had quite interesting lyrics, with the star singing, "Daddy I need you." We don't know about you, but that seems pretty telling when it comes to how she feels about the frontman.
Her devotion to the band (or should we say lead vocalist?) was made more evident when she released a song called "Guns and Roses" on her album "Ultraviolence." It didn't explicitly imply that it was dedicated to Axl Rose, but it did have the lyrics "heavy metal love of mine" and "cause you were so much better than the rest of them."
But it doesn't end there! In 2012, the two were spotted leaving the famous hotel and bar Chateau Marmont in Los Angeles, leading people to believe that Del Rey won the fangirl life and successfully landed a date with her lifelong idol. But did romance actually blossom between the two?
Axl Rose's bandmates believe he and Lana Del Rey are simply hanging out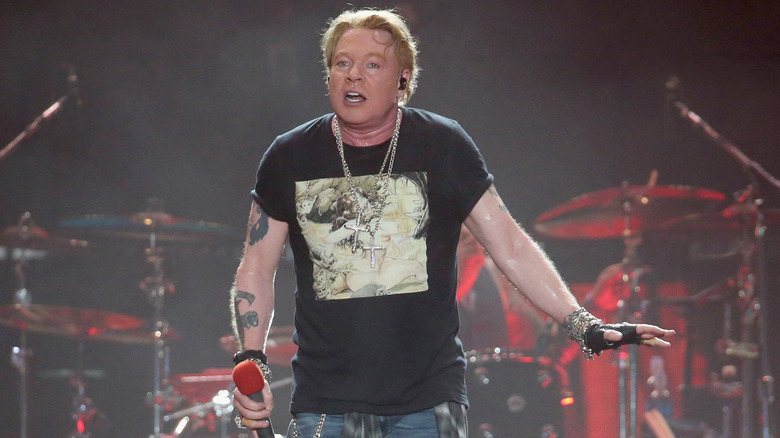 Gary Miller/Getty Images
Although Axl Rose and Lana Del Rey operate within the same industry, they belong in different circles — not to mention generations — so a romantic relationship between the two is highly unlikely. Even Rose's bandmate and Guns N' Roses guitarist DJ Ashba seems to think so, too. He told TMZ that there's probably nothing going on romantically between the two musicians.
"I don't think they are dating. Axl is a really cool dude and he likes hanging out with cool people," Ashba said. "I think that they were probably just buddy-buddy hanging out." Well, Lana Del Rey is indeed cool, but the two likely just bonded over their mutual love for rock music.
Del Rey probably scored free tickets, too. After the supposed "date," Us Weekly reported that the singer was seen in the crowd of not one, but two Guns N' Roses concerts in Los Angeles, proving that she's definitely a big fan of the band. In fact, according to one fan, the star "didn't take her eyes off the stage. She looked like such a fan. She was in total awe of the guys on stage." Nothing like hanging out with your idol and watching him in concert shortly thereafter!
Lana Del Rey's fans thought she might tour with Guns N' Roses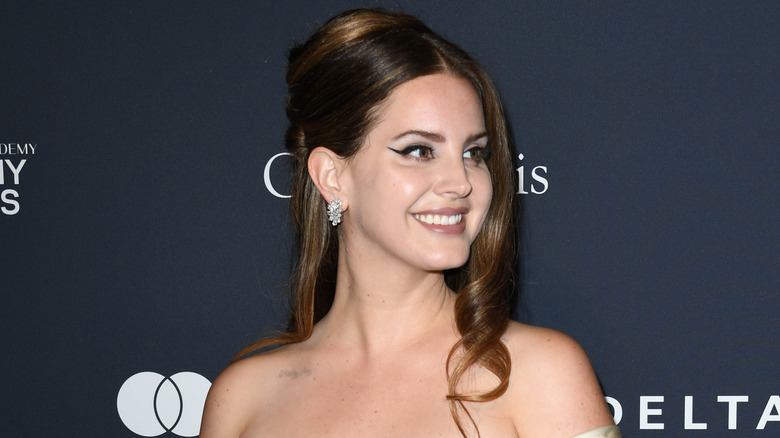 Jon Kopaloff/Getty Images
Being good pals with your favorite musician is one thing, but going on tour with them would things to a whole new level. In 2016, years after the Axl Rose and Lana Del Rey dating rumors swirled, another rumor involving the "Video Games" singer and Guns N' Roses started circulating. People began to think that she might be joining the band on their reunion tour.
Per Stereo Gum, Del Rey posted a photo of herself on Instagram sporting an official Guns N' Roses jacket with her name printed on it. Considering how the band was about to embark on a summer tour, with Del Rey being a massive fan, rumors that she would be supporting them on tour started swirling.
But alas, Del Rey just wanted to show everyone her customized jacket, because according to Dork, Rose gifted personalized tour jackets to some of his friends. She may not be dating the rockstar, but it's clear that she made it into his inner circle. Del Rey is the official winner of the fangirl life.