The Shady Side Of Axl Rose You Didn't Know About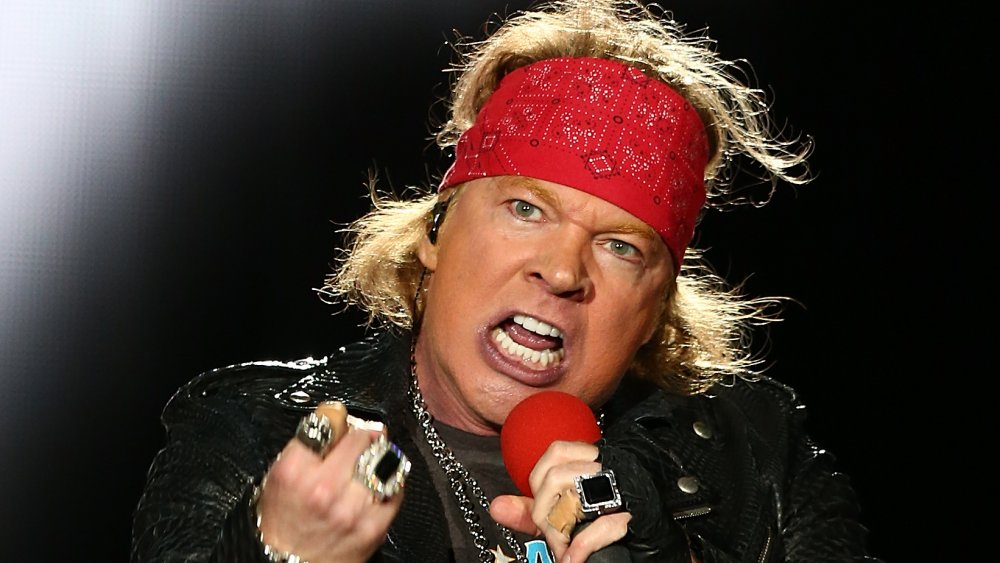 Paul Kane/Getty Images
We may receive a commission on purchases made from links.
They say "every rose has its thorn," but when it comes to rockstar Axl Rose, it might be fair to say he's "thornier" than others. The Indiana-born singer co-founded Guns N' Roses in the '80s with guitarist Slash and skyrocketed into the rock & roll stratosphere with huge hits like "Sweet Child O' Mine" and "Paradise City" (per Biography). Even decades later, it's hard to go an entire karaoke session without hearing someone passionately belt one of their tunes. Plus, their bombastic music videos, which were the toast of MTV (back when MTV played music videos), currently boast hundreds of millions (sometimes billions) of YouTube views apiece today. Rose's gyrating hips and instantly recognizable, yet iconic croaky voice are a constant throughout. 
That being said, it's been a while since the world has heard from Guns 'N Roses and especially, it's famously reclusive lead singer. In fact, Rose has become so reclusive that he came out of hiding — which he was in from 1994-2001, per HitMusic — just to go back in after his 2008 album Chinese Democracy, which took 11 years to make, was critically panned. "[Axl] won't come out of his house," a source told the Guardian at the time. Meanwhile, the star has also faced some serious controversy. Like Mandy Moore's ex-husband, rocker Ryan Adams, or the morally questionable singer CeeLo Green, Rose might not actually be someone you want to ask for an autograph if you ever cross paths. Read on to learn about the seriously sketchy side of Axl Rose. 
Axl Rose has been charged with rape, assault, and more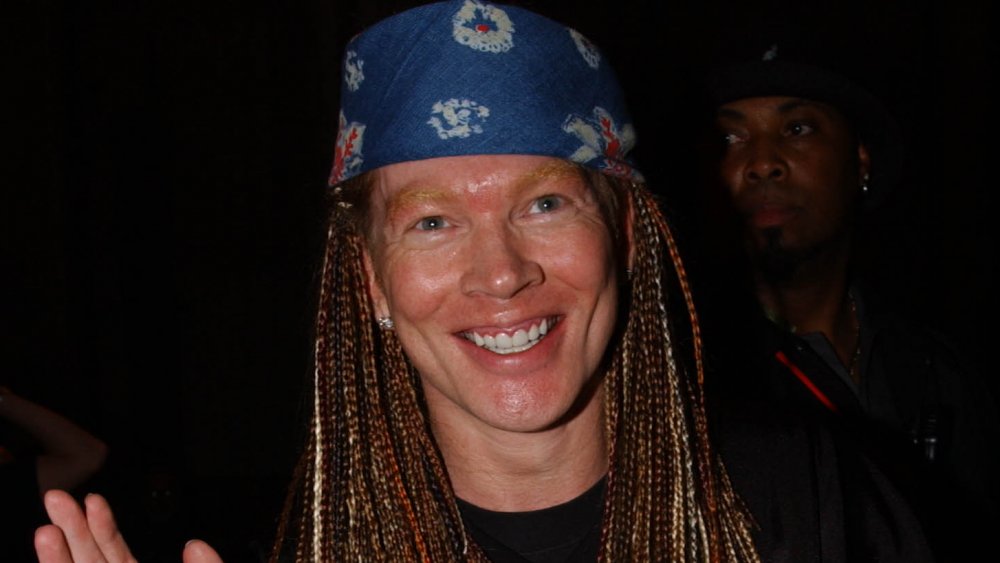 Frank Micelotta Archive/Getty Images
So what's the deal with Axl Rose? The Guns N' Roses lead singer, who frequently spent time in jail growing up, has had many criminal problems since (per Biography). For starters, the singer faced two separate lawsuits in the '90s from women accusing him of assault. One was from his former wife, Erin Everly. She claimed he hit her, spit on her, tied her up, and dragged her by her hair multiple times. In addition, Everly claimed he forced her to sleep with him while apparently claiming he was communicating with "spirits and extraterrestrial beings," per the Associated Press.
Prior to that, Rose was accused of statutory rape in 1985, when he allegedly attacked a 15-year-old girl named Michelle at a party. In the end, the charges were dropped because of a "lack of hard evidence," but there was apparently more than one source backing the claims and Mike Wall, author of Last of the Giants: The True Story of Guns N' Roses also backed the story and claimed Rose was "really excited" to have gotten away with it at the time. Yuck. 
Then, of course, there's the racism. Apparently, Rose penned a song called "One In A Million" that was ultimately removed from the album Appetite For Destruction due to racial and homophobic slurs. "The word 'n****r' doesn't necessarily mean black," Rose flatly told Rolling Stone regarding the tossed tune in 1989, per MME. Yikes. 
If you or someone you know has been the victim of sexual assault, you can call the National Sexual Assault Hotline at 1-800-656-HOPE (4673) or visit RAINN.org for additional resources.