How Scott Disick Supported Khloe Kardashian Amid The Latest Tristan Thompson Drama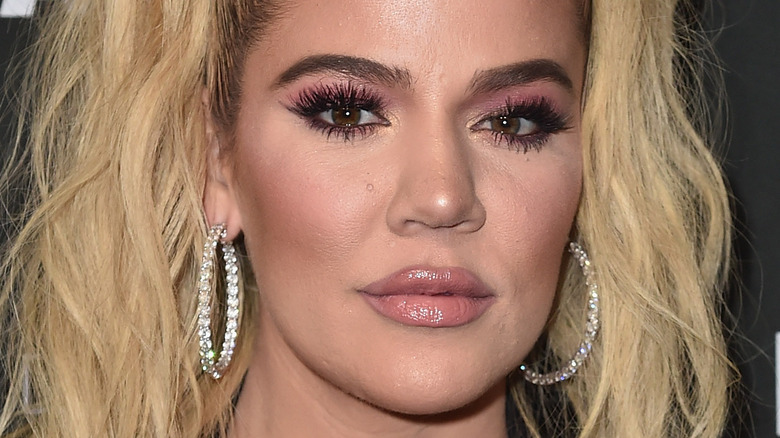 Alberto E. Rodriguez/Getty Images
Khloé Kardashian has experienced a lot of ups and downs with Tristan Thompson, with the past few days being in the latter category. On December 3, news surfaced that a Texas personal trainer is contending Thompson is the father of her newborn, as the Daily Mail reported. Maralee Nichols took the NBA player to court as she is suing him for child support, the report detailed. The legal documents cited claim that the baby was conceived in March, around the time of Thompson's birthday celebrations. At that time, Thompson was still in a relationship with Khloé, the Daily Mail noted. Thompson admitted to having sex with Nichols in the filings. 
Thompson reportedly offered Nichols $75,000 to keep the news to herself, according to TMZ. He also argued that his monthly contributions would be "a couple hundred dollars," considering he will retire after this season and will thus be unemployed. "All you have is a baby with a father who has zero involvement with the child and a few hundred dollars of child support a month," he wrote in the document shared by TMZ. 
"Khloé was upset to find out that he cheated again. She just can't believe that he is going to be a dad again," a source told People. Amid the paternity drama, Khloé turned off the comments of her Instagram page. As in other times, Khloé is turning to family for support, and that includes her sister Kourtney Kardashian's ex-partner, Scott Disick, with whom she shares a special bond.
Scott Disick sent Khloe Kardashian flowers
Khloé Kardashian hasn't publicly addressed the news about Tristan Thompson's alleged third baby. However, she took to her Instagram Story on December 5 to upload the image of a bouquet of pink and white roses and tag Scott Disick (pictured here). "I love you @letthelordbewithyou thank you," she wrote, adding a white heart and hands together in prayer, which suggests Disick is the one who sent her the flowers. Despite her official silent, Khloé has been sharing cryptic messages since the news came to light. "You are currently living at least one of the prayers you used to pray," she wrote on one occasion (via Us Weekly).
Khloé and Disick — who dated Kourtney Kardashian from 2006 to 2015, as E! News noted — have always been close. Even though Disick and Kourtney, who have three children together, have reportedly run into some issues over the past six years apart, Disick has remained on great terms with Khloé, according to Us Weekly.
Disick is no stranger to using his Instagram page to promote Khloé's brand Good American, something he did as recently as August. In February 2019, he also uploaded a photo of Khloé with his younger children. "The 3 musketeers," Disick captioned the snap. Khloé has also been open about her feelings for Disick. "Life would be SO boring without you! Thank you for being such a great brother to me," she captioned an Instagram post in celebration of his birthday in May 2020.