Christine Quinn Looks Unrecognizable With Her New Look
Albert L. Ortega/Getty Images
Real estate agent Christine Quinn first burst onto the reality scene in 2019 during the inaugural season of Netflix's "Selling Sunset," a series wherein beautiful people wearing beautiful clothes, driving beautiful cars, sell beautiful homes. What's not to love, right?!
Still, one could expect the castmates to experience a few growing pains on such a show. "I went into the show wanting to be taken seriously. Even though I'm confident, I dressed in a way that I thought people would expect a realtor to look. I was a little more conservative, I covered up more," Christine confessed to Vogue in 2020 about her own on-camera metamorphosis. "One thing I learned in season two is that [fashion] doesn't define you. I can be a professional and sell homes, and it doesn't matter what I wear. I became a little more myself and more vulnerable," she continued.
Alas, her wardrobe wasn't the only thing that evolved...
Christine Quinn is 'all about plastic surgery truth-bearing'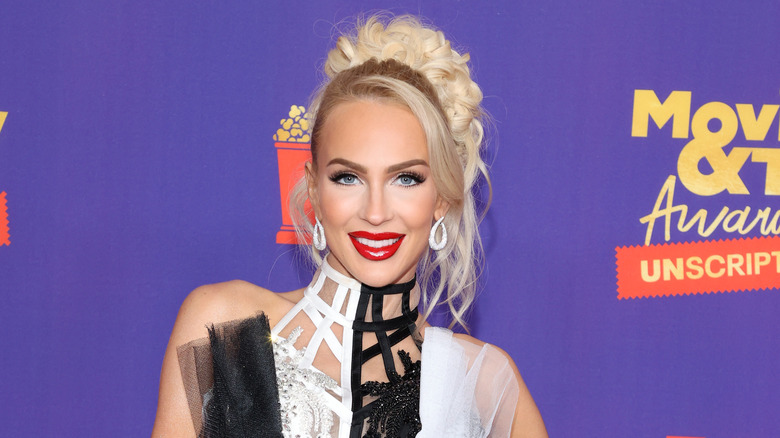 Amy Sussman/Getty Images
Realtor turned reality star Christine Quinn quickly carved out a niche for herself among the bevy of beauties on the Netflix series "Selling Sunset" as the show's self-professed "dominatrix, gothic Barbie." 
"Nothing about me is fake except my boobs," Christine proudly declared in the popular series' first season, per Daily Mail. But as time went on, viewers started noticing Christine's newfound penchant for nips, tucks, and perhaps a few tweaks. "I'm all about plastic surgery truth-bearing," Christine dished to Vogue in 2020. It's important in a world where there's this facade of social media causing people to have body dysmorphia. People think that [things are] real, and they're not. I tell people all the time: I got my boobs done, I get my lips done, tons of Botox, tons of makeup. How I look on [Selling Sunset] is not how I look when I wake up in the morning."
And yet, as much as things change, they stay the same. When asked about her future Christine adamantly declared: "Real estate will always be a part of my life because it's something I love and it's something you can do under your own steam."