Are Taylor Swift And Lena Dunham Still Friends?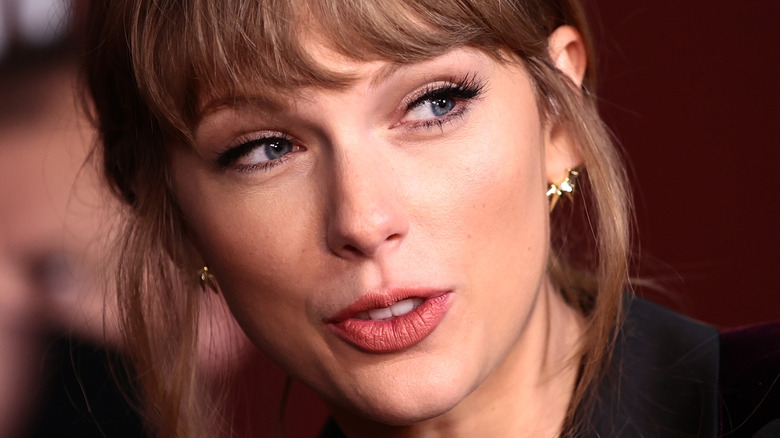 Dimitrios Kambouris/Getty Images
There are two things you can bet on when it comes to Taylor Swift: 1) she's going to make chart-topping records and 2) she's going to have an impressive "squad" of friends. Since the mid-2010s, the term "squad" has been used to refer to the high-profile celebs that Swift often hangs out with (via Insider). Gigi Hadid, Selena Gomez, Karlie Kloss, and Cara Delevingne are just a few of the ladies who have been "squad goals" for the "Shake It Off" singer over the years.
Lena Dunham is another notable celebrity who's been pegged as member of Swift's "squad," with their friendship dating back to 2012, per Billboard. Throughout the years, the two have seemingly developed a strong bond. Case in point? In a 2014 interview with Glamour (via Grazia U.K.), the "Girls" creator dished about her friendship with Swift, saying, "Taylor is a good friend of mine. I call her and text her all time. She helps me be stronger and make better decisions."
Although the two have spoken highly of each other and appear to have a great relationship, a 2017 interview has fans questioning whether or not Dunham and Swift are still friends.
Lena Dunham doesn't consider herself part of Taylor Swift's squad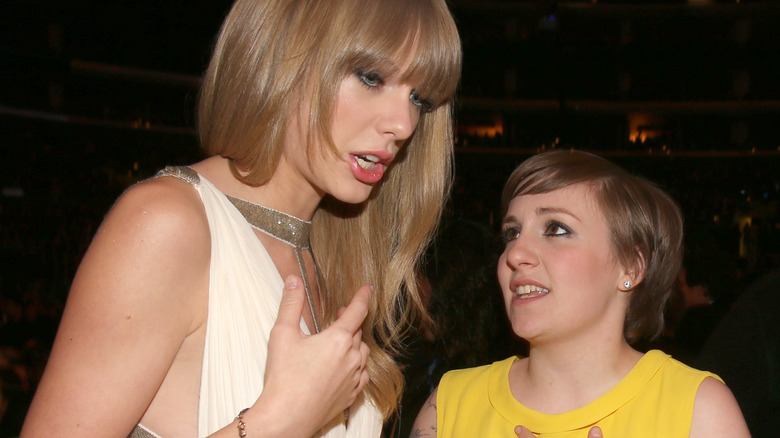 Christopher Polk/Getty Images
Despite calling Taylor Swift a friend for years, in a 2017 interview with Howard Stern, Lena Dunham revealed that she doesn't consider herself a member of the mega star's infamous "squad." While there doesn't seem to be any bad blood between the two, Dunham defended her reasoning for seemingly removing herself from the group. "I'm more of a one-on-one hanger," she said, adding, "A big group hang is not my specialty."
During the same interview, Dunham stood up for her pal when the singer's dating history was brought up. Needless to say, Swift's love life has become a popular topic of conversation on the internet, and it has even been highlighted as comedic relief on television. However, Dunham revealed that she doesn't believe the singer has done anything out of the ordinary. "I think about the relationships that I had in my early twenties and if they had been public, it would've been a disaster," she said.
Dunham added, "I mean, not to repeat age-old feminist points, but it's like, you know, any male actor her age who's going out and dating is applauded." She continued, "To just have a perfectly normal amount of romantic partners but be held to impossibly high standards by the press. Like, it's just an unfair and unwinnable game."
Leah Dunham asked Taylor Swift to be one of her bridesmaids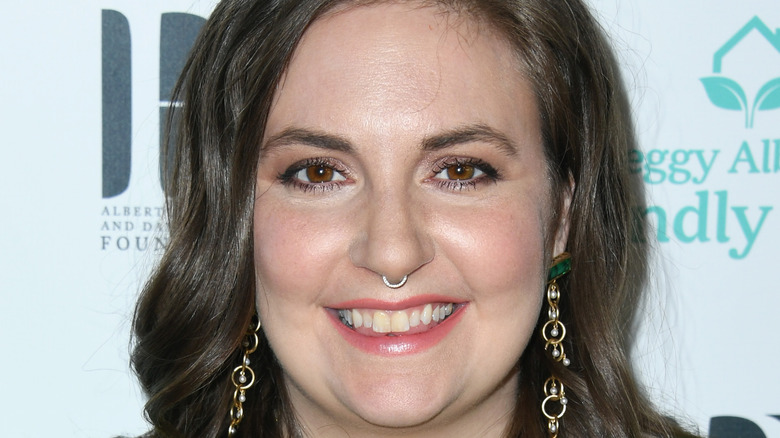 Jon Kopaloff/Getty Images
In 2014, the same year Lena Dunham gushed to Glamour (via Grazia U.K.) about Taylor Swift being a "good friend" of hers, Swift touched on their friendship in a sit-down with E! News, sharing that she looks to the actor for fashion inspiration. "Lena Dunham always has really great websites and shops at great stores. She always tells me her newest obsession, whether it be a website, or a blog, or a new store or something. She's really good with that stuff." We wonder if that fashion sense carried over into her bridesmaid dress picks. 
In September 2021, Dunham married musician Luis Felber and hand-picked her dearest friends and family members to be bridesmaids and stand by her side during her intimate, London-based ceremony. And can you guess who made the cut? That's right, Dunham's close friend Swift. Dunham told Vogue, "In terms of the bridal party, if we include siblings, we were nine. You can have a far bigger wedding with less bridesmaids, but I guess it just speaks to how excited I was to have my close friends there."
Well, there you have it! It seems Dunham and Swift's friendship is just one of those things that will never go out of style.