Donald Trump's Health Issues Were Way Worse Than We Originally Suspected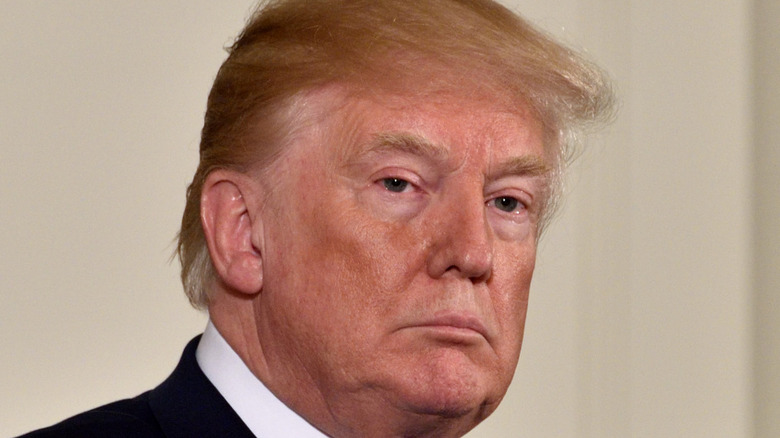 Evan El-Amin/Shutterstock
We may receive a commission on purchases made from links.
During the last year of his presidency, Donald Trump released the results from his physical in June 2020. According to White House physician Dr. Sean Conley, there was no major change in the then-president's health from his previous physical, per ABC News. One notable change to Trump's routine at the time however, was that he was taking hydroxychloroquine, used to treat malaria, as a prophylactic for COVID-19.
Despite taking the experimental drug, Trump announced he was diagnosed with coronavirus in October. "Tonight, FLOTUS and I tested positive for COVID-19. We will begin our quarantine and recovery process immediately," he tweeted at the time, per Politico. Dr. Conley alleviated any concerns that Trump struggled with the virus. "Rest assured I expect the president to continue carrying out his duties without disruption while recovering," the physician told the press. He also asserted that the then-POTUS was receiving routine treatment, per USA Today.
Trump was brought to the hospital only days after testing positive for the respiratory illness. Officials said it was only "out of an abundance of caution" that Trump was hospitalized, USA Today noted, adding that he received the monoclonal antibody drug Regeneron while being treated. By October 7, Trump was claiming to be fully recovered. "I want everybody to be given the same treatment as your president, because I feel great," he said in a video statement, per the Associated Press. "I feel, like, perfect." 
Contrary to his claims, however, Trump's former chief of staff now claims that his health issues were scarier than initially reported.
The White House doctor was deeply worried about Donald Trump's health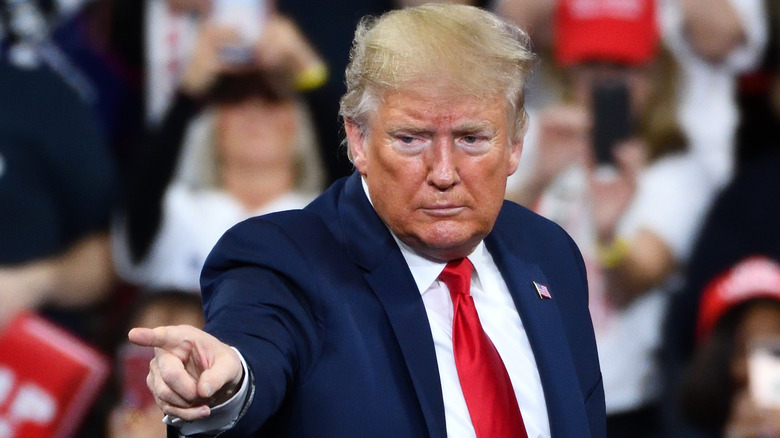 Evan El-Amin/Shutterstock
Apparently, Donald Trump's bout with COVID-19 was more serious than he let the public know. 
Mark Meadows, Trump's chief of staff, detailed the former president's difficulties with the virus in his book "The Chief's Chief," which was released December 7. According to Meadows, White House physician Dr. Sean Conley informed him that Trump had "dangerously low" oxygen levels. "That morning, Dr. Conley pulled me aside and delivered some bad news," the former staffer wrote, via CNN. "Although the president's condition had improved slightly overnight, his oxygen levels had now dipped down to about 86 percent and could be trending lower, a dangerously low level for someone his age," Meadows added. Dr. Conley wanted to move Trump to a hospital "in case he [took] a turn for the worst."
At first, Meadows wrote, Trump was reluctant to be hospitalized. Meadows explained to the then-president that he should leave while he could still walk on his "own power." Trump was so weakened he could not even carry his own briefcase. "He looked at me, almost surprised he had to put it down. 'I'm sorry,' he said. 'I-I just can't carry that out there," Meadows recalled.
The next month, immediately following the 2020 presidential election, Meadows himself tested positive for COVID-19. Trump was reluctant to have his chief of staff miss work during that crucial time. "The president told me it was not a convenient time for me to get sick," Meadows wrote in his book, via Insider.