How Cardi B Stole Halle Berry's Thunder At The PCAs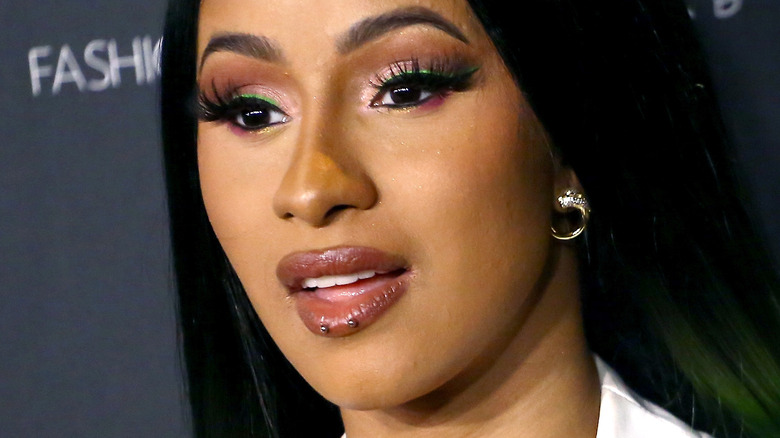 Tommaso Boddi/Getty Images
Cardi B and Halle Berry have reunited, and this time around included a noticeable hiccup. But first, let's recap their epic friendship.
In November, the rapper and actor teamed up to work on the all-female soundtrack for Berry's directorial debut, "Bruised," and at the time, the two stars couldn't stop gushing about each other. "When I thought of what would be the voice that would be the pinnacle of what this soundtrack could be, of course I thought of the queen," Berry said in an interview with Billboard. "Who wouldn't want to have a Cardi B song and have her voice and her talents on their debut?" Berry even went as far as calling Cardi the "Queen of Hip-Hop," because as she told Jimmy Kimmel, "there's room for more than one queen."
Cardi B couldn't believe that the one and only Halle Berry even knew of her existence and felt honored that she was selected. "I was like, 'Oh my, gosh. Is this really happening? Is this the real Halle Berry?" Cardi exclaimed. "She knows me. She likes me. She loves me." And at the 2021 People's Choice Awards, it was Cardi's turn to brand Berry as queen — but she ended up accidentally stealing her idol's thunder in the process.
Cardi B put her own spin on Halle Berry's name
At the People's Choice Awards on December 7, Cardi B had the honor of presenting the People's Icon Award to Halle Berry. In her introductory speech, she made sure to mention how Berry was the first Black woman to win an Oscar for Best Actress, making her a true icon. But fans also noticed how she mispronounced Berry's first name (it sounded a bit like "Holly"), leaving people scratching their heads. 
"It's only a matter of time before someone makes a TikTok sound out of cardi b butchering 'Halle berry' at the ppls choice awards," one fan tweeted. "Sounds like @iamcardib is saying Holler Berry. her accent is so cute! Congratulations @halleberry!" said another. Someone else said alongside crying laughing emojis, " The way Cardi say Halle Berry name." But it looks like it was a non-issue to Berry, considering how she gushed about having Cardi hand her the award. "To have Cardi B present you with an icon award — I don't think a moment could be bigger in my life," the actor said in her acceptance speech.
We don't know whether Cardi pronounced Berry's name that way on purpose, but one thing is likely — the two will remain besties!