How Nick Cannon Referred To Alyssa Scott After The Death Of Their Son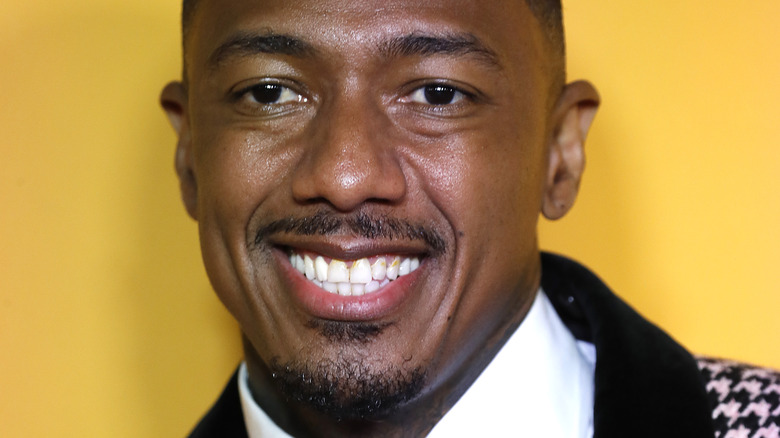 John Lamparski/Getty Images
Actor and rapper Nick Cannon revealed the tragic death of his 5-month-old son, Zen, on December 7 during an episode of the "Nick Cannon Show." "I didn't know how I was gonna handle today but I just really wanted to grieve with my family, people who love you. I didn't want to make it about any pageantry so I kind of went back and forth of what I should do but I was always taught, you go through it, you grow through it, you keep pushing," Cannon began before dedicating the show to his late son.
According to Cannon, he and Zen's mother, Alyssa Scott, opted to take Zen to the doctor when he was two months old after noticing the infant had a curious breathing pattern and that his head seemed larger than normal. "We didn't think anything of it, he had a normal Cannon head. But I wanted to take him to the doctor to get the breathing and the sinus thing checked out," he explained. "We thought it would be a routine process."
Sadly, the process proved to be anything but routine. Cannon revealed that the doctors found a malignant tumor and a large amount of fluid building around Zen's brain which ultimately required a shunt. By Thanksgiving, Cannon said that Zen's health took a turn for the worse. "Not only did we get to see the sunrise but we got to see the sunset, too," Cannon recalled about his final day with his son.
Nick Cannon praised Alyssa Scott for being 'the strongest woman'
Even in the midst of incredible heartbreak and loss, Nick Cannon has found a silver lining. 
During a heartbreaking episode of the "Nick Cannon Show," Cannon publicly thanked his entire family for coming together during such a difficult time — especially his son's mother, Alyssa Scott. "Zen's mom, Alyssa, was just the strongest woman I've ever seen. Never had an argument, never was angry. Was emotional when she needed to be, but always the best mom, and continues to be the best mom possible," he gushed. 
Per People, Scott and Cannon welcomed Zen in June, only a mere nine days after Abby De La Rosa gave birth to twins, Zion Mixolydian and Zillion Heir, also fathered by Cannon. After receiving a backlash of criticism for fathering so many children within such a short time frame, Cannon made it clear in no uncertain terms that none of his children happened by accident. "I'm having these kids on purpose. I don't have no accident!" Nick told City Girls rapper JT during a segment of his radio show on Power 106 Los Angeles. "Trust me, there's a lot of people I could've gotten pregnant that I didn't. The ones that got pregnant are the ones that were supposed to get pregnant," he added. "You only live once."
Our most heartfelt condolences go out to both Cannon and Scott during this incredibly challenging time.