Why Fans Are Saying Faith Hill Looks Completely Unrecognizable With Her New Look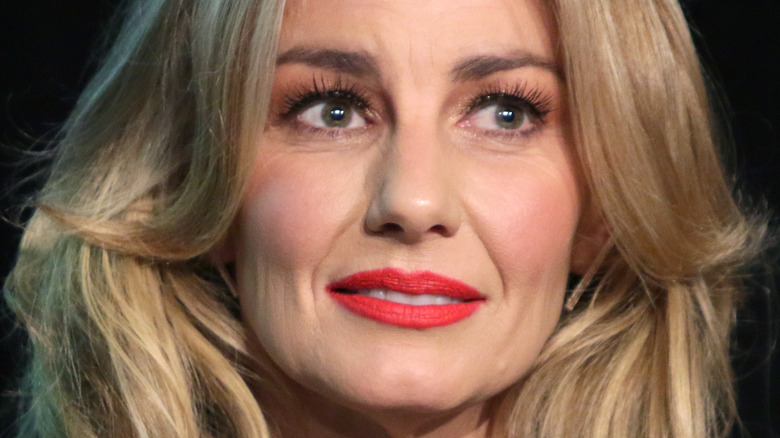 Jerritt Clark/Getty Images
Faith Hill and Tim McGraw are among the hottest couples in Hollywood, and people are enthralled with their every move, even Taylor Swift, who wrote a song about McGraw. The pair has enjoyed 25 years of marriage (a rarity in Hollywood), and they seem to be going stronger than ever. Both McGraw and Hill regularly gush over one another on social media, and in September 2020, McGraw made a swoon-worthy post about his wife that melted our hearts. "Happy birthday! The best person I've ever known. She lights up every room she walks in..... She's every rose I see..... The sun as it breaks the morning... And will be my sun as I break into the night.....," he wrote, adding a bunch of "I love you's" to the end of the caption.
The star also penned a sweet caption on their milestone anniversary. "25 years later and it's still the best day of my life. Thanks for going on this journey with me. Love you Faith," the country crooner wrote. Hill has also raved about their romance on several different occasions, and it's clear they still have that spark. "To my Valentine, A kiss is not just a kiss when you are kissing your true one and only......Valentine," she posted on Instagram to celebrate Valentine's day with her main man. 
The couple has worked together on plenty of music, and now they're showing off their acting dynamic. So, why all the fuss about Hill's looks?
Fans think Faith Hill has gotten work done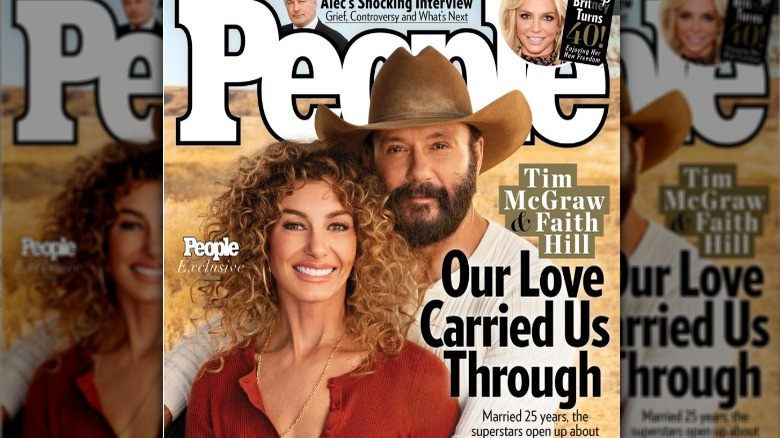 People
Faith Hill and Tim McGraw graced the cover of People's December issue (above) to promote a new project that's generating a buzz for several reasons. The spread, which reads "Our Love Carried Us Through," highlights the couple's blockbuster romance and their "Yellowstone" spin-off "1883." In the cover shot, McGraw stands behind Hill, wrapping his arms around her midsection. Hill rocked tight ringlet curls and a red top while McGraw sported his signature cowboy hat. Many fans took to social media to comment on the spread to applaud the beautiful couple, while others were floored with Hill's unrecognizable looks.
"Faith Hill is really unrecognizable if she is the one in the hat and beard," one person tweeted. "Surgery no one can make your face as our Father in Heaven did. Not knocking it if I had the money I would get face lift yesterday," another person commented on the New York Post's tweet. "It looks like she had surgery and people did a wonder on photoshop," one more chimed in.
A few more people commented on Hill's looks with more positive accolades, stating that she looks fantastic. "This story is garbage. Faith Hill looks absolutely gorgeous," one person wrote. "Of course, this story focuses on the woman and doesn't even mention Tim McGraw. Tim McGraw looks totally different and that beard." Page Six reached out to Hill's reps for comments but as of this writing, her camp has yet to respond.
Faith Hill follows a beauty and exercise regimen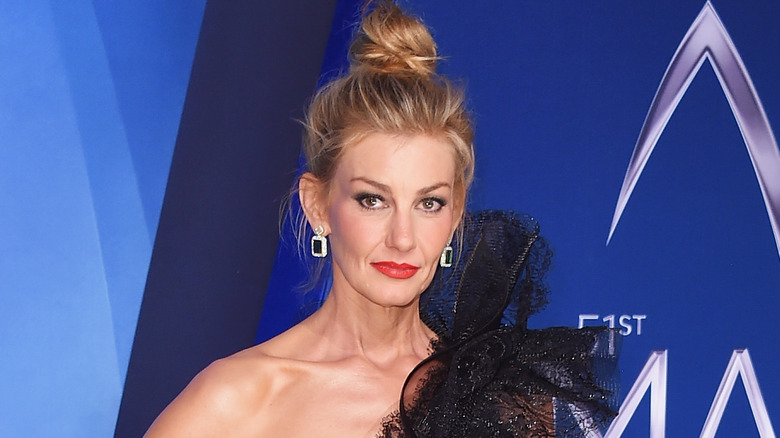 Michael Loccisano/Getty Images
Despite all of the rumors surrounding Faith Hill, there's no doubt that she has made a name for herself as one of the most flawless women in Hollywood. But like most of her celebrity counterparts, Hill does a lot of maintenance and work to keep herself looking fresh and beautiful. In 2017, the mother of three delighted New Beauty readers with some tips on how she keeps her skin looking so youthful. "It's important to take care of your skin and follow a solid routine. Moisturizing is key, but my skin breaks out when I use too many products," Hill told the outlet. "Too much kind of 'messes it up.' You don't have to use 10 or more products; you can be conservative. It's all about what works for you." (BRB, we're going to the store to pick up some moisturizer right now.)
The singer also shared that she doesn't diet, but she does make a conscious effort to eat wholesome foods. "I'm lucky because I'm one of those people who actually loves kale," she said, noting that her parents had a garden when she was growing up, and she ate a lot of fresh veggies. The singer also credits her glam squad for being especially awesome.
Of course, with the beauty routine also comes a workout routine. Hill told Country Daily (via Taste of Country) that she tries her best to work out. "Some days it's harder to get myself moving than others, but it has such a positive impact on my day," Hill said. One more pro tip? Drinking lots of water!