Does Faith Hill Have A Higher Net Worth Than Tim McGraw?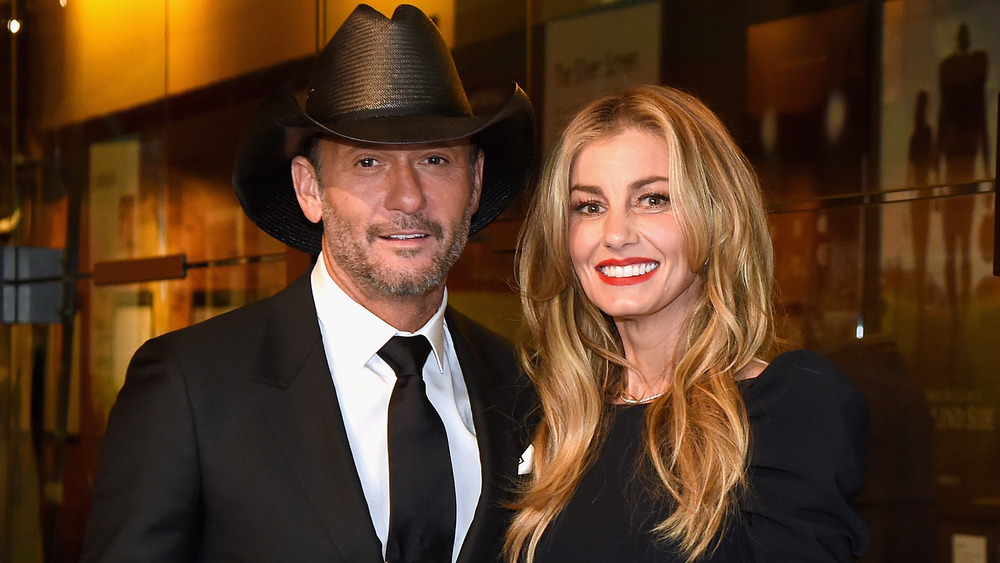 Rick Diamond/Getty Images
After more than two decades in show business, you don't need to question the status of Faith Hill and Tim McGraw's iconic careers. The country music couple has been through so much together — from their 1996 marriage and parenthood to countless professional milestones.
Hill and McGraw each started their run in the entertainment industry in the 1990s. Hill rose to fame when she was spotted by a talent scout from the Warner/Reprise recording company while performing at a bar in Nashville (via Biography). After landing a deal, she released her debut album Take Me As I Am in 1993, and well, the rest is history.
As for McGraw, the Hollywood hunk moved to Music City and started pursuing a music career in 1989. He worked as a club performer at one of the joints in town before signing a contract with Curb Records in 1990. It was not until 1994, though, that he gained notoriety for his album Not a Moment Too Soon, which became the biggest-selling country album of that year (via Britannica).
Since the early 1990s, Hill and McGraw have accomplished so much together. Not only have they won countless awards over the years, but their bank account is a huge indication of their overwhelming success. But who has the larger net worth, Hill or McGraw? Keep scrolling to find out. 
Faith Hill and Tim McGraw's net worth is actually combined
Ron Wolfson/Getty Images
Faith Hill and Tim McGraw have each enjoyed legendary runs in country music, which makes it hard to determine who has made more money! According to Celebrity Net Worth, the two are both responsible for their enviable empire, having a combined net worth of an estimated $165 million.
The beloved pair's impressive bank account is thanks to their many country albums, sold-out tours, television appearances, and much more. To this day, McGraw has released 16 albums that have reached No. 1 on the Top Country Album charts, while Hill has sold more than 40 million albums worldwide (via Billboard). The "This Kiss" songstress and the "Live Like You Were Dying" crooner have released joint albums, embarked upon joint tours, and won Grammy Awards, CMA Awards, and ACM Awards, among other accolades.
Hill and McGraw are more than just their singing voices, though. The bombshell has not only appeared in Touched by an Angel, The Stepford Wives, and Dixieland, but she has also produced the TV series Pickler & Ben. McGraw, on the other hand, has acting credits in The Blind Side, Friday Night Lights, and Black Cloud.
Faith Hill and Tim McGraw's kids will always come before their career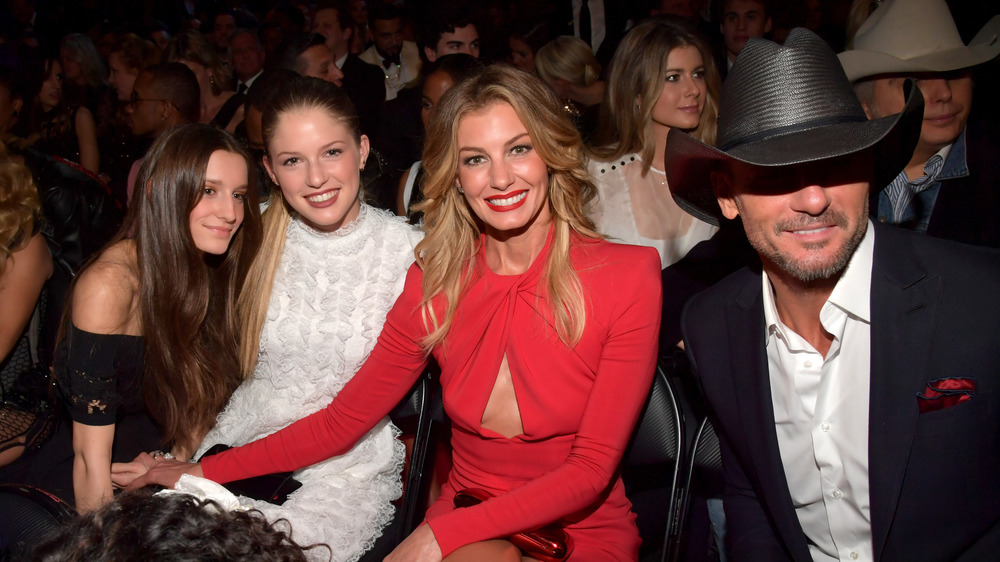 Lester Cohen/Getty Images
Faith Hill and Tim McGraw could not be more proud of their astounding professions, but there is one thing they will always prioritize over their careers — their children. Together, the longtime lovebirds share three daughters: Gracie, Audrey, and Maggie McGraw.
Hill and McGraw, who married in 1996, started their family the following year when they welcomed their eldest, Gracie, in 1997. They then became the mom and dad of their second child, Maggie, in 1998, followed by their youngest, Audrey, in 2001. As they learned to juggle their roles as parents, the "Way You Love Me" singer and the Country Strong actor have found the perfect balance between their professional and personal lives.
"It's such a rare thing to be able to experience what we do for a living, and to do it together, really feels like all the moments are special," McGraw told People in June 2018. "I watch him perform and still to this day I'm awed by it," Hill chimed in, noting that, as they "get older, it's less about the big gestures and more about just spending the time together at home."
It sounds like Hill and McGraw are winning in all aspects of life!