Star Confirms What We Suspected All Along About Jennifer Aniston's On-Set Behavior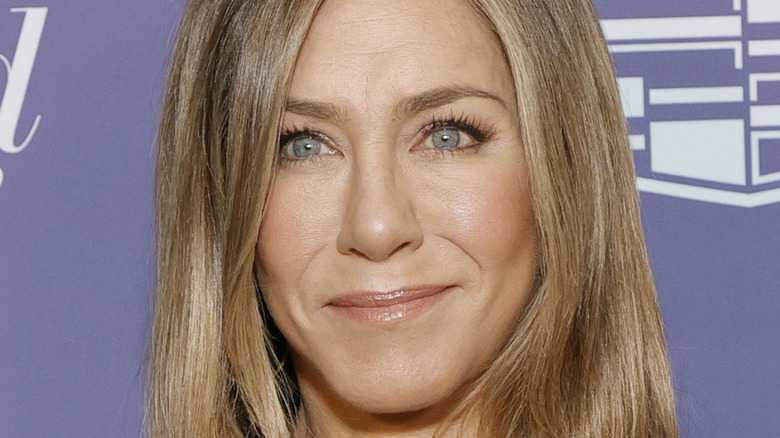 Amy Sussman/Getty Images
Earlier in December, Jennifer Aniston played the role of Blair Warner on "The Facts of Life" live TV event. Allison Tolman, meanwhile, played Natalie, and Gabrielle Union played Tootie. The cast was rounded out by Kathryn Hahn as Jo and Ann Dowd as Mrs. Garret. As fans may recall, "The Facts of Life" originally aired on NBC from August 1979 to May 1988, making it one of the longest-running sitcoms of the 80s.  
Lisa Whelchel, who originated the role of Blair and was on set for the event, talked with Jimmy Kimmel about the special experience.  "It wasn't even being on the set. It was a million times waiting backstage at the top of the stairs at the kitchen and walking in," she said on "Life in Front of a Studio Audience," hosted by Kimmel. "That's where it really hit me." 
But that's not all Whelchel had to say — she also dished on how Aniston behaved on set.
Lisa Whelchel said Jennifer Aniston was 'amazing'
While Nancy McKeon, who played Jo on the show, was not at filming, Lisa Whelchel was there to applaud Jennifer Aniston for her work. Speaking to Extra on December 8, Whelchel gushed, "Jen Aniston would not have had to say one word and I would have been honored that she played the part, but she just killed it — she was amazing." Whelchel added, "I showed up fangirling about everybody but I didn't expect that this was... this was the show they grew up with. It went both ways, and that was a nice surprise."
Of course, it's not too surprising Aniston is a gem to work with, as she has admonished bad behaved actors before. Speaking of a rude actor who guest-starred on "Friends," she recalled during a June appearance on The Howard Stern Show, "I remember when we were doing a network run-through, the network and the producers would just laugh. And this person would be like, 'Listen to them, just laughing at their own jokes. So stupid, not even funny.'" She continued, "It was just like, 'What are you doing here?'" Although the star later apologized to Aniston, saying they were "nervous," she's still shocked by it. "This is a wonderful, warm place to be, and you're coming into our home and just s**t on it," she said.
Fortunately for Aniston and Whelchel, it sounds like the "The Facts of Life" live TV event set was good vibes only.