Which Huge Celebrities Does Jennifer Aniston Have Weekly Dinners With?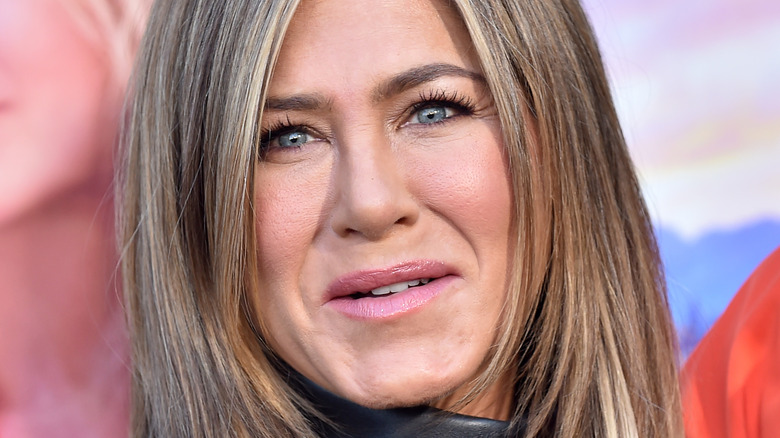 DFree/Shutterstock
Jennifer Aniston always gets by with a bit of help from her friends and that is one of the reasons she is so loved. In interviews, Aniston has never been shy about showing love for some of her favorite people in her life — her amigos. The actor has gone through two divorces, but remained amicable with both exes, showing her warm character. She loves to do things with friends, and she counts Courteney Cox as one of her BFFs. Not going to lie; we love that Rachel and Monica are friends in real life.
Aniston is a frequent guest at Cox's house, and she really respects their friendship. "There's absolutely no judgement in Court. You'll never feel scolded. She's extremely fair, ridiculously loyal and fiercely loving," she told More Magazine (via Hello!). "I've slept in her guest bedroom a lot. Without giving away too much of my private stuff, all I can say is she's been there for me through thick and thin."
Aniston also hangs out with her "Morning Show" co-star, Reese Witherspoon, and she shares a lot of shoutouts to her on Instagram, including one in September. "My sister, friend, rad partner, collaborator @reesewitherspoon and I talking about building @themorningshow season 2 mid-pandemic," Aniston wrote on Instagram, stating that she was "grateful for our team and this crew for their hard hard work" on the show. And when she isn't working, the actor also hosts weekly dinners, and you'll never guess with who!
Jennifer Aniston is the best host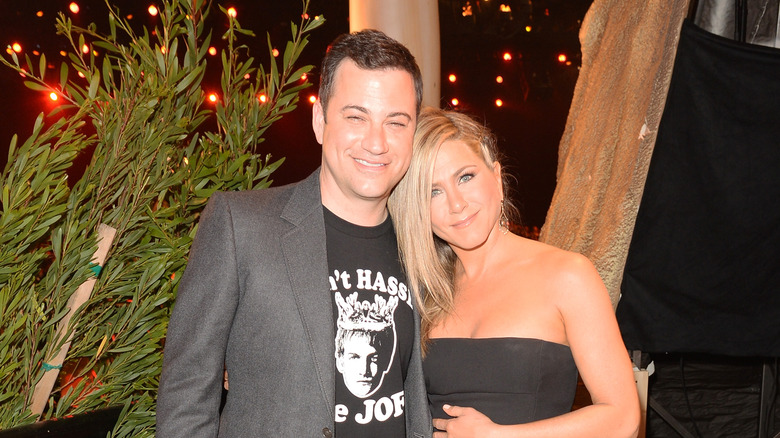 Jason Merritt/term/Getty Images
Just call Jennifer Aniston the hostess with the mostest! The "Friends" star has kept along with the theme of her famous show, consistently hanging out with friends and treating them like family. As we mentioned, she often hangs out with her BFF, Courteney Cox, and even Lisa Kudrow occasionally, but there are plenty of other A-listers that Aniston makes time for. In an interview with The Hollywood Reporter, Jason Bateman revealed that Aniston hosts him and his wife for weekly dinners, along with Jimmy Kimmel and his wife. Perhaps our invite got lost in the mail?
Bateman hilariously shared that he and Kimmel refer to Aniston as "Carol," comparing her to a den mother and adding that she's like the "enthusiastic leader of a bowling team and all that goes with that. Someone who's almost stuck in the 1940s in the way she organizes stuff because she just wants to make sure everybody is comfortable and has a good time."
And while weekly dinners are undoubtedly fun, Aniston has also hosted friends during the holidays, including Thanksgiving 2019. According to Insider, Aniston even included her ex-husband, Justin Theroux, who shared a ton of glimpses behind-the-scenes. Also, on the invite list? Bateman, Will Arnett, and even Sandra Bullock. Of course, Aniston shared a series of photos from the Friendsgiving event, trolling pal Jimmy Kimmel for requesting Mexican food. "Ok, @jimmykimmel... here are your f*%king Friendsgiving enchiladas," she wrote on Instagram. Love it!