Camilla And Prince Charles' Christmas Card Is An Interesting Choice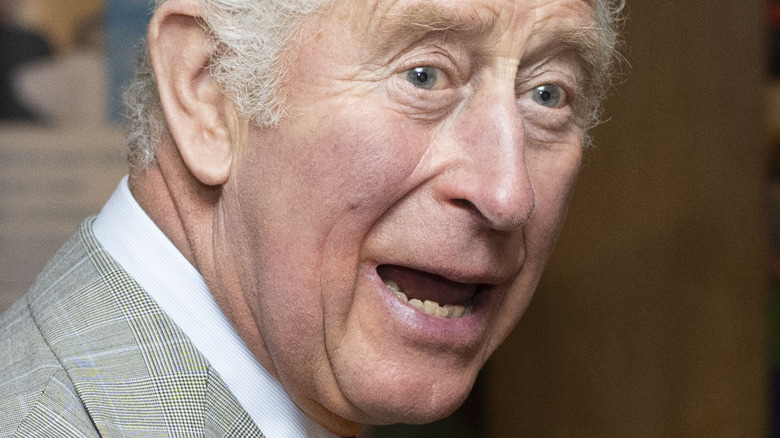 Matthew Horwood/Getty Images
Prince Charles and Duchess Camilla are gearing up for an eventful Christmas. The first Christmas since the arrival of COVID-19 vaccines, many feel this year's Yuletide celebrations will be more joyful than the gloom and doom of the pandemic-marred 2020. And one thing's for sure — we know that the Clarence House is certainly in the holiday spirit!
In past years, both Charles and Camilla dazzled in their royal Christmas cards. In 2020, the Clarence House Christmas card featured the couple sitting on a bench amid a vibrant and flourishing garden at located Prince Charles' Birkhall residence. In 2019, the couple wished supporters "a very happy Christmas and New Year" with a picture of them riding in style — as Charles steered the wheel of a 1953 MG TD in Havana, Cuba that year, per People.
Now, although we are in a time where COVID-19 vaccines and boosters are readily available, the pandemic is still here. And it seems Prince Charles and Duchess Camilla had this in mind when they sent out their 2021 Christmas card.
Charles and Camilla's card acknowledges COVID-19
Prince Charles and Duchess Camilla decided to go with a sweet candid of the two sporting masks for their House Christmas card. The sweet photograph — from the summer — sees husband Prince Charles, adorned in a black top hat and a stylish, white-outlined black mask, helping wife Camilla Parker Bowles adjust her face covering, per the Daily Mail. Camilla is seen rocking an all-white ensemble with a matching mask and purse in tow, looking regal as ever with her massive ring, heart-embellished bracelet, and other complementary ornaments.
The Prince of Wales and The Duchess of Cornwall placed the photo — taken at the Royal Ascot — in a white card with red trim. A Twitter announcement of the card shows it hung from a Christmas tree adorned in white lights. "Wishing you a very Happy Christmas and New Year," the note reads. Although the pic is cute, it is an interesting choice — especially since Prince Charles suffered from COVID-19. Perhaps the photo was selected as a friendly reminder to stay safe?
Son Prince William and his wife Kate Middleton also revealed their Christmas card for 2021 via Instagram. The photograph sees William — dressed more casually than not — and Kate — stunning as usual — posing with children Prince George, Princess Charlotte, and Prince Louis in Jordan. The couple stated they were "delighted to share a new image of the family, which features on this year's Christmas card."