Did Mike Pence Really Refuse To Do This During The Capitol Riot?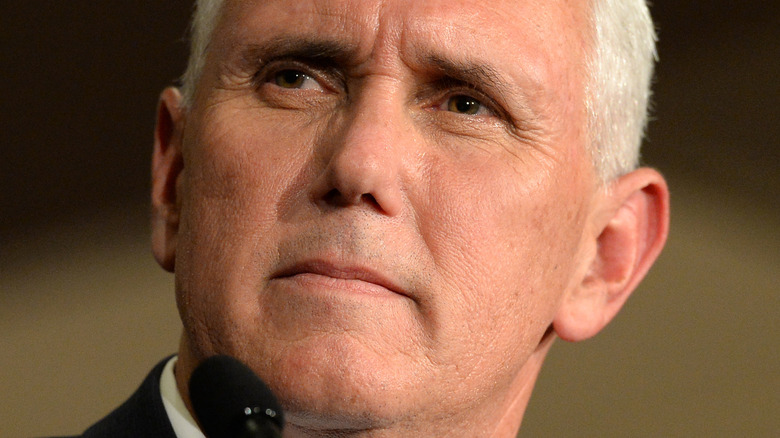 Gino Santa Maria/Shutterstock
We may receive a commission on purchases made from links.
Even though Donald Trump downplayed the danger to Vice President Mike Pence on January 6, the situation was serious, as some rioters chanted, "hang Mike Pence," according to NBC News.
Pence himself has addressed the severity of the event multiple times, even going as far as to split with Trump on the issue of certifying the 2020 election results. "In January of 2017, I took an oath to support and defend the constitution of the United States. The Bible says in Psalm 15 that he keeps his oath even when it hurts, and on that day, I could relate to that sentiment, but I wanted to keep my oath to the Constitution," Pence said in a November interview with the Christian Broadcasting Network. He added, "I... I know in my heart of hearts that on that day, we did our duty under the Constitution. ... I know I did the right thing."
Apparently, Pence's commitment to his beliefs is so strong, he refused to do this one thing during the Capitol riot, according to claims.
Mike Pence refused to leave with the Secret Service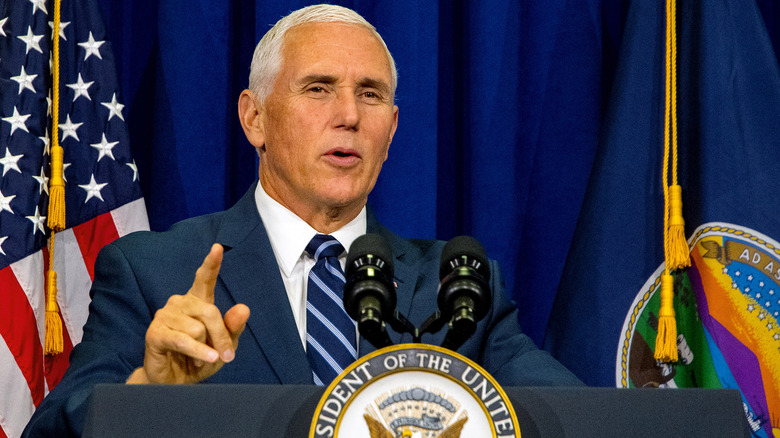 mark reinstein/Shutterstock
Former Vice President Mike Pence refused to get into a car with Secret Service agents during January 6 Capitol riot, as  Washington Post journalists Carol Leonnig and Philip Rucker claim in their book, "I Alone Can Fix It: Donald J. Trump's Catastrophic Final Year." The work was published in July but has generated new interest as the first anniversary of the terrifying events draws near.
"Tim Giebels, the lead special agent in charge of the vice president's protective detail, twice asked Pence to evacuate the Capitol, but Pence refused," the journalists penned in an excerpt obtained by Newsweek. Once Pence agreed to move to a safer place in the building, "Pence's limousine was waiting for them, but the then vice president reportedly refused to get in." Pence told Giebels: "'I'm not getting in the car, Tim. I trust you, Tim, but you're not driving the car. If I get in that vehicle, you guys are taking off. I'm not getting in the car.'"
After refusing to get in the car with the Secret Service, Pence hunkered down in what the book described as a "secure subterranean area." The former vice president returned after it was safe and oversaw the certification of the 2020 election. On January 20, Pence went to President Joe Biden's inauguration.