Chris Pratt's First Post About Katherine Schwarzenegger Since Controversy Elicits Strong Reactions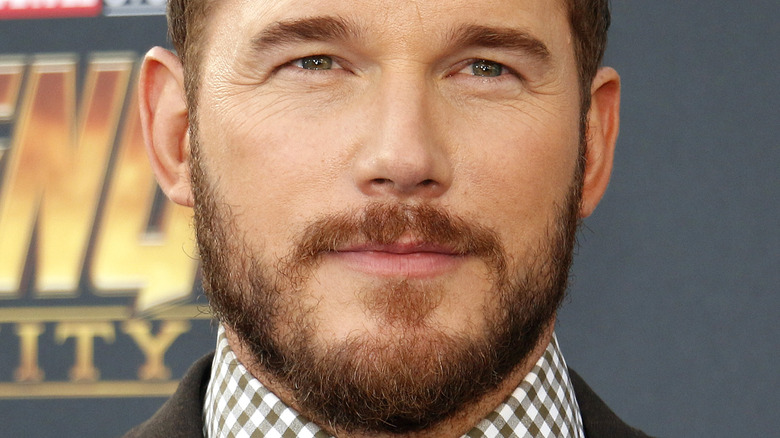 Tinseltown/Shutterstock
Chris Pratt and his wife Katherine Schwarzenegger are one of the hottest couples in Hollywood. As fans know, Pratt was previously married to Anna Farris and the couple share one child together, son Jack. Pratt and Schwarzenegger wed in 2019 and she gave birth to their daughter in 2020. The pair haven't been shy about showering one another with love and affection on social media, but in November Pratt came under fire for a somewhat controversial post.
In the upload that many fans perceived as sexist, the "Guardians of the Galaxy" star joked about the way his wife looks at him. "​​Guys. For real. Look how she's looking at me! I mean. Find you somebody that looks at you like that!! You know!? " he wrote on the update. He also called Schwarzenegger "my greatest treasure right next to my Ken Griffey Jr Upper Deck Rookie card." While Pratt's tone seemed light-hearted and like he was making a joke, many fans didn't like it. "Did you just describe your wife as a possession?" one follower asked. "What every woman loves being 'owned' and ranked against a baseball card so romantic," one more wrote. A few more took issue with the fact that Pratt raved over his healthy daughter when his son Jack has a slight disability after a cerebral hemorrhage during birth, per Page Six. 
Luckily, Pratt's fans are loving his most recent tribute to his wife and it has not come under scrutiny.
Chris Pratt's cute message to Katherine on her birthday
It sure seems Chris Pratt has learned from his mistakes. Just a month after his controversial post, Pratt wished his wifey, Katherine Schwarzenegger, a happy birthday in the sweetest way possible. The star added a series of images on his Instagram that appeared to be from a fun-filled boating trip. One of the shots even included Schwarzenegger's mom, Maria Shriver, kissing her daughter on the cheek.
Along with the carousel of images, Pratt added a sweet caption to pay respect to Schwarzenegger on her special day. "You are such a wonderful wife, mother, step-mother, and life partner. I simply can't imagine how lost I'd be without you," he wrote. "You're beautiful, tough as nails, reasonable, deeply thoughtful, extraordinarily smart, you're a complete boss, eternally driven and you communicate like no other." The actor also noted that his wife had been "instrumental" in his growth, adding that he wouldn't be able to navigate the world without her. "I'm just so grateful for the harmony you continually bring to our household," he added.
Fans loved the tribute and made sure to let Pratt know. "One day I want a man who loves me as much as Chris Pratt loves his wife," one person commented. "Happy Birthday! This is so beautiful! nothing in the world is better than God's blessing of a spouse that is our other half and help mate," one more chimed in. How cute!