The Real Reason Bobby Flay Is Rooting Against Michael Symon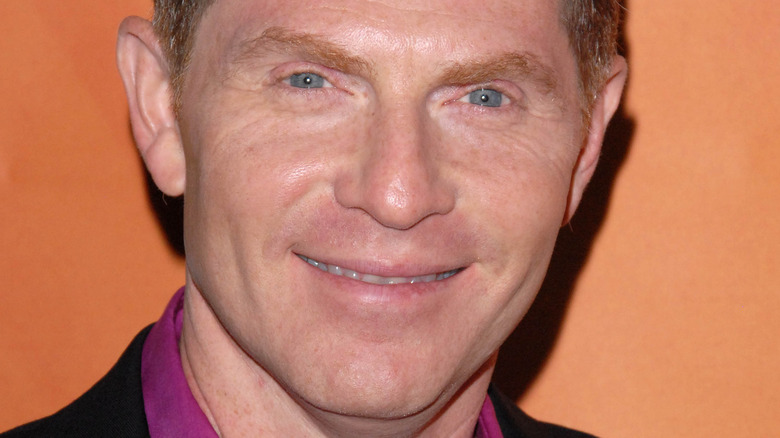 s_bukley/Shutterstock
After rumors that celebrity chef Bobby Flay would be leaving the Food Network, fans took a giant sigh of relief when the network and the "Iron Chef America" star agreed to a new three-year contract. "I'm thrilled to extend my relationship with Food Network and Discovery," Flay said in a statement obtained by People. He also announced "some incredibly exciting new shows" coming down the pipeline, promising "to take food and cooking to places we've never imagined before."
One of Flay's new shows is set to premiere tonight. And as it turns out, the show may be quite familiar to Flay fans. After hosting nine seasons of "Throwdown," Flay is handing over the reins to his best friend, Michael Symon. "I just thought that he'd be perfect to bring the role back," Flay told People.
If you've never seen "Throwdown," here's how it goes. Symon shows up at a restaurant and challenges the chef to a head-to-head battle making that chef's signature dish. But there's a catch: Symon doesn't know what he's making until he shows up, and the chef has no idea Symon is coming. Although Symon and Flay may be close friends, Flay told People that he is "rooting against" Symon.
Bobby Flay wants to 'humble' Michael Symon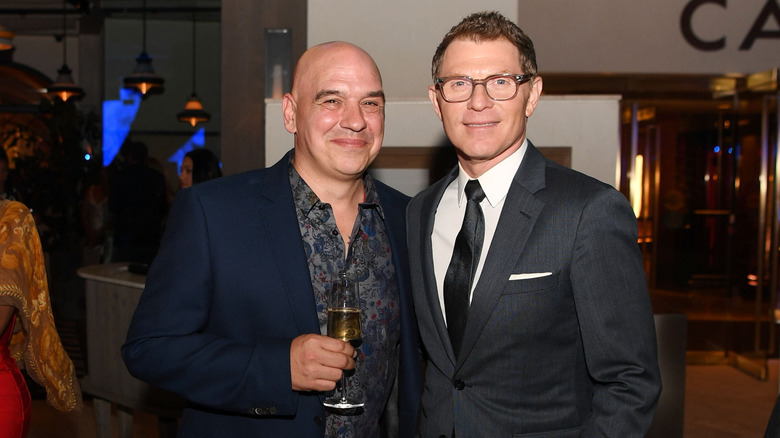 Denise Truscello/Getty Images
When Bobby Flay revealed to People that he would be handing "Throwdown" over to his friend Michael Symon, he had only positive things to say. "He's a great guy and he's a great chef and he has a great way about him," Flay said, adding that he had been talking to Symon about taking the helm of the show "for years." But despite all the pleasantries, Flay admitted he'd like to see some chefs give Symon a run for his money. "I'm rooting against him," Flay said. "I want the people that he challenges to kick his ass. It would be good to humble him." Flay also claimed that over the course of the season, Symon "fares fairly well," implying that a few throwdowns may not go in his favor — or should we say, flavor?
Playful public spatting has long been a staple of Flay and Symon's relationship. In a 2019 appearance on "Today," Symon made a dig at Flay's rub, saying he didn't buy it because it was "discounted" for a "going out of business sale." The hosts laughed, and Flay quipped back, "It reminds me of your books at Barnes & Noble." Symon revealed in a 2017 episode of "The Chew" that the two Iron Chefs had been best friends for 20 years, and that he was actually temporarily living with Flay at the time. "The other day, [Bobby] was getting ready to leave," Symon said, "[and] I'm like, 'It's gonna be hot. Make sure you put on your sunblock!'"