Tristan Thompson Confirms What We Suspected All Along About His Latest Public Affair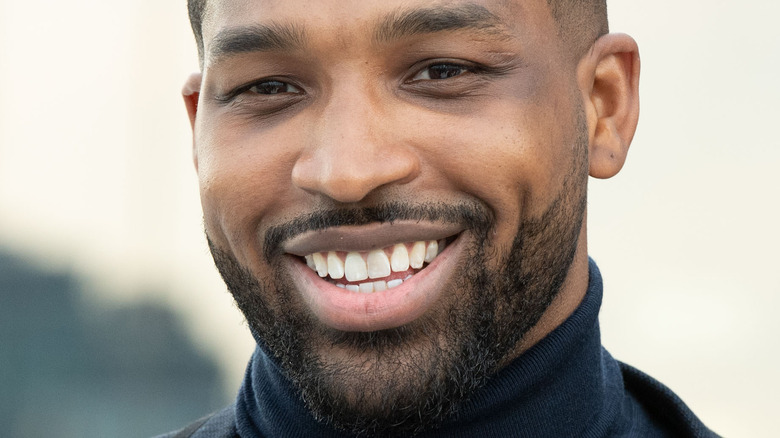 George Pimentel/Getty Images
To perhaps no one's surprise, news broke in December that NBA player Tristan Thompson had once again cheated on Khloé Kardashian. Although the couple split up in June, Thompson's cheating occurred when they were still together in March — and there might be significant proof of his infidelity. On December 2, personal trainer Maralee Nichols welcomed a baby boy, and she claims Thomspon — with whom she had a fling — is the father, according to Page Six. Nichols has filed a lawsuit against the basketball star for paternity and child support.
Khloé herself has kept relatively quiet about Thompson's headline-breaking indiscretions, save for a cryptic Twitter post on December 8. And her recent public appearances have been drama-free as possible, which included a stunning cameo at the People's Choice Awards on December 7. On the other hand, Thompson has been speaking out via court documents, revealing new sordid details about his affair with Nichols. And let's just say you don't need a crystal ball to predict what he just confirmed.
Tristan Thompson's affair wasn't a one-time thing
Tristan Thompson is attempting to set the record straight in response to a lawsuit filed by trainer Maralee Nichols. Nichols is suing for child support in California, where the pair met, while Thompson is seeking a Texas case, as it's where Nichols lived before moving to Los Angeles, and where they engaged in sexual activity that could have resulted in Nichols' pregnancy, according to the Daily Mail.
Thompson also wrote a legal statement about the ordeal, which was obtained by the Daily Mail. "We saw each other sporadically between December 2020 and March 13, 2021 and did not have sexual intercourse in California during that time. Petitioner told me that she had been involved with other athletes and understood the limitations of our relationship; to-wit, that we might see each other on a sporadic basis for consensual casual sex only," Thompson said. He alleged the March 13 date was the only time in 2021 they had sex.
Of course, Thompson's admission means this was more than a one-night stand — and it proves things weren't so dandy with Khloé during the height of the COVID-19 pandemic, as previous reports suggested. A source told Entertainment Tonight in December 2020 ahead of Thompson's move to Boston for work, "[It] is a difficult pill to swallow for Khloe especially since she and Tristan have been doing so much better as a couple and as a family lately." Well, we have a feeling this reveal won't shock fans too much, unfortunately.