Khloe Kardashian's Stunning Appearance Amid Tristan Thompson Drama Has Fans Reeling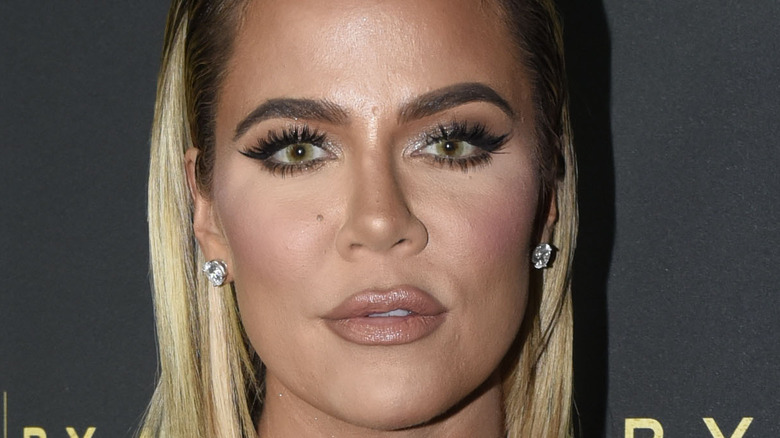 Vivien Killilea/Getty Images
If you've been keeping up with the Kardashians, you would know that Khloé Kardashian is not having the best week. She's facing yet another scandal that has got to do with her ex-partner and baby daddy Tristan Thompson: This time around, it has come to light that Thompson may be the father of Houston-based trainer Maralee Nichols' newborn. Nichols has recently filed a paternity suit against the NBA player, a case that has made plenty of headlines.
Nichols claims that she and Thompson had conceived the child in March when he was in town, per the Daily Mail. Thompson and Kardashian were still together at the time, which affects how the reality star feels upon learning the news now. Sources close to Kardashian revealed that she finds the whole situation disappointing. "Khloé was upset to find out that he cheated again," they said, per People. "She just can't believe that he is going to be a dad again. It's just a sad situation to her."
But it looks like Kardashian isn't going to let the issue stop her from living her life. The media personality just took the stage at the 2021 People's Choice Awards, and fans lost it.
Khloé Kardashian doesn't look like she's too affected by the Tristan Thompson controversy
The 2021 People's Choice Awards is drastically different for Khloé Kardashian compared to last year. At the 2020 PCAs, she had been on the receiving end of a massive bouquet of flowers from Tristan Thompson after winning the coveted Reality Star of the Year award. This year, while she is once again nominated for the accolade — and so far, she's already won for Best Reality Show ("Keeping Up With The Kardashians") — Thompson will most likely keep quiet. But none of that drama seems to bother Kardashian, who sported a mirrored silver dress that resembled a disco ball.
Kardashian not only accepted the award alongside sister Kim and mom Kris Jenner — during which she gave all of the Kardashian-Jenner fan accounts a special shout-out — she was also photographed multiple times throughout the night, including next to Jenner, Ellen DeGeneres, and Portia de Rossi, as well as posing with Kim. 
In response to Kardashian's killer ensemble, fans went wild. "IM WORKING BUT ALL I GOTTA SAY IS THAT @KHLOEKARDASHIAN IS STUNNING," one fan tweeted. "Khloé looks so good," exclaimed another. Though she has yet to make an official statement on the whole Tristan Thompson drama, it's clear Khloé Kardashian isn't letting the situation bring her down.