Tristan Thompson's Paternity Case Just Took An Unexpected Turn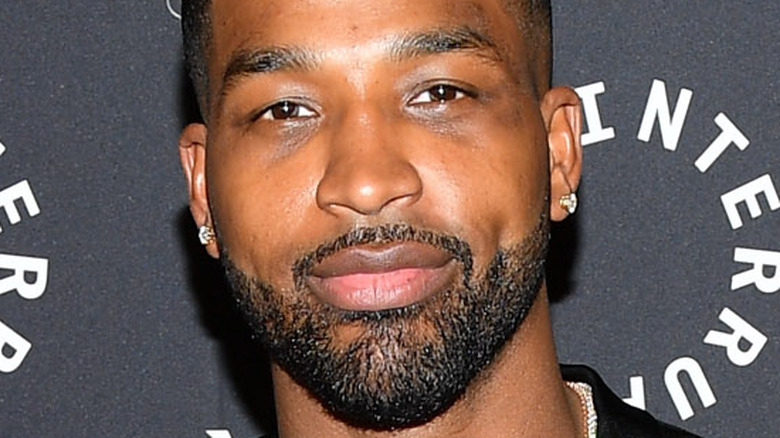 George Pimentel/Getty Images
Tristan Thompson was named in a paternity lawsuit by fitness trainer Maralee Nichols who gave birth to a baby boy on December 2, per Page Six. If the child is Thompson's, it would be his third child as he previously had his son Prince with Jordan Craig, and his daughter True with Khloé Kardashian.
The NBA big man admitted in court documents that he had a relationship with Nichols, but it was casual and solely based on hooking up. "We saw each other sporadically between December 2020 and March 13, 2021 and did not have sexual intercourse in California during that time," Thompson claimed in court documents published by the Daily Mail on December 14. In his statement, the Sacramento Kings forward said he and Nichols never went on "dates in the traditional sense" as their relationship was purely sexual.
Alleged text messages between Thompson and Nichols surfaced the same day she gave birth. In the exchange, obtained in court documents by Page Six, Thompson said he would not "be involved at all" with the child, and attempted to dissuade Nichols from having the child by claiming he was retiring from the NBA. "So in terms of support it will be whatever is required monthly for someone who's unemployed. It's texas so it will be only a couple hundred dollars," the texts read. Now, a judge in Texas has ruled on the paternity suit between Thompson and Nichols, which had a major impact on the case. 
Tristan Thompson lost due to this key detail
After Maralee Nichols filed her paternity lawsuit against Tristan Thompson in California, the NBA veteran filed a case of his own against the trainer in Texas, where she owns several properties. Unfortunately for Thompson, a judge ruled to throw out the Texas case on December 15. "Regardless of whether any act of conception occurred in Texas that could have led to the conception of the child, they [allegedly] had a lengthy relationship spanning multiple states," a source told Us Weekly. While Thompson alleges that if the child is his it would have been conceived in the Longhorn state, the courts are more interested in where Nichols gave birth. "The child was born in California, the mother resides there and so does Tristan," the source added. "It would make sense the judge would dismiss this given the facts and the California lawsuit filed prior to the Texas one."
An attorney for Nichols previously accused Thompson of filing the Texas lawsuit in hopes of saving cash on future child support payments, per Page Six, even though Nichols had moved to California prior to having her son.
Meanwhile, the ongoing public legal battle has reportedly rattled Thompson's ex, Khloe Kardashian, who was heartbroken to hear that Thompson hooked up with Nichols while they were still together. "Khloé was upset to find out that he cheated again," a source told People on December 6. "She just can't believe that he is going to be a dad again," they added.