Urban Meyer's Off The Field Behavior Confirms What We Suspected All Along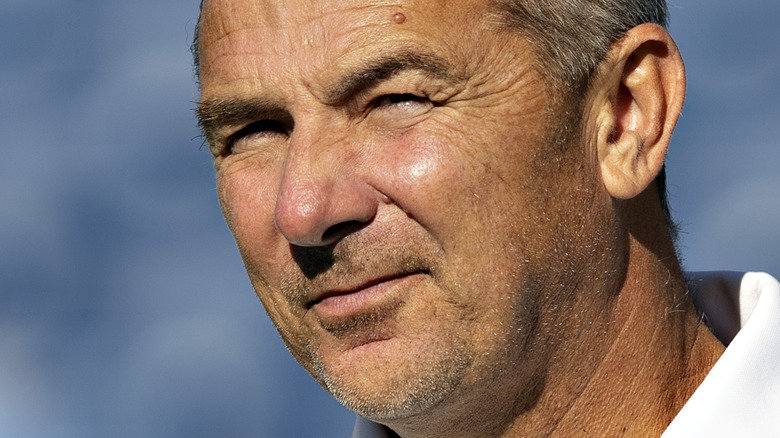 Wesley Hitt/Getty Images
And just like that ... Urban Meyer's NFL career ended just as quickly as it began. As a college coach, Meyer was admired, winning three national championships between his tenures at Florida and Ohio State, per NFL.com. Meyer came out of retirement this year to become the Jacksonville Jaguars' head coach, but unfortunately, his previous record did not translate to the NFL. Meyer only managed to pull out two wins while accumulating 11 losses, according to NFL.com. Per their sources, there were doubts as to whether Meyer's temperament would work in the pro league even before he was hired.
Meyer's tenure in Jacksonville has been mired with drama, both publicly and privately. And on December 11, Jaguars owner Shad Khan decided it was too much, firing Meyer before the end of his first season. "I am bitterly disappointed to arrive at the conclusion that an immediate change is imperative for everyone," Khan said.
So what ultimately led to Meyer's untimely departure?
It all started with a video of a lap dance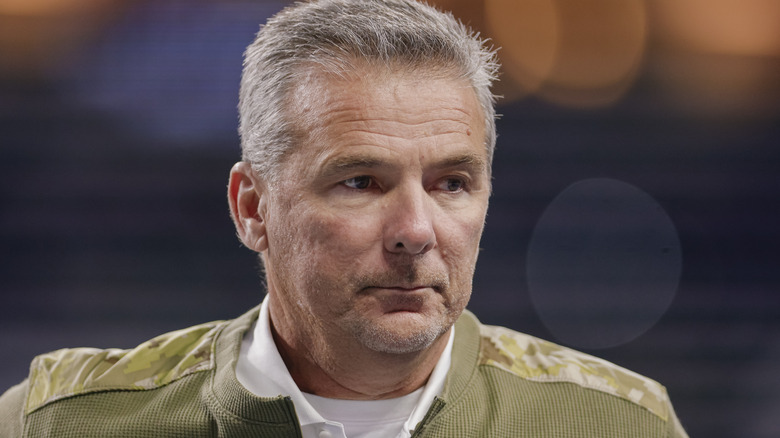 Michael Hickey/Getty Images
Urban Meyer's first major public controversy came in October, when an inappropriate video of him surfaced on the web. In the video, Meyer appears to receive a lap dance from a much younger woman. Meyer gave a press conference in which he apologized for his conduct. "It's stupid. I owned it," he said, per The Florida Times-Union. "I should not have myself in that type of position." Meyer added that he apologized to his colleagues for "being a distraction."
Meyer also said that he apologized to his family. "That's not me," he said of his disorderly conduct. "Oh, yeah, they're upset." Luckily for Meyer, his family seemed quick to forgive him. Per the outlet, his wife Shelley tweeted a photo of her babysitting with the caption, "Buddy Deserved a Night Out," seemingly alluding to her husband's night on the town. But shortly thereafter, Shelley deleted her Twitter, according to the New York Post. "Frankly, I don't need the hate, vitriol, slander, trash that will @ me," she wrote before deleting her account. "We all make mistakes. We are all sinners. If you think you aren't? Then cast the first stone." The couple's daughter Gigi also took to Instagram to announce that she and her family were "moving on" from the scandal and would no longer talk about it.
Unfortunately, Jaguars owner Shad Khan was less forgiving. Per NFL.com, Khan called Meyer's conduct "inexcusable," adding, "Now he must regain our trust and respect ... I am confident he will deliver."
But the controversies kept coming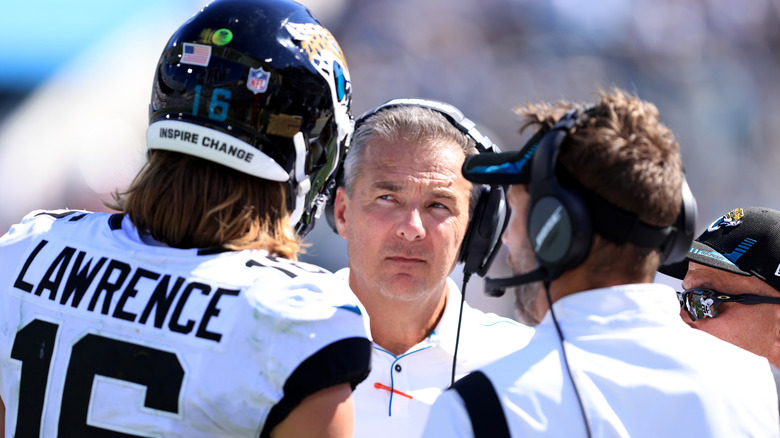 Sam Greenwood/Getty Images
However, the video wasn't the end of controversies surrounding Urban Meyer. Jaguars kicker Josh Lambo told the Tampa Bay Times that Meyer once kicked him during practice and said, "Hey, Dip***t! Make your f***ing kicks!" Lambo elaborated that the kick "wasn't as hard as he could've done it" but that "it certainly wasn't a love tap." Lambo said he lashed out as his coach, saying, "Don't you ever f***ing kick me again!" And he claimed Meyer replied, "I'm the head ball coach, I'll kick you whenever the f**k I want."
Although Meyer denied Lambo's account, it lined up with several other allegations of Meyer's short temper. NFL.com compiled a list on December 11 of Meyer's recent transgressions, which they claimed had all occurred within the past two weeks. Among them, Meyer came for his assistant coaches during a meeting, declaring that he is a "winner" and they are "losers." He then allegedly went around asking each of them to defend their records and resumés. Receiver Marvin Jones also allegedly became so incensed by Meyer's criticism that he left practice and came back only after other players coaxed him into returning.
The bad press was too much for Jaguars owner Shad Khan to handle. "I am bitterly disappointed to arrive at the conclusion that an immediate change is imperative for everyone," he said in a statement, per NFL.com. "As I stated in October, regaining our trust and respect was essential. Regrettably, it did not happen."