Mandy Moore's Connection To Meghan Markle Might Surprise You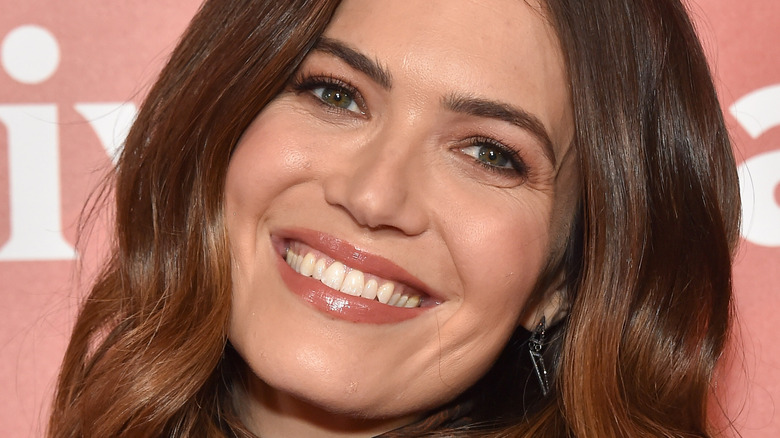 DFree/Shutterstock
Mandy Moore and Meghan Markle might seem like two people who have very little in common, but there's actually quite a lot that connects them. They are both successful television stars in their own right, and two people who just happened to run in the same social circle of friends back in the day before they became household names. But then again, this shouldn't surprise anyone. The Duchess of Sussex, to this day, has a tight-knit group of Hollywood friends, who have jumped to defend her whenever there have been scathing reports that have suggested that she's anything less than a kind person.
After Buckingham Palace launched an investigation into claims made that said Meghan bullied her royal staff, her "Suits" co-star Patrick J. Adams quickly defended her on Twitter by saying she was "enthusiastic, kind, cooperative, giving, joyful." Meghan's friend Priyanka Chopra, meanwhile, had this to say about her: "She's an icon, truly, that girls can look up to, that women can look up to," according to Harper's Bazaar Arabia. Of course, Meghan's list of celebrity friends goes on and on.
So, how does someone like Moore fit into Meghan's circle of friends in all of this? Their connection is actually quite surprising.
Mandy Moore and Meghan Markle hung out back in the day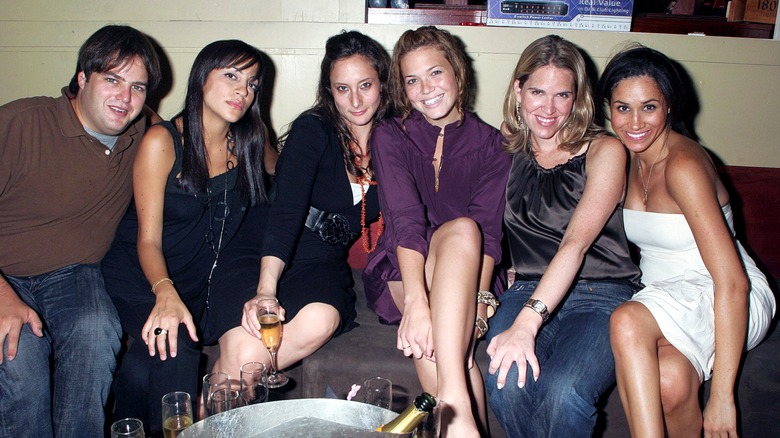 Everett Collection/Shutterstock
Back in November 2018, Mandy Moore revealed that she and Meghan Markle were friends way before Prince Harry was even in the picture. She told Access that the two of them met on the 2007 film "License to Wed," which starred not only Moore, but Robin Williams and John Krasinski. Meghan's ex-husband Trevor Engelson worked on the film, and as a result, Meghan got to spend some time getting to know Mandy and her co-stars while they filmed scenes in Jamaica.
Moore recalled (per People), "Her ex-husband was a producer on a movie that I worked on, so I met her back in 2006 and spent a lot of time with them, a lot of time with her, and she is a lovely, generous woman." She said that she got along so well with Meghan and her husband at the time that they even hung out at the Hamptons that summer. The "This is Us" star added, "It was another lifetime ago for both of us, but she's wonderful."
But that's not the only surprising thing about the pair's secret friendship.
Meghan Markle is a fan of Mandy Moore's hit show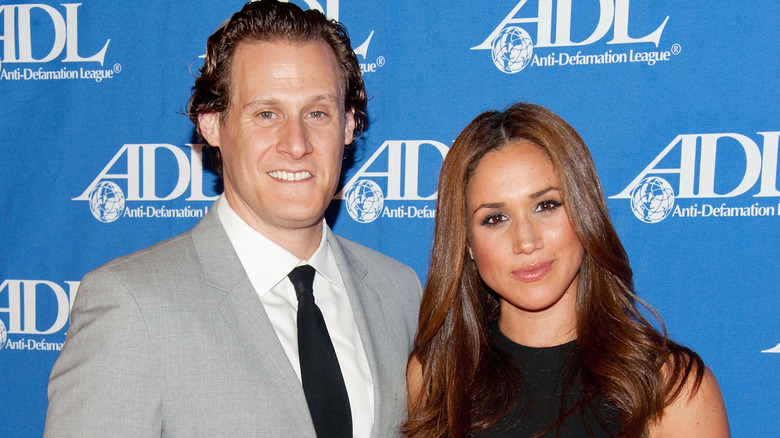 Amanda Edwards/Getty Images
While Meghan Markle's life with her ex-husband Trevor Engelson and their previous circle of friends might seem like a lifetime ago, Mandy Moore actually still keeps in touch with the Duchess of Sussex, believe it or not. Soon after it was announced that Prince Harry had proposed to Meghan in 2017, Moore called her up to offer her congratulations. She recalled (per People), "She was very kind and said that she really likes 'This Is Us.' She watches the show, so that was pretty cool. She's just a normal, regular girl."
Now that both Harry and Meghan are no longer living in London and enjoying life in sunny California instead, we have a feeling that the Sussexes have more time on their hands to catch up on episodes of "This is Us" now than before. Seeing how supportive Moore was of Meghan and the new chapter she was about to start in her life, it's without a doubt that feeling has been reciprocated by Meghan to Moore, too. In fact, no one would be surprised if Meghan was just as bummed about "This is Us" ending as everyone else.