Law And Order Star Just Made Disturbing Allegations Against Chris Noth
s_bukley/Shutterstock
On December 16, The Hollywood Reporter published an exposé about "Sex and the City" star Chris Noth. The outlet reported that two women came forward with claims that they were sexually assaulted by Noth, one of them back in 2004, and the other more recently in 2015. Both women, who used pseudonyms to protect their identities, recalled instances where Noth was inappropriate. The outlet reported that Noth raped one of the women "from behind," while the other woman shared that her sexual encounter with the actor that left her in tears. Noth released a statement in which he denied the allegations. He called the women's claims "categorically false," before adding, "the encounters were consensual. It's difficult not to question the timing of these stories coming out. I don't know for certain why they are surfacing now, but I do know this: I did not assault these women."
Hours after The Hollywood Reporter's article was published, another actor came forward with disturbing claims. This time, the allegations came from someone who worked with Noth on the set of "Law & Order." She posted her experiences with Noth on Instagram.
Zoe Lister-Jones claims she saw Chris Noth acting inappropriately at a club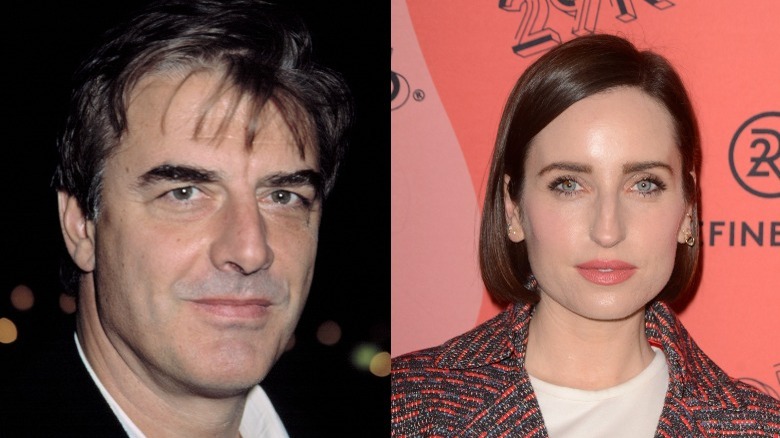 Everett Collection & Kathy Hutchins/Shutterstock
Actor Zoe Lister-Jones felt "relieved" after Chris Noth's character, John James Preston a.k.a. Mr. Big, died on the premiere episode of "And Just Like That," according to a post she shared on Instagram. Lister-Jones recalled working at a club in New York City that was owned by Noth years ago. "On the few occasions, he would show up, he was consistently sexually inappropriate with a fellow female promoter," Lister-Jones wrote. It's unclear what club this happened at, but Noth did co-own The Cutting Room, which closed down in 2008, according to The New York Times.
Lister-Jones went on to detail the time she was a guest star on Law & Order. "[Noth] was drunk on set. During my interrogation scene he had a 22-ounce beer under the table that he would drink in between takes," Lister-Jones alleged. She said that, at one point while on set, Noth got close enough to her to sniff her, telling her that she smelled "good." "My experiences are small in comparison to the accounts of assault that have so bravely been shared today. Navigating predation at any level is a burden all woman have to bear. And for the most part there is no accountability and no consequence. Chris Noth capitalized on the fantasy that women believe Mr. Big represented. F*** Mr. Big," her lengthy Instagram post concluded.