Meryl Streep Admits This Devastating Thing Happened During Lockdown
Lev Radin/Shutterstock
Meryl Streep is an actor who has had a long career in Hollywood, spanning movies over the decades, from dramas like "Kramer vs. Kramer" in the 1970s to comedies like "Mamma Mia" and "The Devil Wears Prada" in the 2000s. Because of her powerful roles, Streep has also received large-scale accolades, notably the 2010 National Medal of Arts from Barack Obama, according to Vanity Fair, and three Academy Awards. Now, Streep is gearing up for the release of her most recent film, "Don't Look Up," where she has made headlines for a nude scene — well, kind of. 
"She is fearless. And yes, that is a body double. But you know who had a problem with it? Leo," director Adam McKay told People. Co-star Leonardo DiCaprio was understandably protective and starstruck by Streep. "You get to work with the greatest living actor in the world. Everyone's on their toes. Everyone's prepared, and we're just trying to keep up with her," DiCaprio told E! News.
Despite Streep's numerous accomplishments and award-winning films, she didn't get an exception to the hardships of the pandemic. It might seem that she had kept busy, with a new film endeavor turning around so quickly, but the actor recently revealed what she struggled with during this time.
Meryl Streep says she forgot how to act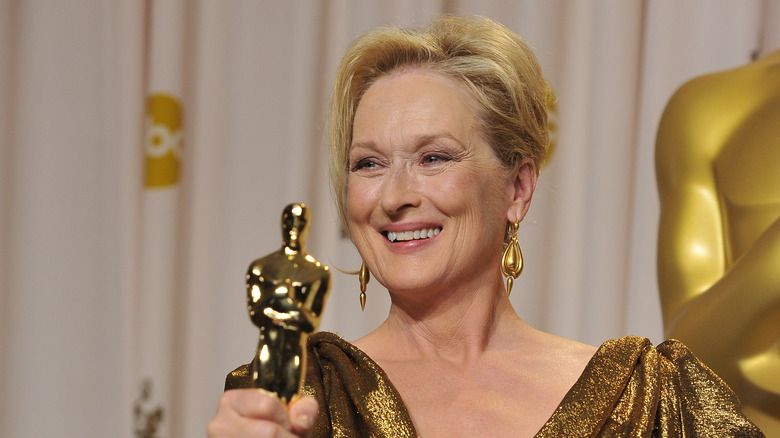 Jaguar PS/Shutterstock
During a new roundtable interview with the cast of "Don't Look Up" for Entertainment Weekly, Meryl Streep revealed how the pandemic affected her — particularly, how it affected a talent that has provided her a decades-spanning career. Although Streep had filmed parts of her scenes in her latest film "Don't Look Up" between November 2020 to February 2021, according to Boston.com, she struggled to find the humor in things.
"I found it really hard. I didn't feel funny in the lockdown. When I would come in to shoot my stuff, [I'd] get out of the car and hadn't spoken to anybody in three weeks. [I'd] walk into the stadium in Worcester, put on the wig and the nails and the suit, and make a speech to all these people. I just lost it," she said. "I forgot how to act, I forgot what I was about," she continued. "It sort of dismantles your humanity, to be isolated like that. But thank god for Jonah [Hill], because he kept us laughing." After a hard almost-two years, we can totally relate.