How Leonardo DiCaprio Rescued His Dogs From A Frozen Lake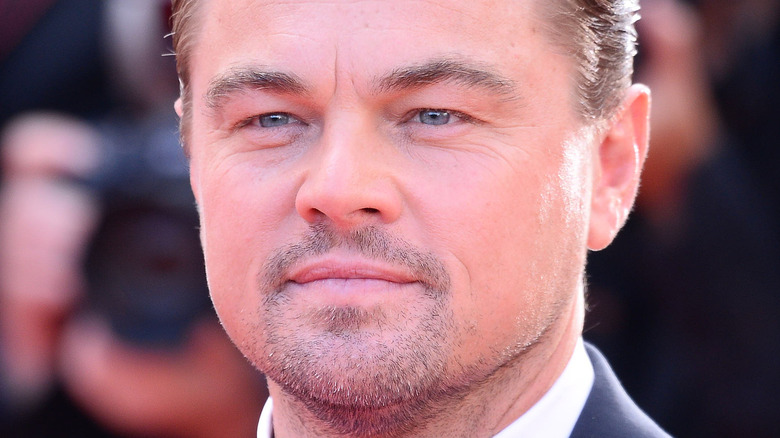 Isaaack/Shutterstock
Leonardo DiCaprio is one of Hollywood's most prominent environmentalists, a cause he has been actively engaged in since meeting Al Gore in the late 1990s, as he told Wired in 2015. Even before he launched the Leonardo DiCaprio Foundation to support the fight against climate change and other causes, the "Titanic" star was obsessed with nature, going so far as to consider a career as a marine biologist in his youth, he told Gayle King on CBS Mornings in 2014. While acting left little room for any other professional endeavors, DiCaprio never lost his passion for the earth and its creatures.
DiCaprio always keeps a bit of nature in his home in the form of his dogs. At the onset of the COVID-19 in March 2020, DiCaprio and his girlfriend, Camila Morrone, began fostering Jack, a Husky rescue, as Morrone posted on her Instagram. A month later, they also brought home Jack's littermate, Jill. "And then it happened. I'm officially obsessed with fostering. I couldn't stand the thought of Jack not being with his sister, so I asked if I could take in Jill (on the right) as well," she wrote on Instagram, pairing the caption with a photo of the two.
It took no time for DiCaprio and Morrone to fall in love with the pups, adopting the pair the same month, according to yet another Instagram post by Morrone. Now, DiCaprio takes them everywhere and has proved he will do anything for them, including jumping into frigid waters.
Leonardo DiCaprio's dogs fell during filming
Leonardo DiCaprio went from fostering Jack and Jill to taking them to work. DiCaprio was on the set of "Don't Look Up" when the Huskies had to be rescued yet again, he said on Entertainment Weekly's "Around the Table" with his co-stars. "Basically, they both fell in a frozen lake and ... I didn't understand what you do in a frozen lake," DiCaprio said. Cast member Jennifer Lawrence, who apparently witnessed the event, explained that one dog fell in first, prompting DiCaprio to unflinchingly jump in after it. "As soon as he pushed the one dog out of the pond, the other one jumped in," she laughed. Defending his pooch, DiCaprio said the second didn't jump in, like Lawrence suggested, but got close to the hole to lick the drowning sibling. "And then we all were in the frozen lake," he said.
Falling in the frozen lake was just the most dangerous shenanigan caused by the Husky littermates, who were described as "psychotic" by Lawrence, "tornadoes" by director Adam McKay and as having the temperament of the Joker. "They thrive in chaos," Jonah Hill said. DiCaprio didn't seem to disagree as he nodded along. While DiCaprio tends to keep anything relating to his personal life away from social media, his girlfriend, Camila Morrone, has hinted at their huskies' energetic personalities. "Adopt a husky, they said...It'll be fun, they said," she captioned an Instagram photo that showed one of them with a deranged face.