Gordon Ramsay's Oldest Son Is His Doppelganger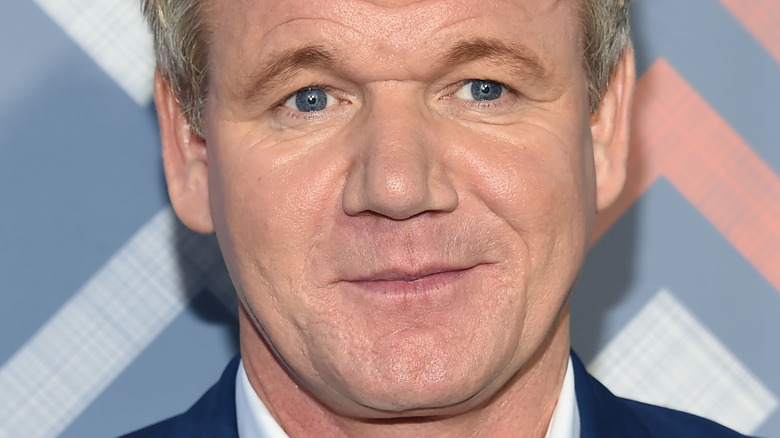 DFree/Shutterstock
Iconic British chef, restaurateur, and television personality, Gordon Ramsay is slowly building an army of his own as the proud father of five, including one set of twins. With his fiery spirit and personality, it is no surprise that Ramsay's sons resemble their father to varying degrees — from the almost trademark smirk to the spikey blonde hair.
In October 2019, Ramsay delighted fans by posting to Instagram side by side throwback images of himself and his two boys, youngest Oscar Ramsay and oldest Jack Scott Ramsey. Although Jack, a British Royal Marine, has mostly steered clear of the limelight in recent years, it was his 2019 appearance in the four-part series, Born Famous, in which Britain's most famous celebrity children retrace their roots and discover their parent's humble beginnings, that we were reminded just why Gordon Ramsay's son is his twin.
Fans were impressed at how Jack presented himself, taking to Twitter to congratulate Ramsay and his wife Tana; one fan wrote that the pair "deserve a parenting award. What a wonderful young man Jack is," according to Hello Magazine. Our interest was piqued, and we decided to take a closer look at Gordon Ramsay's oldest son.
Son Jack is Gordon Ramsay's 'best mate'
While many with Y2K panic were worried about the world ending, for Jack Ramsay and his fraternal twin sister Holly, life was just beginning on Jan. 1, 2000, according to Parade. The two bear as much resemblance as to be expected from a brother and sister duo. But it is Jacks' likeness to his father that is particularly striking — right down to his cheeky grin, deep dimples, and signature spikey blonde hairstyle.
In an appearance at the 2016 Bafta Children's awards, Gordon and Jacks's striking resemblance really caught the media's attention, per the Daily Mail. The pair looked almost like carbon copies, especially when dressed to the nines. Ramsay captioned a picture with his son on the night of the Awards: "My best mate, looking very dapper."
Jack does not have an active Instagram account, and although he endeavors to stay away from the limelight, he is no stranger to fame and shares his father's flair for reality TV. He first came to public attention in 2015, appearing on his family's television show, "Matilda and the Ramsay Bunch" as well as his father's tv series "Master Chef" as a guest judge for the mystery box challenge — where they appeared in matching outfits — and as one contestant commented, he looked just like the judge "but 45 years ago." Aside from television, Jack has also made appearances on stage at the Edward Alleyn Theatre in London.
Gordon and Jack Ramsay have a tradition of twinning
Jack and Gordon Ramsay seem to have also adopted the quirky tradition of regularly matching outfits as early as 2006, as the Daily Mail noted. They both wore the same fluorescent orange shirts at the 2006 British Formula1 Grand Prix and donned matching coats and scarves at the Chelsea play Arsenal at Stamford Bridge in 2008. Five years later, they sported identical suits and skinny ties at The Sun's Military Awards in 2013, and in 2018, the pair were pictured dressed in matching Grey Hugo Boss Suits at Holly and Jack's 18th Birthday Gatsby-themed Celebration.
In the same year, Jack expressed his intention to join the United Kingdom Royal Marines, which he did in 2020, according to the Daily Mail, leaving his lavish life behind but making his father very proud. In a recent and heartfelt post, Ramsay shared his son's accomplishment, saying, "Jack Ramsay, you've made me feel like the proudest father today."
Both men appear to be beaming with pride in the photo, which also features Oscar, the youngest Ramsay, who will undoubtedly assume his bothers role in donning stylish matching outfits with his dad. Oscar is already showing signs of developing his father's signature attitude, looking adorably grumpy in one Gordon's November 9 post. Too cute!