How Tall Is LeBron James?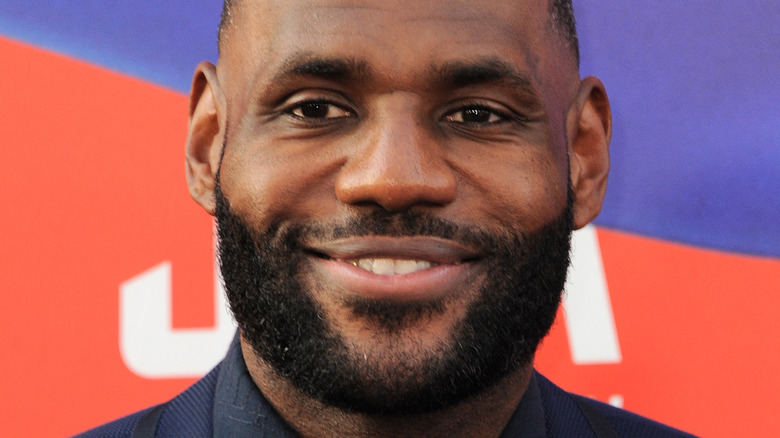 Tinseltown/Shutterstock
There's no doubt that LeBron James is one of the most notable basketball players ever to take the court. Honestly, although the curiosity around James' retirement plans is already buzzing, his success has brought him a staggering level of fame and an impressive amount of money over the years.
Supremely skilled even at a young age, James was drafted into the NBA right out of high school back in 2003, according to Biography. Picked up by the Cleveland Cavaliers, he stuck with the team until moving over to the Miami Heat in 2010, then ended up back with Cleveland for a time before ending up with the Los Angeles Lakers in 2018. During his time as a professional athlete, he's won multiple titles, played plenty of championship games, and even taken home Olympic gold medals, just to name a few of his incredible achievements.
So, what has made James such a success? In the TV series "More Than an Athlete" (via Uninterrupted), he explained that the key to success is hard work, noting that he is "still putting in work," adding, "because that's just who I am." However, there's also something else about James that makes him so suited for what he does: his height. As you might expect, this basketball star is pretty darn tall. But just how tall is he?
LeBron James is MUCH taller than the average U.S. man
Gregory Shamus/Getty Images
How tall are you? If you're a woman who happens to be from the United States, then you're likely around 5 feet and 4 inches tall. That's the national average, according to Medical News Today. When it comes to men who are living in America, the average height is a little taller. It's 5 feet and 9 inches to be exact, per Healthline. Of course, if you want to be a professional basketball player, it helps to be above average.
Take, for instance, LeBron James. While he weighs 250 pounds, according to ESPN, he apparently stands at 6 feet and 9 inches tall. That's a full foot taller than the average American man. No wonder he seems so tall — because he is!
Just take a look at the photo above and see how James towers over the people who are watching him play basketball. It's no wonder that his many fans love to watch him dominate on the court. However, even though he's taller than most men around, it turns out that there are plenty of other people who have been in his line of work who are much taller.
LeBron James is far from the tallest NBA player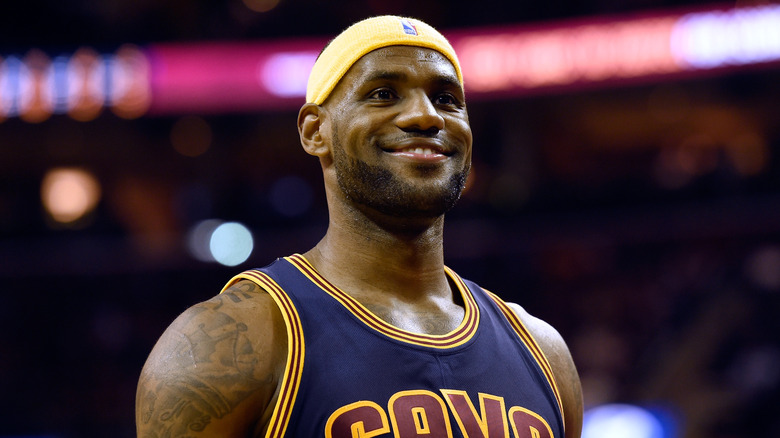 Jason Miller/Getty Images
LeBron James may be taller than the average person in the United States, however, his height isn't exactly exceptional in the NBA. In fact, when it comes to the tallest athletes who have ever played with the organization, he doesn't even make the list.
Frankly, every single player who can be counted among the tallest of the bunch stands over 7 feet tall, according to NBC Sports. Among the top 10, there's Mark Eaton at 7 feet and 4 four inches, as well as Tacko Fall, Sim Bhullar, Pavel Podkolzin, and Chuck Nevitt who are all 7 feet and 5 inches tall. Shawn Bradley is 7 feet 6 inches, as is Yao Ming and Slavko Vranes. As for the tallest people to ever play in the NBA, that would be Manute Bol and Gheorghe Muresan, both at 7 feet and 7 inches.
However, height certainly isn't the only thing that matters when it comes to being one of the best basketball players around. As one Twitter user noted, "Stats are a demonstration of how effective a basketball player is, just because a player is tall and can stand under the rim all day don't mean he is better." True enough!