The Wildly Generous Way James Gandolfini Thanked His Sopranos Co-Stars
Jaguar PS/Shutterstock
Actor James Gandolfini gained his start in movies like "True Romance" and "She's So Lovely." However, when Gandolfini was cast as mobster Tony Soprano in the HBO television series "The Sopranos," it skyrocketed him to household name status. Yet, while the show aired from 1999 to 2007, Gandolfini struggled to be recognized as an individual actor, being typecast or asked to perform as Tony off-screen by fans.
In one instance, Gandolfini's integration with a fan's mother actually left him in tears. "She asks him to sign her Bible. He signs it 'Jim Gandolfini.' She says, 'No, not him. Not him.' Now he signs it 'Tony Soprano.' He's willing to do anything for this kid and his mom. We walk out of the room, and he rushes ahead of me through a door marked laundry room. When I get there, he's got his head buried in folded laundry, and he's sobbing like a baby," Sheila Nevins, the show's executive, told Vulture.
While Gandolfini passed away in 2013 after suffering a heart attack, his legacy continues to live on through people recollecting ways he helped them. Specifically, the actor thanked his "Sopranos" co-stars in a special way that they are still talking about today.
James Gandolfini helped his castmates financially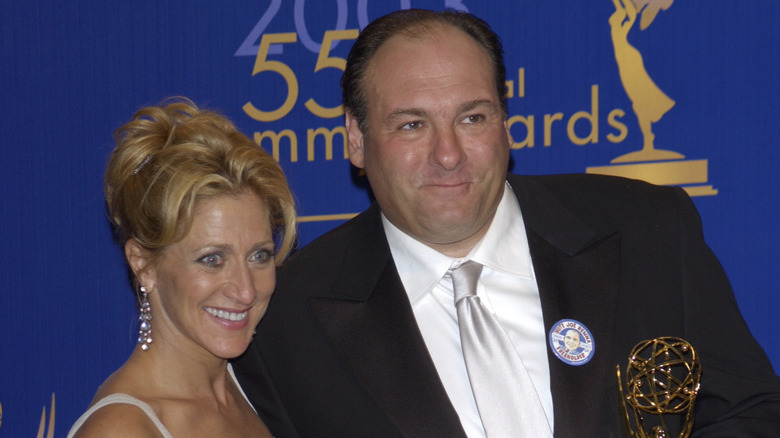 Featureflash Photo Agency/Shutterstock
In his new book, "Tinderbox: HBO's Ruthless Pursuit of New Frontiers," author James Andrew Miller revealed that "The Sopranos" actor James Gandolfini showed his appreciation for his fellow co-stars by helping them out financially. Although "The Sopranos" was critically acclaimed, many of the cast members were struggling to obtain paychecks that reflected said success, with Gandolfini and HBO both suing each other. However, had the legal disputes continued, the show's production would have had to pause and his coworkers would have been out of work. Given that concern, Gandolfini agreed to his $13 million salary from the network, and wrote several $33,000 checks for his "Sopranos" co-stars.
"As good of an actor as he was, he was a better guy. A generous guy. The guy gave us $33,000 each — 16 people," Steve Schirripa, who played Bobby Baccalieri, told WFAN in 2013, the same year Gandolfini died. "In Season 4 he called every one of the regular cast members and gave us a check. He said, 'Thanks for sticking by me.' It's like buying 16 people a car."