The Truth Behind James Harden's Beard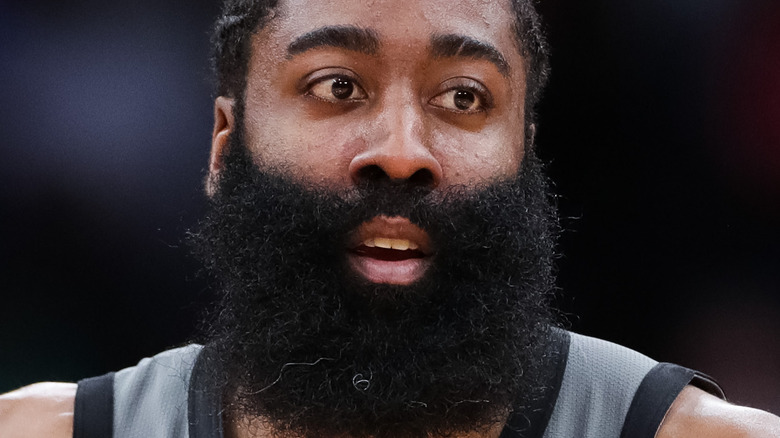 Carmen Mandato/Getty Images
There are some famous figures that you simply can't imagine — and are downright unrecognizable — without their facial hair. Frankly, some celebrities like Russell Brand, Joe Manganiello, and Nick Offerman just look better with beards. That's not to mention Henry Cavill, Dev Patel, and Prince Harry, as Insider points out. Or Chris Evans and Chris Hemsworth. Of course, there's also James Harden who has a thick, lengthy, and seriously impressive beard.
Harden — aka Khloé Kardashian's ex-boyfriend — is another star who has a beard that's almost as famous as he is. In fact, it's such a huge part of the professional basketball player's identity these days that Clutch Points notes that his nickname is The Beard. On top of that, he credits his beard with saving his face from a ball that he bounced and came back at him, per ESPN. Beardoholic has wondered if Harden plays better with a beard, even comparing stats to back up the idea. Harden's beard is such a star it even has a Twitter account in its honor, aptly deemed @HardenBeard, that has over 19,000 followers.
Clearly, people are intrigued by Harden's facial hair, which is why you'll surely be interested to find out the truth behind his beard.
James Harden was clean-shaven during his early college days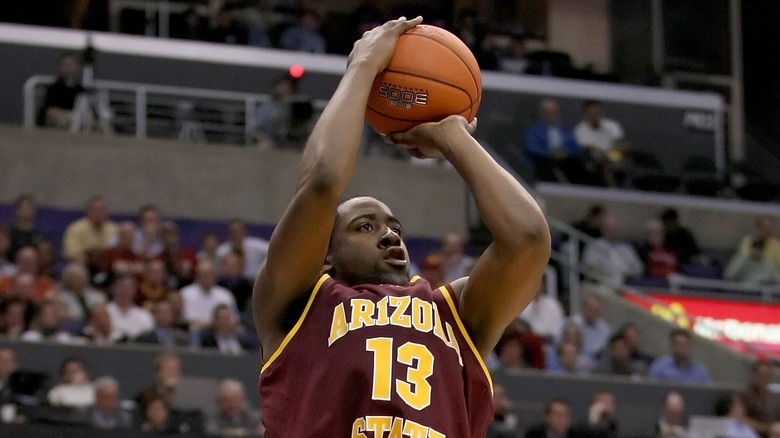 Stephen Dunn/Getty Images
If James Harden wanted to shave his beard off, his fans would probably freak out! That's because, as even Biography acknowledges, his beard is as notable as what the professional athlete does on the basketball court.
In 2009, the same year he was drafted to the NBA, Harden decided to start growing his now-epic beard. Indeed, back in college, Harden took the court for Arizona State, and while he sometimes had a bit of fuzz, he certainly didn't have the full beard that he has today.
So why did Harden decide to go from a clean-shaven, fresh-faced figure to a bearded man? Well, it turns out that when Harden started to grow his beard out, it wasn't to imitate someone he looks up to, and it wasn't some intricate branding plan either. Instead, he merely wasn't into the upkeep of shaving, as he told The New York Times in 2009. While the beard may have come about due to indifference, it would take a lot for Harden to get rid of it at this point. In fact, he's admitted that there are pretty much only two things that would motivate him to shave off his beard.
This would make James Harden shave his beard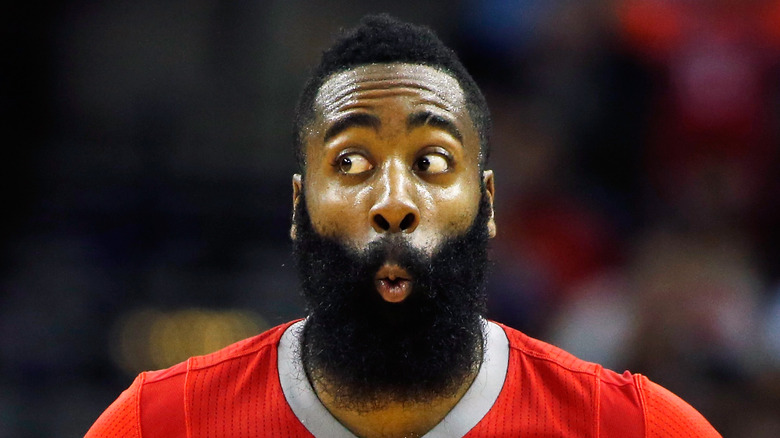 Scott Halleran/Getty Images
It's unlikely that James Harden will be getting rid of his beard any time soon. However, when asked in February 2018 if he would ever be willing to ditch the facial hair, he admitted to The Ringer, "Oh yeah, I'm gonna cut it because then it's gonna grow right back."
Shocked? You're probably not the only one. Yet, you might understand why he would be willing to give up his beard when you find out what would motivate him to do so. Harden said he would shave his beard for no less than $10 million.
That may be true — and seriously pricey — however, Harden did admit back in 2013 that there's one other reason why he would shave his beard. And while it still has to do with money, it's a much more selfless motivation. He would shave it off for a worthy cause, he told TMZ, but clarified that it would "[depend] on which charity." He would also want to raise over $80,000 at a bare minimum. That may be a lot, but it's obviously not as much as the $10 million value he put on his beard in 2018, which seems to prove that he values his facial hair more and more with each year that passes.