What Did Princess Diana Leave Prince Harry In Her Will?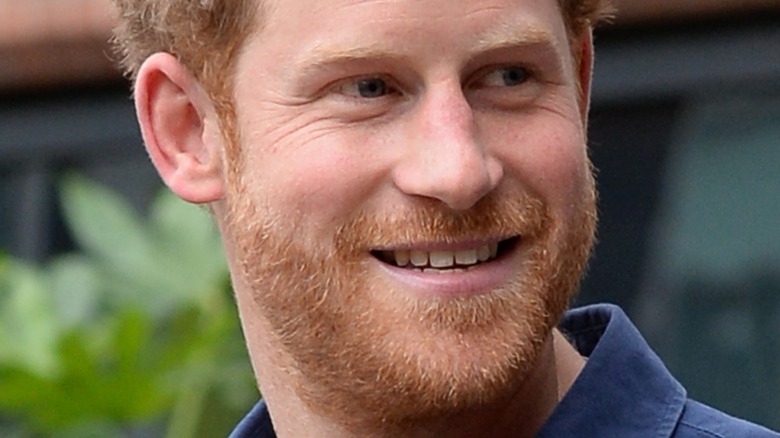 Wpa Pool/Getty Images
On August 31, 1997, people across the globe received the shock of their lives when it was reported that Princess Diana has died. Popularly known as the People's Princess, Diana left such a massive impact on the world thanks to her activism and humanitarian efforts. She advocated for several causes, like AIDS awareness, landmine bans, and so much more. But aside from her commitment to helping the marginalized, Diana was also known for another thing: being a great mother.
"I will fight for my children on any level so they can reach their potential as human beings, and in their public duties," Diana once said, per People. And true enough, she stood by her word, as Prince Harry revealed that, if it were not for Princess Diana's support, he and Meghan Markle probably would not have had the means to step down from their senior royal duties and stop receiving financial support from the Palace.
"I've got what my mum left me, and without that, we would not have been able to do this," Prince Harry said in an exclusive interview with Oprah Winfrey. "Touching back on what you asked about what my mum would think of this, I think she saw it coming. I certainly felt her presence throughout this whole process." This revelation got people wondering: Just how much did Princess Diana leave Prince Harry and Prince William? As it turns out, she left each enough for them to live a comfortable life even after her death.
Princess Diana left part of her net worth to Prince Harry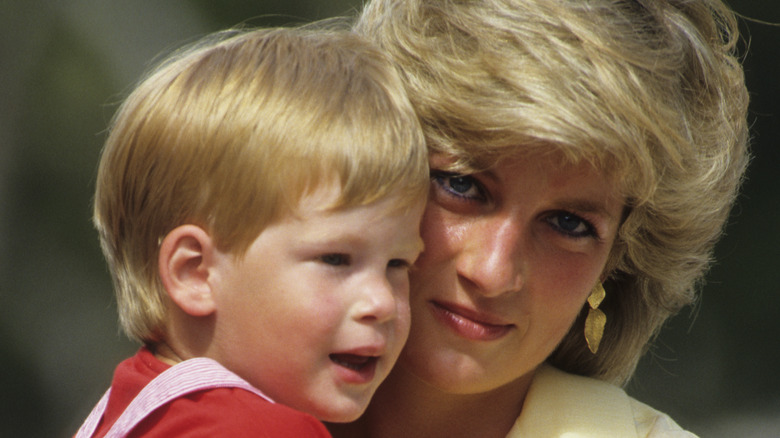 Georges De Keerle/Getty Images
Princess Diana's death was so unexpected that many were worried about what was going to happen to Prince Harry and Prince William. At the time of her death, Reader's Digest noted that she had a net worth of roughly 21 million pounds, which was $31.5 million at the time. If you convert it to today's dollars, her net worth would be a whopping $54 million.
Of course, Princess Diana did not leave her two precious sons empty-handed. She had drafted up a bill four years prior to her death, and her estate was distributed to different people, with a huge chunk going to Prince Harry and Prince William. Her estate, which was $21.3 million after taxes, per CNN, was distributed equally between the two. Since they were only 13 and 15 years old respectively at the time, Diana's sons only began receiving their inheritances upon turning 25 and eventually received the full amount once they reached the age of 30.
In a report from The Telegraph, the inheritance was also invested following Diana's death, resulting in it gaining significant interest. By the time Prince Harry turned 30, he inherited around 10 million pounds or $13 million. And this money truly came in handy, as Harry revealed during his sit-down interview with Oprah Winfrey (via Page Six): "It's like she saw it coming and she's been with us through this whole process," he explained. "The Netflixes and Spotifys of it all was never part of the plan."
Princess Diana also left some of her personal belongings to Prince Harry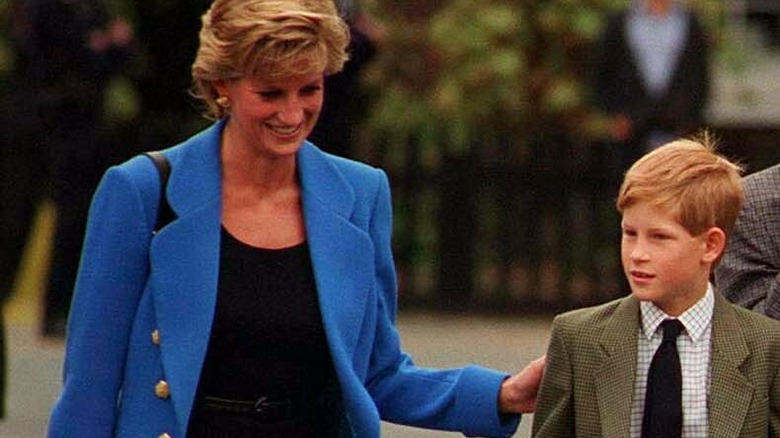 Anwar Hussein/Getty Images
On top of granting her sons financial freedom beyond her death, Princess Diana also left them some of her most prized possessions. Prince Harry and Prince William were given the chance to pick a trinket from their mother's collection, and surprisingly, Harry chose Diana's engagement ring and William opted for her Cartier watch.
If you are wondering why the ring ended up on Kate Middleton's finger, it's because Harry offered it up to Will when he found out that he was planning to get down on one knee. In the documentary "The Diana Story," Diana's former butler, Paul Burrell — who also received $82,000 from her, per CNN — shared how Harry had given up the ring for his brother. "Harry said to him: 'Wouldn't it be fitting if she had mummy's ring?" he shared, per Marie Claire. "Then one day that ring will be sat on the throne of England. Harry gave up his precious treasure. His one thing he kept from his mother, he gave to his brother. That's selfless, kind and exactly who Diana was." Meghan was later spotted sporting the Cartier watch, however, per Vanity Fair, so it's highly possible that the two did a brotherly exchange.
Princess Diana also reportedly entrusted her iconic wedding dress to Prince Harry and Prince William, but what they've done with it remains to be seen. Perhaps one of their kids will wear it on their special day someday?