How Tall Is Taylor Swift?
DFree/Shutterstock
Taylor Swift is decidedly one of the world's most recognizable celebrities. Aside from her looming musical accomplishments, the 11-time Grammy winner has always made headlines for the slightest changes to her appearance. When she accepted her Songwriter of the Year award at the 2020 Apple Music Awards, fans noticed Swift had ditched the curls and barely-there makeup seen all 2020 long while she promoted "Folklore" and "Evermore." Swifties quickly equated her straightened, lengthy blonde locks (with bangs and crimson lips) to an Easter egg at which album she was re-recording next. "She straightened her hair with bangs!" one such fan tweeted (via Page Six). "When was the last time she did that? RED ERA!" (Hey, they were right.)
The attention on Swift's looks come from more than just a massive and ardent fanbase. In 2016, The Irish Sun reported that Swift had the lips British women most frequently asked their cosmetic surgeons to imitate. As Dr. Julian De Silva of the Centre for Advanced Facial Cosmetic and Plastic Surgery explained, "Taylor's lips are perfect — she has a gorgeous voluptuous pout and a beautifully shaped cupid's bow which so many women want." Nice!
Lips and bangs aside, anyone (so, everyone) who has seen a photo of Swift has probably noticed she often dwarfs those around her, so much so that an article once provided photographic evidence of the "Times Taylor Swift Was So Tall." So, just how tall is tall when it comes to Swift?
Taylor Swift embraces her height and so does her squad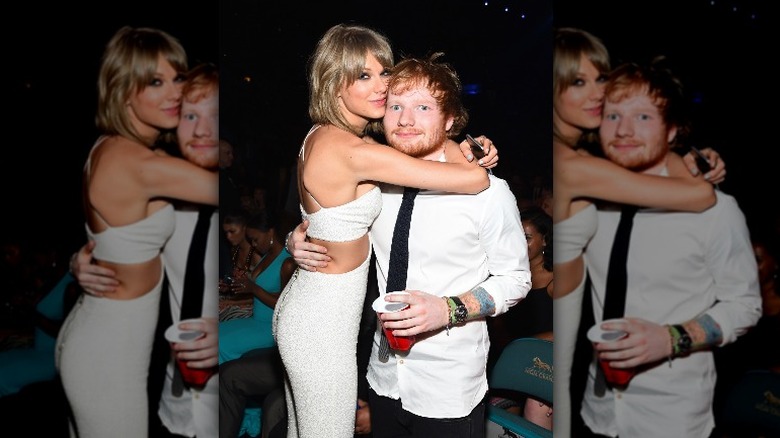 Larry Busacca/bma2015
Taylor Swift is a towering 5 foot 11 inches, per a 2008 Girls' Life profile. It is noteworthy, however, that Swift told People in 2015 she allegedly grew one inch — in her mid-20s! "[W]hich means I'm the latest developing human in the world," she cheekily added.
But what's an inch here or there when you are that vertically blessed? Swift admitted to Girls' Life that, although she was once sensitive about her height, she has grown quite comfortable with standing out in a crowd (literally). "When I can put on a pair of four inch heels and walk into a room and be taller than everybody else, now I look at it as a good thing," she proudly claimed then.
Swift's friends seem to enjoy ribbing her stature. In a since-deleted 2016 Instagram post (via Suggest), singer Lorde posed next to a blonde friend whose face was cut out of frame. "When you love ur friend but she is a beautiful giraffe so she gets cropped," Lorde jokingly referenced Swift in her caption. Longtime Swift bestie Ed Sheeran is equally facetious about being shorter than the "Red" singer. In a 2015 interview, per People, the 5-foot 8-inch musician complained, "I feel like we look like cast members of 'The Hobbit.' [Swift's] like in the elven kingdom. She's hanging out with Galadriel and stuff, and I've got hairy feet." Yep, we totally can see why those two get on so well.
Height is just a number for Taylor Swift when it comes to love
Taylor Swift wasn't lying when she told Girls' Life in 2008 that she likes her men in all vertical varieties. "If a guy is shorter than me, that's cool, if he sweeps me off my feet, you know?" Swift shared. Despite that, Swift described a male crush in 2015's "Wildest Dreams" as "He's so tall / and handsome as hell" (per Genius)." Numerous exes have come under Swift's height. Sure, Swift has tangled with her share of "Wildest Dreams"-esque hunks, including her boyfriend since 2016 (per Elle), the 6-foot 1-inch actor Joe Alywn (via Cheatsheet). Tom Hiddleston, Swift's most famous relationship directly prior to Alywn, is NBA point guard-worthy at 6 feet 2 inches tall (via TheThings). And alas, one would be remiss to not include Jake Gyllenhaal on any Swift dating history lists, per Page Six. The reported subject of "All Too Well (Taylor's Version)" is 6-foot 3-inches.
So, who is Swift's shortest famous ex? Seemingly, that would be Joe Jonas, with whom Swift has reconciled since that 25-second phone call debacle (per Page Six). Via The U.S. Sun, Jonas' 5-foot 7-incg stature places him below other exes like 5-foot 10-inch Lucas Till, Swift's co-star in her "You Belong with Me" music video (per Celeb Heights) and the 5-foot 8-inch Taylor Lautner (per Gossip Gist). Given Swift's propensity for keeping platonic company with those shorter (like the 5-foot 8-inch Ed Sheeran, via People) and taller (like the 6-foot 1-inch Karlie Kloss, via Elle), we guess she truly doesn't "see" height.