Here's What Nicki Minaj Looks Like Without Makeup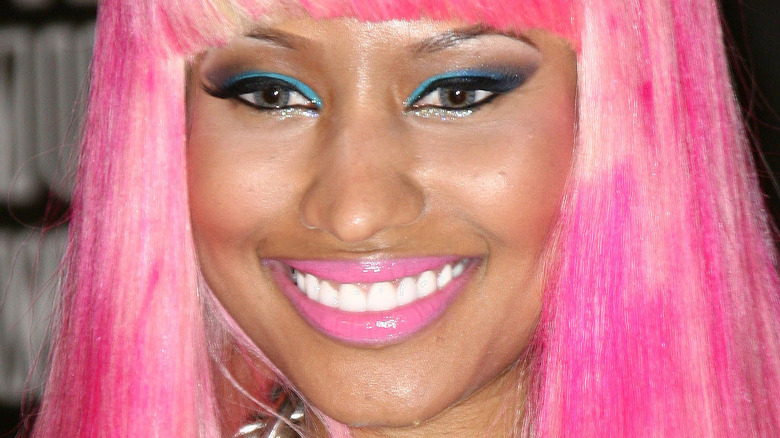 s_bukley/Shutterstock
Nicki Minaj is one of the most glamorous and over the top performers out there — and we love her for it! Minaj is all about her larger than life looks and isn't afraid to bring all the color along with that too (seriously, how could we forget when she wore a skin-tight bright rainbow catsuit with a glittery white corset, over the knee boots, and a tall pink and gold bouffant wig while on stage in 2011? Iconic!) But it's not all about the crazy costumes with more demure makeup for this star. Oh no. 
Alongside her loud ensembles, Minaj is no stranger to some bold makeup looks as well. The star has been known to rock some out there lipstick and eyeshadow colors in her time, and is such a makeup icon that she's dabbled in the cosmetics world more than once. And her love for makeup hasn't gone unnoticed by some of the biggest players in the game. 
Back in 2017, she teamed up with MAC Cosmetics for her own collection, a few years after she originally worked with the iconic makeup brand for her Viva Glam lipstick (via The Cut).
But while we know the "Super Bass" singer is a fan of experimenting when it comes to her makeup, what we really want to know is what she looks like when she strips it back a little and goes the natural route...
Nicki Minaj's no makeup photo went viral
It's safe to say that snaps of Nicki Minaj — aka Onika Tanya Maraj — without makeup are pretty rare, but this stunning star has proven she's not afraid to show off her bare face from time to time. And who could blame her? Minaj is stunning both with and without a full face of makeup, and has appeared on social media just a few times without her signature glam.
A photo of the "Anaconda" hitmaker without makeup went viral on Twitter (receiving more than 6,000 likes in around three days) in December after she served a duck face selfie as her skin glowed. The gorgeous star proved she's most definitely a natural beauty, rocking a bandana over straight lilac locks.
But while there's no doubting any makeup artist in the world would jump at the chance to do Minaj's makeup when she dresses up, she revealed in May that even has someone on hand to do it all for her, there are still parts she likes to do herself — namely her eyeliner. She showed off her skills in a video shared to Instagram by Dionte Gray (which has since been deleted), telling fans, "When you do your own makeup and you think you cute so you just be shooting selfie videos because you ain't got nothing to do" (via Allure). She then joked about becoming a makeup artist herself, adding, "I actually always do my own eyeliner."
Minaj's makeup skills
Nicki Minaj actually does her own makeup for big shoots, too! The star has revealed that she's not afraid to grab the makeup brushes and do her own looks from time to time — even if there's someone else who's sole job it is.
"I DIY'ed myself for a major magazine shoot a few weeks ago," she admitted while speaking to Teen Vogue back in 2012. "Sometimes a makeup artist will do my makeup, and when they're done I'll think to myself, I know I can look a lot prettier than this. I'm just being honest, you know?" She also revealed her best makeup tips, which probably won't come as much of a surprise to anyone who's seen her. "Color, color, color. When in doubt, add color. Then, add some more," she teased.
You'd be hard pushed to find a snap of the "Barbie Tingz" hitmaker without cosmetics on her Instagram page as she usually prefers to keep things pretty glamorous, though she has gone barefaced on the social media site before. Back in 2014, Minaj seriously stripped down on the social media site when she posted a series of makeup free photos that showed her in various states of undress and wet hair after getting out the shower (via Daily Mail). Though she looked seriously gorgeous, she's since removed the snaps from her account.
Makeup or not — Nicki Minaj is beautiful!