David Arquette Confirms What We Suspected All Along About Working With Ex-Wife Courteney Cox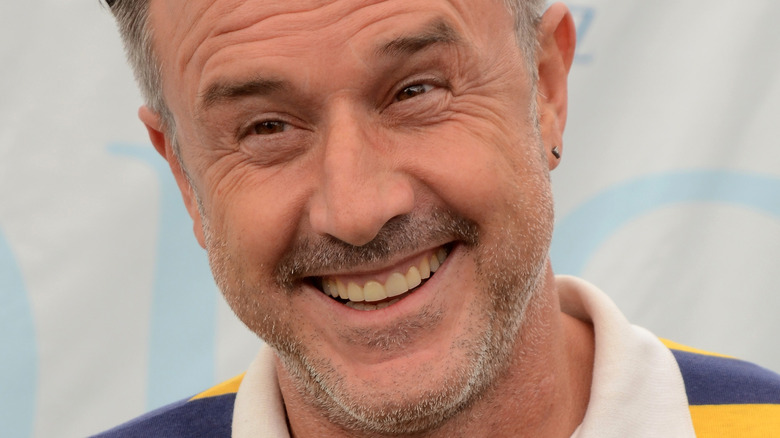 Kathy Hutchins/Shutterstock
It's tough for a marriage to last in Hollywood, and sadly, many seem to have an expiration date. That was the case for Courteney Cox and David Arquette. According to InStyle, the couple first met on the set of "Scream" in 1996. The movie turned out to be one of the most popular of the decade and has added a few more installments to the franchise over the years. The relationship didn't quite start out with a bang for one of them, Arquette says. "Was it love at first sight? For me it was, but not for her. I had to trick her," he told Bang Media (via MEWS). "We met at a pre-party before we started filming 'Scream.' I was being a little cocky and Courteney was like, 'Ah, I've heard of you,' and we just kept flirting for a while."
At the time, Cox was also starring in "Friends." The pair married in 1999 during a ceremony in San Francisco, and had one daughter, Coco Arquette, together. Sadly, their marriage came tumbling down in 2013, ultimately ending in divorce. Following the split, Arquette spoke with Howard Stern about moving on from the marriage, explaining that it was tough for him to be intimate with someone that was not his ex-wife. "It was the end of all the intimacy I shared with my wife. It was like a new thing. It was like... putting that away," he shared.
The two have since worked together and spilled the deets on what it was like.
Courteney Cox and David Arquette had an emotional reunion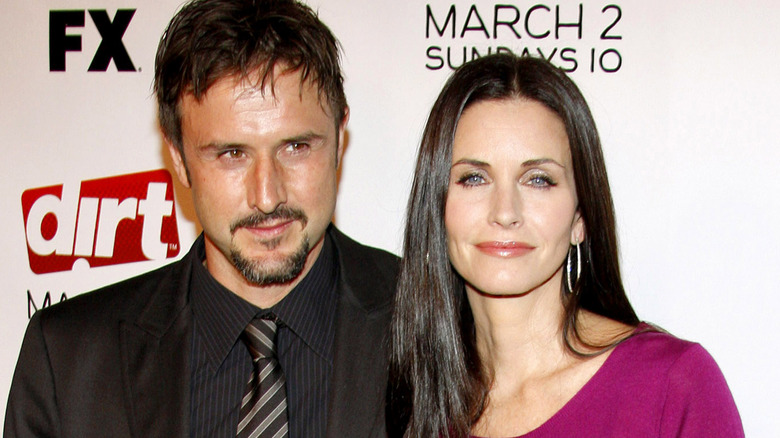 Tinseltown/Shutterstock
There's nothing like famous exes working together again. Courteney Cox and David Arquette have gone through a lot in their relationship, and most of it can be pinpointed to which "Scream" installment they were filming. "We met on 'Scream 1,' hated each other on 'Scream 2,' got married on 'Scream 3,' and divorced on 'Scream 4,'" Cox once told Yahoo! Entertainment in 2020.
In 2020, they shot the new installment of the popular "Scream" franchise, marking the first time the two appeared together on the silver screen since 2011. In an interview with The New York Times, the pair talked about what it was like to reunite on set. "It's been 25 years of our lives. We've grown up together. We have a child together," Arquette said, adding that it was "a cathartic" experience to act opposite his wife again. Cox then revealed that her ex-husband got a little emotional when they filmed their first scene of the movie together — and yes, there were some tears shed by Arquette. "He said the next day the crew didn't look at him," Cox revealed. "I could tell some people aren't comfortable with that level of emotion."
In another interview on "Late Night With Seth Meyers," Arquette said that, despite his marriage ending in divorce, the "Scream" franchise did give him one wonderful thing — his daughter Coco Arquette. "Thank god for ['Scream' director] Wes Craven because I got a baby out of it," he joked. "I mean, not Wes Craven, thank Courteney Cox!" Silver lining! 
Coco Arquette is just as talented as her parents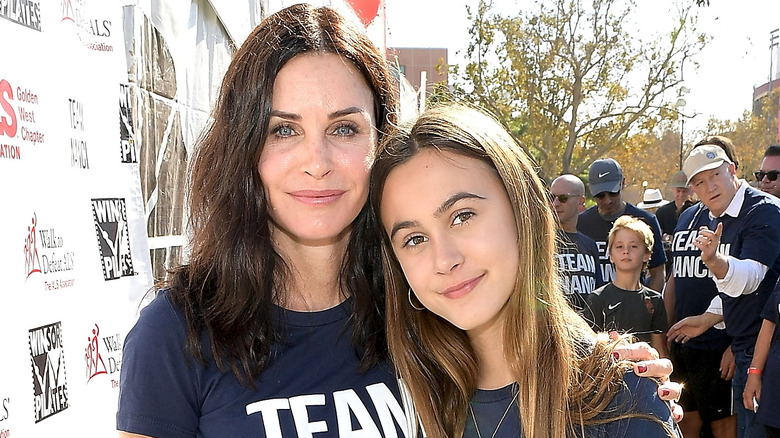 Matt Winkelmeyer/Getty Images
It's never ideal when a marriage doesn't work out, but at least in the case of Courteney Cox and David Arquette, they got an amazing daughter out of the deal. Coco Arquette often makes appearances on her parent's social media pages, and while she's the spitting image of her mother, we do see some of the Arquette genes in there.
The teen may or may not be following in her parent's footsteps in acting, but it's safe to say that she could have a career in music. In August 2021, Cox shared an Instagram video of herself on the piano, accompanied by her daughter Coco on the mic. The high school senior slayed her rendition of Adele's hit "Chasing Pavements," which received rave reviews from Cox's fans. "I love my Coconut's voice," Cox wrote on the post.
The mother/daughter duo seem close but don't expect Coco to watch her parent's films. "She's seen part of 'Scream 1;' she doesn't like to watch anything we do," Cox told Extra. "I'm gonna make her watch this with her eyes open... I didn't watch most of this film — I hear it's really good." Cox also added that Coco may want to dabble in acting. "I use her for Instagram, and she knows it, and she really rebels, but since she's going to be in the business, I know... She'll have to get used to some eyes on her," Cox shared. We hope to see much more of the ever-talented Coco in years to come!