Jessica Chastain Opens Up About The Scary On-Set Injury That Sent Her To The Hospital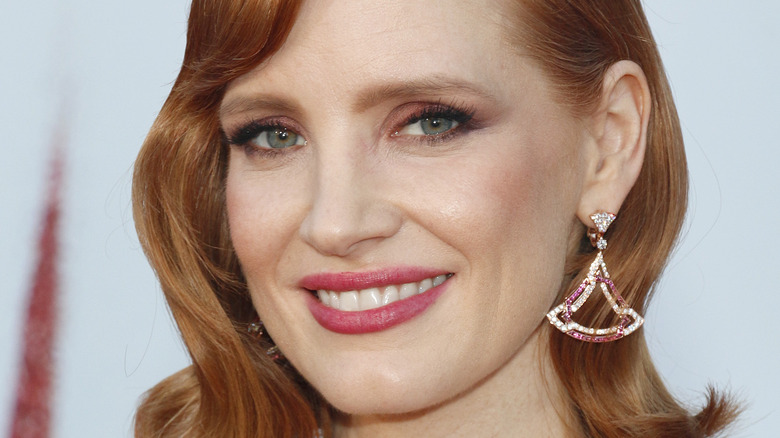 Tinseltown/Shutterstock
After her 2011 breakthrough role as Celia Rae Foote in "The Help," Jessica Chastain has solidified her status as a successful Hollywood actor. She now has a number of award-winning films under her belt, including "Zero Dark Thirty" and "The Eyes of Tammy Faye."
Chastain has also come out as a prominent feminist voice in the entertainment industry. Speaking to The Wrap in 2014, Chastain emphasized the importance of well-rounded female characters in movies and television. "I don't mind if the character is a small character, but I would just like her to have a journey in the film," she said, adding, "Sometimes the characters are just there as a prop to further the man's story." In a separate interview with Refinery29, the "Miss Julie" actor gave important advice to women looking to make it big in Hollywood. As many "people will try to demean" women in the industry, she stated that it's necessary for a woman to "understand that her value is from her talent and intelligence, and not from her sex." She added that women should "respect [their] talent and make sure other people do [too]."
Chastain is embodying the messages of empowerment she sends to fellow women in her latest film, "The 355," which is a female-centered action thriller produced by Chastain herself. She also stars as main character Mace, who works for the CIA. Unfortunately, during filming, the actor sustained a serious injury that required her to seek medical attention.
Jessica Chastain had to do many of her own stunts on The 355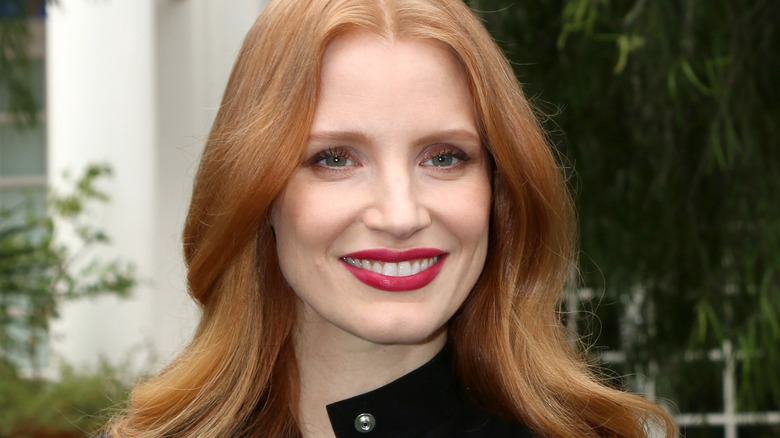 Kathy Hutchins/Shutterstock
Ahead of the release of Jessica Chastain's latest action thriller, "The 355," she opened up during an appearance on "The Late Late Show With James Corden" about an injury she suffered during filming (per Yahoo! Entertainment). Since the film had a low budget, Chastain was forced to do many of her own, often-dangerous stunts. During a fight scene, the "Scenes From a Marriage" star says she "misjudged the distance" during a move and fell, striking her head on the marble flooring. "I heard a crack," the actor revealed, going on to joke, "That might be why I am the way I am today." Despite being able to joke about it after the fact, the fall scared everyone on set at the time. One of her co-stars, Penélope Cruz, said she "was really worried." Chastain pushed through a couple more takes before allowing Cruz to convince her to get checked out at the hospital.
Chastain's experience is far from rare; she isn't the first actor to get hurt doing her own stunts. Charlize Theron was another who nearly paralyzed herself while doing a stunt in the 2005 action film, "Aeon Flux," as per News.com.au. During one major fight scene, she fell and landed on her neck. Theron told the news outlet that despite being "nobody's fault," she went through "eight years of pain management" to address the resulting nerve damage. Thankfully a neck fusion after that resolved any lingering issues.