Sebastian Stan Confirms What We Suspected About Lily James' On Set Transformation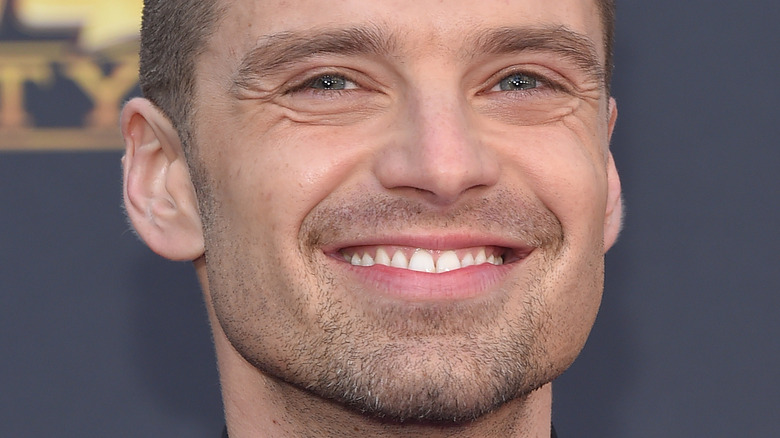 DFree/Shutterstock
Sebastian Stan and Lily James totally transformed into Tommy Lee and Pamela Anderson for the upcoming Hulu series "Pam & Tommy." The stars portray the titular characters in the biopic miniseries about the true story whirlwind romance and sex tape scandal involving the "Baywatch" bombshell and Mötley Crüe drummer around 1995.
Hulu set the internet ablaze when teaser photos of the actors were released in May 2021, showing off Stan and James' uncanny transformations into their real-life characters. "Pam & Tommy" producer and co-star Seth Rogen boasted the two leads' immaculate throwback looks on Instagram, writing, "My co-stars @imsebastianstan and @lilyjamesofficial are a lot cooler than I am." A lot of work reportedly went into the stars' "cool" new looks, as both James and Stan's transformations took hours of behind-the-scenes hair and makeup. Achieving the iconic recreations took "anywhere from three to five hours of hair and makeup every morning before we even started filming," the project's hair department head Barry Lee Moe told Variety. James even wore prosthetics on her body to recreate Anderson's famed busty look in her "Baywatch" swimsuit, according to Daily Mail. In a recent interview, Stan even confirmed what we suspected about his co-star's drastic transformation for "Pam & Tommy."
Sebastian Stan didn't recognize Lily James
"Pam & Tommy" star Sebastian Stan opened up about Lily James' transformation into Pamela Anderson for Entertainment Tonight. "We had the very best hair and makeup team we could've asked for and they just killed it," Stan said. Like the rest of viewers, "The Falcon and the Winter Soldier" actor recalled the team's work being so flawless, he barely recognized James when she wasn't on-duty as Anderson. "It's really wild, with Lily, because the first time I saw her as herself was actually at the end of the shoot five months later," he said, "and I was like, 'Who are you?' That's when we actually formally met."
James certainly embodied her role as the "Baywatch" actor circa the 1990s. "It's great to be blonde," she captioned the teaser photo of herself as Anderson on Instagram, quoting the actor herself, "With low expectations it's very easy to surprise people." Although James looks the part, Anderson herself did not give the "Cinderella" actor her stamp of approval. A source told The Sun that Anderson thinks the upcoming series is "a joke and cheap knock-off," adding that she has "no intention of watching this God awful show, absolutely not."