How Much Time Did It Take Lily James To Transform Into Pamela Anderson?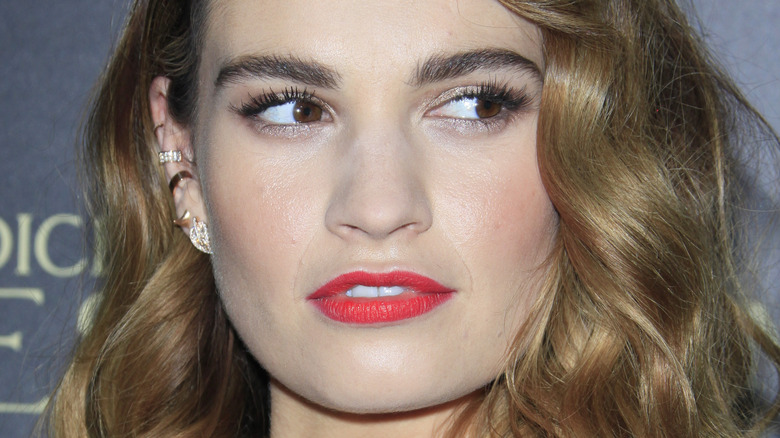 Shutterstock
Lily James made a big transformation for her new project. The "Cinderella" star is starring as the iconic Pamela Anderson in the Hulu series "Pam & Tommy," which tells the story of the rollercoaster relationship between the former "Baywatch" star and Mötley Crüe drummer Tommy Lee, played by Sebastian Stan.
The series is being produced by none other than Seth Rogen and is expected to give fans a behind the scenes look at the twosome's very rocky romance, including the exes' infamous honeymoon sex tape scandal. Rogen will also star in the series, playing the man who stole the couple's intimate tape and leaked it to the press (per Deadline). As fans will know, there's sure to be plenty of drama packed into the limited series, as the couple initially tied the knot back in 1995 after knowing one another for only 96 hours. Yes, not even 96 days. 96 hours.
Photos have already started popping up across social media and beyond of James and Stan in character as the infamous couple, but how long did it actually take the "Mamma Mia! Here We Go Again" star to transform into the former Playboy model? Read on for the surprising details.
Lily James needed up to five hours in the makeup chair to look like Pamela Anderson
It took Lily James longer than you'd probably think to get into character as Pamela Anderson for "Pam & Tommy." Barry Lee Moe, the head of the hair department for the show, admitted to Variety that James actually had "anywhere from three to five hours of hair and makeup every morning" before filming even began in order to look just like the "Baywatch" icon. Woah!
It wasn't just James who underwent a dramatic transformation, either. Moe shared that the hair and makeup team "ended up using 25 wigs in the end," and "everyone from Seth Rogen to Nick Offerman, Taylor Schilling all wore wigs" because the team really wanted to make sure everyone could "transform... into new characters."
The only major star in the production who didn't don a wig was Tommy Lee actor Sebastian Stan, but that doesn't mean he'll be totally recognizable when the show hits Hulu in 2022. Moe explained that the Marvel actor grew out his hair and "had a keratin treatment done" as well as coloring his locks "every few weeks."
It looks like all that effort was certainly worth it though, as fans were taken aback by how much Lily and Stan looked like Anderson and Lee when snaps of the duo in character first debuted on social media.
What does Pamela Anderson think of Lily James' transformation?
The official Twitter account of Seth Rogen's production company, Point Grey Productions, shared three photos in May of Lily James and Sebastian Stan's transformations. One black and white shot showed James (as Pamela Anderson) biting Stan's (as Tommy Lee) nipple ring as she placed her hand on his shirtless torso, while the batch of snaps also included a solo shot of James in a black leather co-ord as she put her hand up towards the camera. The third shot showed a shirtless and tatted up Stan on the hood of a car.
"The likeness in Lily James here is ridiculous!" one Twitter user responded, while another tweeted, "Lily looks spot on as pam in that black outfit i'd swear it was her. good job on the transformations." A third wrote, "These are pretty amazing jobs in turning these two in to Pam and Tommy Lee. Wooow."
One person reportedly not thrilled about the whole thing though is Anderson herself. According to a source, the star made it clear she doesn't support the project and has no plans to even watch it. An insider claimed to The Sun that Anderson purportedly described the series as being "God awful" and claimed she "and her family think the show is a cheap knockoff." Ouch. Courtney Love had Anderson's back and also didn't exactly have the nicest things to say about the show.
"Pam & Tommy" is expected to debut on Hulu in February 2022.