The Surprising Reason The Queen Reportedly Isn't A Fan Of Harry And Meghan's Holiday Card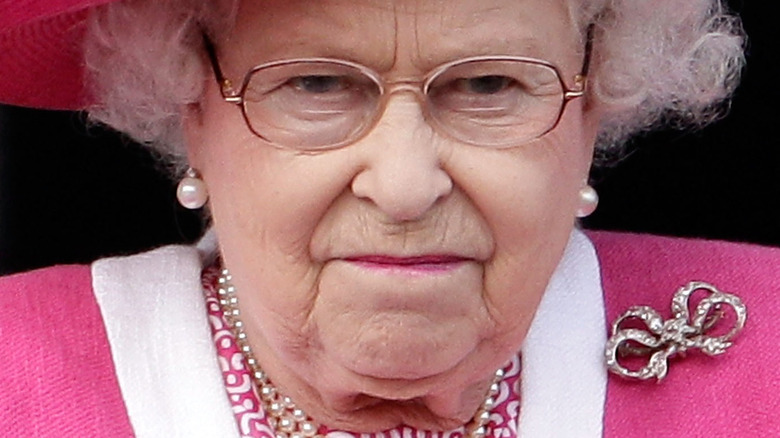 Matthew Lloyd/Getty Images
It seems as if the "War on Christmas" has hit the royal family. With Prince Harry and Meghan Markle now residing in California, it seems the Duke of Sussex has since been inundated with American culture. Throughout 2021's holiday season, the Duke and Duchess of Sussex took parenthood on in stride during last October's Halloween. In fact, Meghan even opened up about her family's spooky celebration, which, admittedly, was a bit of a fail.
Opting to stay home to "do something fun" for son Archie Harrison and daughter Lilibet Diana, Meghan revealed that "the kids were just not into it at all" on "The Ellen DeGeneres Show." She noted that "Archie was a dinosaur for maybe five minutes," while Lili was "a little skunk." And in regard to Thanksgiving, Meghan told DeGeneres that she loves to cook, revealing, "We'll be home and just sort of relax and settle in. It's our second Thanksgiving at home in California, so it will be nice" (via People).
But with Christmas now past, it seems Meghan Markle and Prince Harry have ruffled a few feathers within the royal family with their 2021 Christmas card.
Prince Harry and Meghan Markle's 'happy holidays' message causes royal stir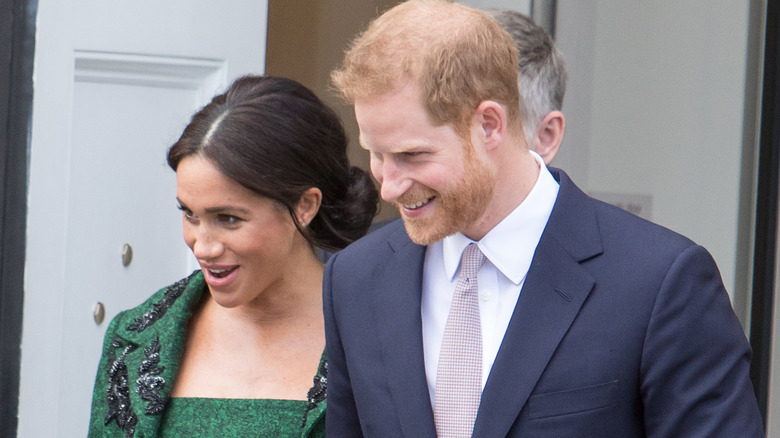 Mr Pics/Shutterstock
Christmas is a time for family, fun, and celebration. But not everybody celebrates the annual yuletide holiday. As a result, the all-encompassing phrase "Happy Holidays" has seen a rise in recent years, leading some to believe there is an ongoing "War on Christmas." Dictionary.com notes the "provocative" term "stems from the radical belief that inclusivity — that honors other holidays, like Hanukkah, and accounts for those who don't celebrate Christmas — is overshadowing traditional American values."
However, Prince Harry and Meghan Markle's latest controversy proves that this goes beyond "American values." The Duke and Duchess' Christmas card, which features the term "Happy Holidays," has seemingly left Queen Elizabeth II "confused" (per Express). "According to those good sources, they were rather confused ... [T]here's nothing more sacred to our gracious Majesty the Queen than her Christian faith and this particular time of year, she holds it with great affection," royal expert Neil Sean, who spoke with unnamed insiders, stated.
"[I]t was one of the most favorite times of the year for Her Majesty and the late Duke of Edinburgh so you can imagine I'm suspecting her dismay at the Christmas greeting which was on the cards now," he continued. Interestingly enough, Sean was "told this phrase Happy Holidays is very much a Californian slang." Controversies aside, the card featured the public's first look at daughter Lilibet Diana, a fully red-headed Archie, and a glimpse into the Sussex's happy California life.