Everything We Know About Josh Duhamel's Engagement To Audra Mari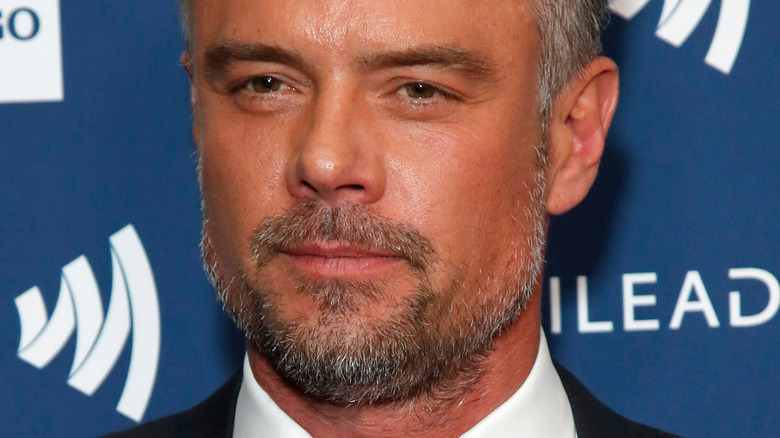 Kathy Hutchins/Shutterstock
Josh Duhamel is one of Hollywood's top leading men, and if you haven't watched "Win a Date With Tad Hamilton," then you are really missing out. The actor has enjoyed a few highly publicized romances in his day, but none more famous than with Black Eyed Peas singer, Fergie. According to E! Online, the pair was first rumored to be dating back in 2004, the year they met on the set of his TV drama, "Las Vegas." They got engaged a few years later, in 2007, and wed on January 10, 2009. In August 2013, the couple welcomed their first and only child together, son Axel Jack.
But, like many relationships in Hollywood, theirs came crashing down in 2017. "With absolute love and respect we decided to separate as a couple earlier this year," they announced in a statement (via People). "To give our family the best opportunity to adjust, we wanted to keep this a private matter before sharing it with the public. We are and will always be united in our support of each other and our family." They finalized the divorce in 2019, per Page Six.
In 2018, Duhamel told Dax Shepard that he wanted a family. ​​"It's more about finding someone young enough to have kids. It's not as if I'm out there trying to just f*** anything," he told Shepard. "That's not who I am. I'm trying to find a girl that I can be with and have a family with." 
Luckily, it looks like he found the one!
Josh Duhamel proposed with a message in a bottle
Josh Duhamel shared some exciting news with fans on Instagram when the heartthrob posted a photo of himself and his now-fiancee, model Audra Mari. The two can be seen standing on the beach with the blistering sun at their backs. They were all smiles as Duhamel held up a note that asked Mari to be his wife. The proposal also came on Mari's 28th birthday, marking two special occasions in one day.
"It's on!! She found a message in a bottle that washed ashore and said YES!!" Duhamel captioned the post. Fans and famous friends of the actor flocked to the comments to share their excitement, and even Duhamel's ex-wife Fergie commented. "​​Congrats!!!" she exclaimed alongside a series of green heart emoji. "Woah! Massive Congrats my brotha!!! Cheers cheers to both of y'all!" another friend wrote. "Pretty gangster move btw."
Mari also shared the happy news on her own Instagram feed. The post included the same photo Duhamel shared — with a slightly different caption. "My heart is so happy. I love you," she wrote. According to People, the news of Duhamel and Mari's relationship broke in 2019, but a source revealed they had been dating for at least seven or eight months. The two seem to keep their relationship out of the spotlight, for the most part, seldomly sharing photos of themselves on one another's Instagram feeds. However, the engagement made a great excuse to post!