Jamie Lynn Spears Opens Up About Her Scariest Incidents With Britney
Jamie Lynn Spears is opening up about her strained relationship with her pop star sister Britney Spears, and the conservatorship that held Britney from 2008 to 2021.
In a sit-down interview with ABC News on January 13, Jamie Lynn revealed details behind the Spears family drama, and how she feels about her sister today. "I've only ever loved and supported her and done what's right by her, and she knows that," the former Nickelodeon star said before revealing how she attempted to help her older sister get out of her conservatorship years prior. "I've always been my sister's biggest supporter, so when she needed help, I set up ways to do so."
Jamie Lynn's testimony comes as fans of the pop star attack her on social media, and Britney continues to distance herself from her family. "Britney has been deeply hurt by her family, and this isn't helping matters," a source told Page Six of Britney's feelings towards her sister speaking out. While Britney still awaits her "chance to tell her story," the star is reportedly "rolling her eyes" at what Jamie Lynn had to say about her conservatorship. Of the bombshells to come from Jamie Lynn's interview are allegations of some scary incidents between the Spears sisters.
Jamie Lynn claims things got scary with Britney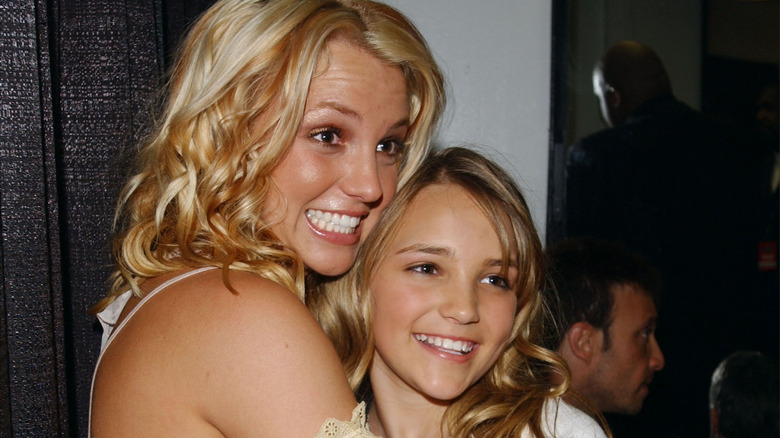 Frank Micelotta/Getty Images
Speaking with ABC, Jamie Lynn Spears' press tour for her new book "Things I Should Have Said," quickly turned shocking, as the actor revealed some scary details behind her and Britney Spears' relationship.
The "Zoey 101" star alleged a time when the pop singer "got in [her] face" while Jamie Lynn held her youngest daughter, per Us Weekly. "She cursed at me, so I just walked out of the room," Jamie Lynn said. "I was like, 'We're just all family under one roof. I'm not trying to argue.' And when I tried to remove myself from the situation, that's when I guess she just got really angry." The incident in question reportedly occurred during the COVID-19 pandemic.
In another scary moment with the two sisters, Jamie Lynn claimed Britney became "scared" and locked them together in a room, with the pop star bringing a knife for protection. "I was a kid in that moment. I was scared," Jamie Lynn said. "That was an experience I had. But I also was fearful to, like, really say anything because I didn't want to upset anybody or anything. But I also was upset that she didn't feel safe." Clearly, the two have a long way in repairing their relationship.