Priyanka Chopra Has Perfect Response To Questions About Babies With Nick Jonas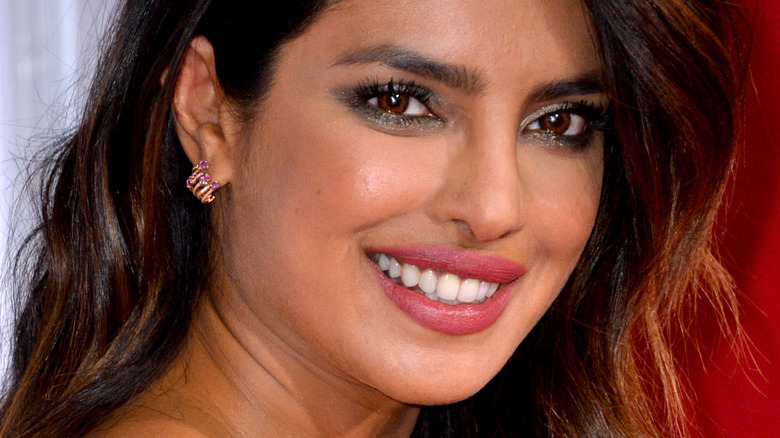 Featureflash Photo Agency/Shutterstock
Priyanka Chopra and Nick Jonas enjoyed some downtime during the holiday season. The couple, who tied the knot on December 1, 2018, shared some loved-up shots on their respective Instagram feeds. Jonas shared a pic of their family the day after Christmas. Posing in front of a colossal Christmas tree, Chopra sat on her husband's lap while he stole a kiss. Their three dogs — Chihuahua Diana, German shepherd Gino, and Husky/Australian shepherd mix Panda — completed the snap. They're smitten with their fur babies as Jonas once told People, "These amazing dogs have brought us an immense amount of joy."
Chopra also took to Instagram to show off how they spent some time over the festive season. The actor shared six photos on January 3, depicting her and Jonas enjoying some sun aboard a yacht. The dreamy snaps seemingly show off an idyllic vacay away from the hustle and bustle of city life. After clarifying that she was doing a "photo dump," she captioned the images, "So grateful for family and friends. Here's to celebrating life. #2022 #happynewyear."
While it was nice to see the couple taking some time out for themselves, Vanity Fair noted that both stars ordinarily have busy schedules and that they would need to take things easier should they wish to expand their family. Chopra did not shy away from talking about children with her spouse and revealed their plans for a family.
Priyanka Chopra and Nick Jonas are 'not too busy to practice'
Priyanka Chopra told Vanity Fair that both she and Nick Jonas are on board with adjusting their schedules should they have children. She confirmed, "We're both okay with that." The "Matrix" star also revealed that she and Jonas have spent some time discussing kids. She dished, "They're a big part of our desire for the future."  But, it also doesn't seem as if they're rushing into anything. Chopra sagely pointed out, "By God's grace, when it happens, it happens." Still, she joked, "We're not too busy to practice."
Jonas previously confirmed their desire to expand their family. The singer told E! News that while he would love to have children one day Chopra "is the most important piece of the puzzle." He continued, "And it's obviously something we hope happens, and god willing, it comes together." Just like his wife, Jonas also wanted to take it slow. "It's going to be a beautiful journey, and I hope for many, or whatever that is," he said.
Jonas pointed out, "For now it's just about making sure we're good." He and Chopra are seemingly on the same page about starting their family. They know that, for them, it will happen when the time is right. As for the rest of the world, we're in a hurry to see what gorgeous babies they will have, but we're willing to wait.