The Iconic Musician That Left Keanu Reeves Beyond Starstruck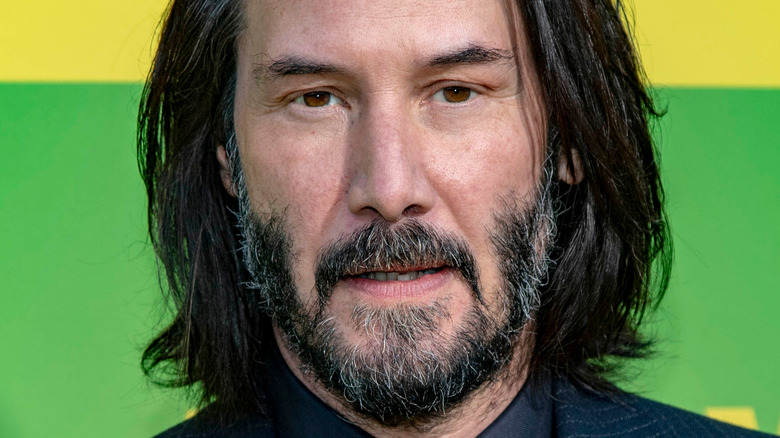 Eugene Powers/Shutterstock
Keanu Reeves is not only a beloved super-star, he also happened to grow up around famous figures. The actor's mother is Patricia Taylor, and while you may not know her name, she's rather respected by many people in show business thanks to the fact that she was a part of the entertainment industry herself. Because of that, she spent plenty of time with celebrities and, in turn, so did her son.
"I grew up in Toronto and I lived on this street called Hazelton and there was a recording studio there called Nimbus 9 and my mother was in costume design, she was in rock 'n' roll, in the business, and they had friends and she had friends, and so Alice Cooper — I'm told — babysat me," Reeves explained while opening up about his childhood on "The Tonight Show Starring Jimmy Fallon" in 2017. Before noting that he doesn't remember much about his unusual babysitter (other than there being fake poo in the fridge), he added, "I don't know how that could actually possibly happen, but it did, supposedly." His mother's celebrity connections are also how he ended up wearing Dolly Parton's Playboy bustier for Halloween one year, which he admitted on "Red Table Talk."
Reeves' long history with celebrities and the fact that he's so famous himself might make you think that he wouldn't be overly impressed when he meets another celebrity. However, there happens to be one particular iconic musician that prompted Reeves to make a major fan-like move.
Keanu Reeves asked Lou Reed for an autograph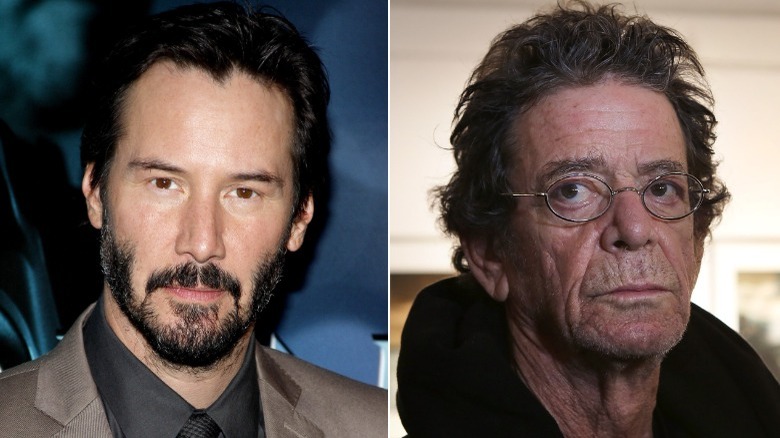 Shutterstock, Hannelore Foerster/Getty Images
Have you ever encountered someone famous and taken the exciting opportunity to ask them for their autograph? Keanu Reeves has and was willing to admit that fact while sitting down for a chat on "The Late Show With Stephen Colbert," which Daily Mail noted may have taken place in December 2021, although the clip popped up the next month.
When the host questioned Reeves about possibly asking another famous figure for an autograph, "The Matrix" star revealed that he had once requested one from Lou Reed, a legendary music industry figure, who was also a member of the Velvet Underground and died in October 2013, according to Britannica. Although Reeves explained that it was actually for a friend and only had the musician's name on a piece of paper without any additional sentiments, he still seemed pretty pleased by the experience and said Reed was "cool about it."
Reeves admitted that he had once asked comedian George Carlin (who died in 2008, per Biography) for an autograph and received one that said, "Dear Keanu, f**k you." While that may make it sound that Carlin wasn't as "cool" about giving out autographs as Reed was, Reeves also noted, "I always thought he just wrote that for me, and then I met someone else who said that he wrote the same thing to them." We have to wonder how other stars would react if Reeves asked them for an autograph.